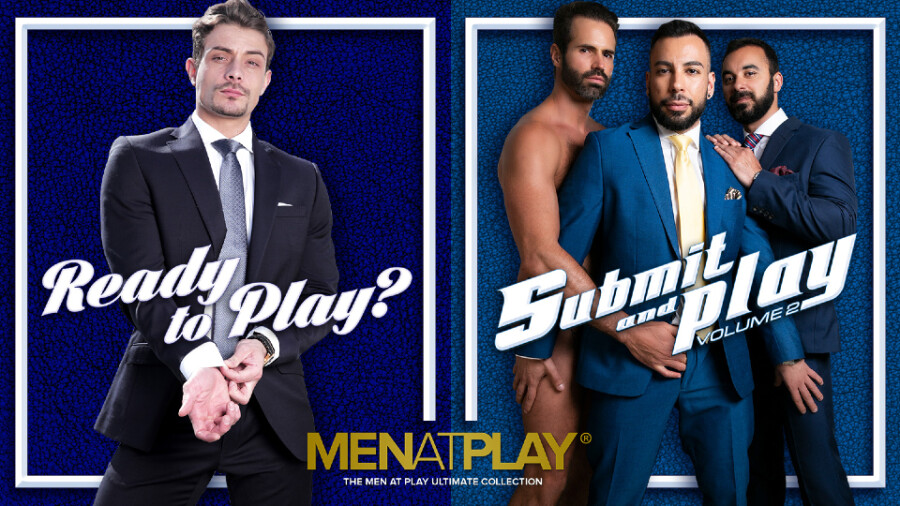 MONTREAL – MenAtPlay.com is suiting up with a pair of gay titles available in all formats, including wholesale and retail distribution.
A stylishly attired Carter Dane has the cover of "Ready to Play." The cast inclues Dario Beck, Dato Foland, Klein Kerr, Gabriel Luna, Alex Mecum, Massimo Piano, Robbie Rojo and Denis Vega.
In "Ready to Play," a rep explained, "passion and ass-pounding collide, and a politician gets caught with his pants down. False accusations lead to a steamy sexually charged climax. A co-worker prank ends in a cum shower while an employee shows his boss he knows how to save his ass by using his ass."
Click here for box art, a preview and additional details.
"Submit and Play, Volume 2" features Xavi Duran, Darius Ferdynand, Klein Kerr, Antonio Miracle, Enzo Rimenez, Dani Robles, Ken Rodeo, Robbie Rojo, Noel Santoro and Ken Summers.
As the action opens, said the rep, "things pick up where they left off in the first volume with an office-fucking secret, getting blown under the table during a fine dinner, business calls while a young employee blows the boss, bar owners that literally call the shots — and a surprise that starts with a note and a blindfold but ends with a double-teamed ass fucking."
For box art, a trailer and other information, click here.
Find MenAtPlay online and on Twitter.
Direct wholesale inquiries to Nicolas F, head of StunnerMedia licensing department, at nicolas@stunnermedia.com.