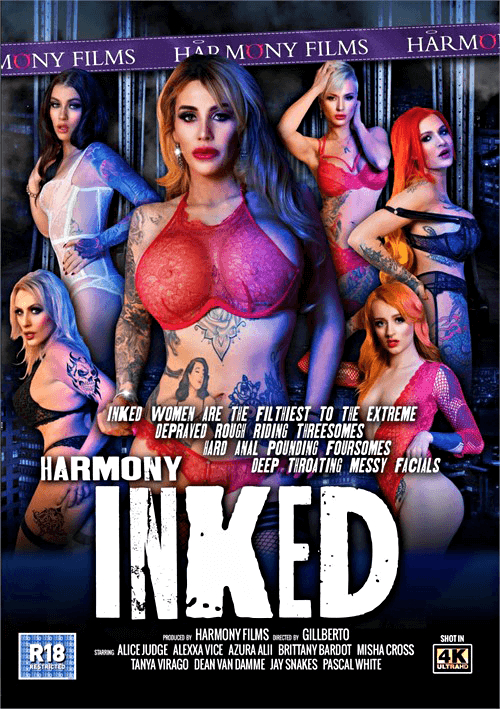 Gillberto celebrates tattooed talent in this movie from one of the biggest porn studios in the U.K. This is the first movie I've ever seen from director Gillberto (who began directing in 2019), and I liked what I saw for the most part. This is his third film overall and his second for Harmony films. I enjoyed the way they incorporated the colors in each scene, as they tended to really accentuate the tattooed art on the talent.
Azura Alii, Tanya Virago and Jay Snake:
Strawberry blonde, tattooed vixen Azura Alii has arrived for her appointment, but the artist she's scheduled with isn't around. Luckily for her, reluctant stud Jay Snake is around, and she manages to coerce him into taking her appointment. Just as things start to get hot and heavy, an equally tatted, matronly Tanya Virago (clad in only a red bra and panty set that happens to match Azura's fishnet lingerie perfectly), walks in to chastise Jay for taking someone else's client.
But upon seeing just how scrumptious Azura looks with her ass up and panties pulled to the side, Tanya decides to join in. I love the fact that not only are the women in this scene tattooed, but the man is as well. Jay (whose body art is all black ink) has a large Chinese dragon near his shoulder that spreads across his chest, and a huge hydra on his back whose tail slinks sexily around his stomach.
Azura clearly has an affinity for flowers as all her tattoos are of the floral variety. She sports a huge piece across her shoulder blades that connects to a full body sleeve, and one of her calves is adorned with various flowers as well. Tanya's art is full of color and style. She has a great colorful insect on one leg and a collection of fern-like leaves on the opposite hip that explode with bright oranges and greens.
Ironically, Tanya's tattoos perfectly match the red brick and subtle red lighting in the room. The sex is what you'd expect from a raunchy three-way, with plenty of shared cock gobbling, and a very fun sequence where Tanya dons a strap-on to pound Azura's pussy while Jay pumps her mouth.
Alexxa Vice, Azura Alii, and Dean Van Damme:
Vice and Van Damme are artists who work together while carrying on a sexual relationship. While they both seem a tad worried that Azura will find out and lose her shit over their unprofessional relationship, they decide that if she does catch them, they might be able to convince her to join in as a way to keep her happy and avoid losing their jobs.
Alexxa and Dean both have a ton of art on their bodies. Alexxa's biggest piece is definitely on her hip and leg; it's a huge, green and red Chinese dragon coiled around her like a snake. She's also got a variety of pieces on her forearm, including a sinister looking eye peeking out from some green foliage. Her opposite hip is adorned with a colorful peacock.
Van Damme has a huge dragon enveloped in a black and red burning sky on his leg, as well as two sleeves connected across his collarbone by a collection of birds, sugar skulls and zombie-like pin-up portraits.
Alexxa has fiery orange hair tipped with yellowish blonde, and it really compliments her tattoos well. Couple the stunning color palette of her body with her mountainous breasts and you've got a wonderful sight to behold. I also absolutely loved the purple underwear and matching sparkly purple shoes she chose. Basically, the colors in these scenes are on point.
Azura looks positively wanton with her face completely buried in Alexxa's ass as Van Damme plows her from behind, and when Alexxa gets her turn, she loves every moment of Van Damme filling her up from behind while she fills her mouth with Azura's pussy. They all really look great together.
Alice Judge and Tanya Virago:
This scene wastes no time at all getting started. The ladies are already fondling each other when the lights come up, and the passion grows every moment. Alice has a huge black salamander on her ribs that extends onto her hip, and a complete pin-up portrait of a lustful-looking woman graces her abdomen alongside a mixture of vine-laced flowers. It's a very pretty canvas. Her arm is completely sleeved with lotus flowers and roses, all in black ink.
The ladies spend most of the time having fun with an L-shaped, double-sided dildo (I've never seen anything like it), that allows for some very inventive and sexy positions. Alice looks particularly good slamming Tanya's pussy from the mounted doggie position, which is easily the visual highlight of the scene.
Alexxa Vice, Alice Judge, Brittany Bardot and Pascal White:
Pascal has just gotten a tattoo and his leg is still wrapped in plastic to protect his new art. He walks in on the sexually charged group of women who were moments before complimenting each other on their lingerie choices. Before Pascal knows what hit him, the horny hotties are all over him. Unlike the rest of the cast, Brittany Bardot only has two pieces on her body canvas; a single, large, pastel-colored rose on a thorned vine across her hip and stomach, and three cursive names surrounded by pink flowers.
This scene is full of awesome anal action. While Pascal does a great job stuffing the ladies (the mounted doggie anal for Alexxa while Brittany lapped at her pussy from underneath is an extremely arousing visual), I have to give credit Alexxa Vice for dominating that strap-on like a true champion. She works Brittany's ass like it's the most natural thing in the world for her and it's easy to see why Brittany squirted in response to her rhythmic pounding.
Alice Judge, Misha Cross and Jay Snake:
Misha Cross and her stark raven locks join the festivities in the final scene. I loved the color contrast with the dark background and Misha's dark hair against her porcelain skin. It really made the colors of her sleeve tattoo pop off the screen and made her art stand out. She's got red flowers and dark leaves on her arm, but interlaced in those flowers is a slightly darker color reminiscent of a sky with a thunderstorm building.
She's also got a large black rose on her shoulder that is very intricate. I want to give credit to the camera person and director Gillberto for capturing the very cool angle from above of Jay and Misha sucking Alice's tits. It is a fantastic shot that isn't uncommon, but is captured very nicely nonetheless. The action is hot and Misha really looks wonderful taking Jay's cock and she really sets the tone for the entire scene.
This movie does a good job of showcasing talent with a wide variety of body art. I really liked the fact that the men were tattooed as well as the women because porn isn't just for people who are looking at the women. When a movie claims to be a celebration of a kink or fetish, I like to see that kink include all the performers in the film and Gillberto does a great job of this. Misha Cross caught my attention in this movie with her soft sensuality, but Alexxa Vice really blew me away with her sexual voraciousness and I'd love to see more of her.