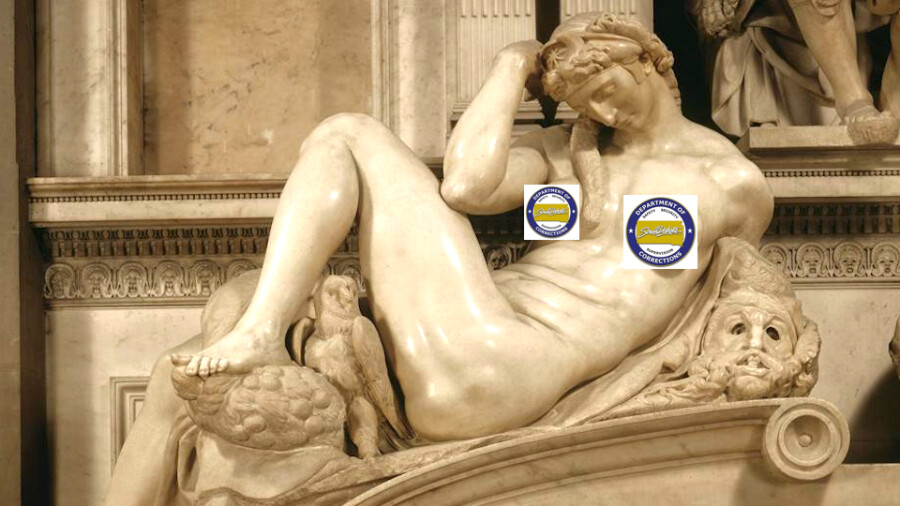 SIOUX FALLS, S.D. — A federal judge ruled yesterday that the South Dakota prison system's extreme ban on what they term "sexual content" is unconstitutional.
Judge Larry Piersol's opinion called the current policy, which bans everything from nude pictures without sexual activity to written works that contain sexual references, "overly broad," pointing out it effectively "cuts off the inmates access to literature," the Sioux Falls Argus Leader reported.
"The present policy bans written material with any sexual content," Piersol wrote. "That means the potential of banning the Bible and much of Shakespeare, not to mention all of the fiction of John Updike, Phillip Roth, Ernest Hemingway, and Gabriel Garcia Marquez, to name a few. A ban this sweeping has no rational relation to legitimate penological interests. The prisoners have no alternate reasonable means of access to such literature."
The original lawsuit against the South Dakota Department of Corrections (DOC) was filed by inmate Charles Sisney, who is serving a life sentence. In 2018, the Eight Circuit Court of Appeals sent the case back to the district court.
The DOC policy on forbidden material concerning sex was rewritten and made much more extreme and overbroad in 2014.
Judge Piersol, however, found that the DOC "has an interest in banning pornography and sexually explicit material,"
The judge parsed different items whose confiscation by the prison had been contested by Sisney. Piersol ruled that the state was correct to ban a Coppertone sunscreen add, because it contained the partial nudity of a child. Piersol also decided that the state could withhold comics that contained nudity and an overall sexual theme, but ruled in Sisney's favor in the case of "works of literature that included sexual encounters, an art book and scenes from sculptures and painting of Michelangelo."
The War on Porn in South Dakota
Yesterday's South Dakota ruling becomes yet another instance of individual judges and courts making arguable decisions about which forms of sexual expression are permitted and which ones are not.
South Dakota is one of several states targeted since 2016 by War On Porn activists for their deceptive campaign to declare porn "a public health crisis."
In January 2017, South Dakota senators unanimously passed a resolution calling pornography "a public health crisis that warrants the attention given to other statewide epidemics." The language is "cut-and-paste" verbiage derived from a 2016 Utah resolution and drafts by the well-funded, religiously inspired anti-porn lobby NCOSE (formerly Morality in Media).
GOP State Senator Jenna Netherton of Sioux Falls said at the time that "South Dakota should join other states in trying to educate the public about the harms of porn and prevent children from watching it."
Netherton told the press that "porn 'harms men, women and children' and has gained a broader influence due to the increased use of smartphones and the internet in younger generations."
This past February, GOP representatives Isaac Latterell, Carl E. Perry and Tony Randolph introduced South Dakota House Bill 1277 (HB1277), supposedly addressing the phenomenon of so-called "revenge porn," but actually proposing a mandate that "no person other than the person whose face is depicted in obscene material distributed or exhibited in this state may receive any revenue generated in connection with the distribution or exhibition of the obscene material."