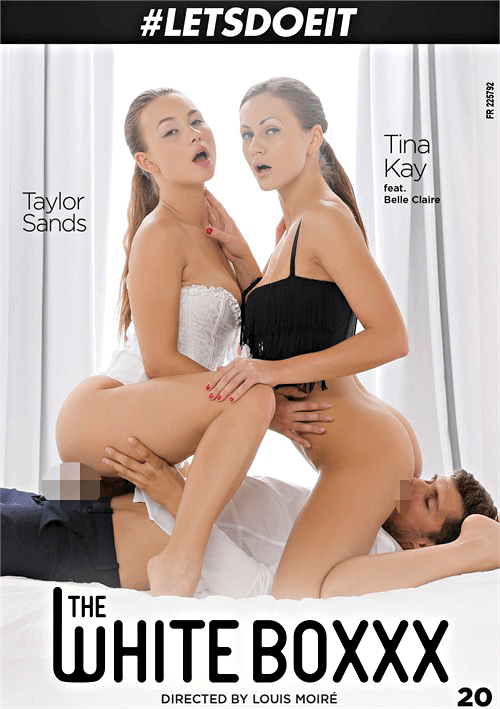 Foxy females from Europe show off their delectable wares, while also getting nasty in a slickly shot gonzo (with lots of white, warm, solar videography; hence the label "White" in White Boxxx) from director Louis Moire, with all three lusty lassies performing swimmingly in this arousing LetsDoeIt (sp) Production.
With Hollywood-actress-knockout looks, Tina Kay (35, from Lithuania, with over 450 titles to her tasty little self, including loads of butt-fucking ones, including this title) looks amazing for her near-40 years, getting it on here with older Euro stud Lutro, in one of the movie's more energized scenes; Loot really worshipping that gorgeous, smooth, "innie" Tina twat, before Miss Tits (yes, she has an awesome pair o' ta-ta's, as well as one delish derriere) gets majorly face-fucked (when Loot isn't kissing her); Tina's more memorable banging moments being some slammin' spoon-vadge (including a super view of her equally super face), magnificently morphing into spoon-anal; some scorching doggie-anal, with the ever-groaning T furiously fingering her cunt as she's savagely (though happily so!) cornholed; a repeat of this rear-reaming, this time with Loot choking the kinky courtesan and eventually jacking off onto Kay's perfect posterior. Choice!
Another Hollywood-esque beaut is 27-year-old Dutch darling Taylor Sands (who has 165 titles, but they include lots o' crack-attacking scenes), getting it from Ricky Rascal; best moments with scrumptious Sands being reverse-cowgirl (shot from Rick's perspective) and doggie, both of which allow you to fully appreciate Taylor's top-rate tukus, with Ricky's dicky eventually burying some jam inside Sands' snatch (yes, Virginia, it's a creampie), before the nasty couple fade out, as they oh so romantically smooch. Sweet.
We next get both beauts — Tina and Taylor — as they not only potently get porked by the healthily-named Kristof Cale, as well as suck on each other, in (next to the ass-fucking of Tina with which we began) one of the movie's best inter-lewds; rewind-worthy sequences being Taylor riding cock cowgirl, as she goes nuts and still tries to suck on Tina's bent-over ass; Tina riding Cale cock cowgirl style as Taylor sits on his face, with the girls facing each other, and kissing and sucking each other's tits; Taylor's juicy, web-like pussy lips getting it doggie as she sucks on Tina twat, before Cale-cock blows beef batter all over Taylor-twat, with Tina lapping it up from both dick and (better still) Sands' soiled snatch. Awesome!
Lastly, tattooed tart Belle Claire (27, from Czech Republic, and also liking it, amongst her 122-plus titles, up the patooti; butt, alas, not here) and the returning Ricky Rascal get a bit filthy; highlights being the slinky, sexy Belle spiritedly bouncing on Rick-dick during cowgirl, while some hammering missionary is also impressive, the latter stance including terrific eye contact from the intensely turned-on Ms. Claire.
"White Boxxx 20" is definitely an excellent title for couples, seeing as the videography is tasteful and the sex isn't too crazy; though hardcore fans of the amazing Ms. Kay will wanna check out her boisterous butt-fuck banging from lucky-fuck Lutro.