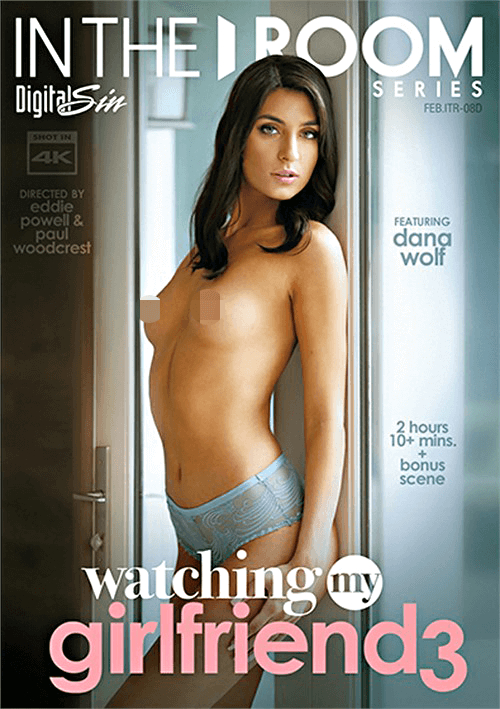 The title — from Digital Sins' arousing "In the Room" series — pretty much says it all, as dudes (we never see/hear them, as they're supposedly behind the camera "watching" as they) get off being voyeurs (like us!) while their young (either 21- or 22-year-old), luscious on-screen girlfriends get their tonsils and twats banged out by male friends. Slightly kinky, not-too-crazy stuff, made all the more arousing thanks to the X-pert direction and horny-female-talent-choices by directors Paul Woodcrest and Eddie Powell.
We begin with sexy redheaded Vanna Bardot (21, from Denver) getting down with the veteran vine attached to Ramon Nomar, in quite the steamy opener, indeed. Ramon, the family friend, starts by giving Vanna an oil massage, leading to some sizzling cocksucking and pussy/ass worship, followed by pounding missionary (Vanna's got a killer bod!), doggie (I like how she shakes and works that scrumptious ass!), cowgirl (ditto in terms of butt-work a la Vanna), ending with some hammering reverse-cowgirl (check out that bodacious Bardot figure, from head to toe!) and slamming missionary (really slammin'!), before Nomar's Ram-boner unleashes ramrod spurt all over Vanna's "pretty little face" (Vanna's own words, after her mug is bathed in sperm). Awesome!
Lyra Lockhart (21, from California) is one of those young chicks who looks like she lives right down the street or hallway (if you live in an apartment); just a normal-looking brunette babe (and I love it!) getting it on with her boyfriend's bud, played by Jason Moody, who really gives it to sexy little Lyra. She's such a juicy thing (with fab tits and ass which you wanna just gobble up!), first enjoying a serious face-fucking, then digging getting choked during missionary and reverse-cowgirl, while relishing a wee bit o' spanking during cowgirl (shot, at one point, like doggie), before Jace busts knob nutrients all over Lyra's sweet (but far from innocent!) girl-down-the-hallway face — and (don't wanna forget those) superb tits. Love this chick!
Jessy Jones is the next lucky bastard who gets to pork his best friend's girlfriend, in the foxy form of way voluptuous Kiarra Kai (22); including a deep blowjob (with Kiarra's eyes hornily rolling into the back of her skull), ball-bursting doggie (a true movie highlight itself, with that round, shiny perfect rump on Kai in full view; Kai also enjoying a good spanking), spirited reverse-cowgirl (giving us a good view of her small but delicious-looking boobies), amazing cowgirl (Kai's large-but-not-too-large ultra-marshmallowy butt seeming to have a mind all its own), jackhammering missionary (Kai seems to lose it here, as she feverishly rubs her clit), with Jones pulling out and blasting Jess juice all over that nicely shaped pussy. Whew!
Lastly, Dana Wolf, 21, is a choice-looking porn specimen, who gets it on with her boyfriend's roommate, played by Cody Steele (with her male partner's approval, of course); terrific moments including a loud, gnarly bj from Dana; equally loud doggie, as Cody's groin smacks against Dana-derriere, and we (thankfully!) get it twice; plenty of fantastic eye contact from those intense liquid Wolf eyes, including the final pop shot into her awaiting tongue; and dynamic cowgirl, as Code really spears her with all he's got, passionately slapping that tight ass now and again. Yes!
All in all, "Watching My Girlfriend 3" is an excellent in-and-out entry that's great for newbie couples (nothing too over the top) and hardcore fans (just one sexy slut after another get powerfully probed), with all of the attractive young ladies performing swimmingly. Worth checking out.