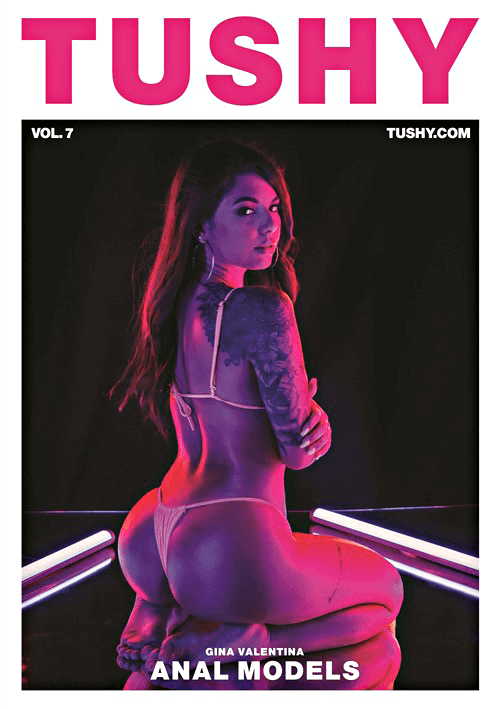 Man, oh, man! Talk about volcanic porn! Some of the most beautiful, sexy, fuckable women in XXX appear — getting seriously slammed in their sphincters — in this lucky seventh volume of "Anal Models" from Tushy.com, including the always stupend-ass Gina Valentina, Euro sensation Charlie Red and delicious smut morsels blonde Lexi Lore and brunette Brooklyn Gray.
Directed by Julia Grandi, the first episode was surely filmed somewhere in Europe (perhaps Ibiza), with 24-year-old, redheaded (hence her name) Czech doll Charlie Red showing what an amazing gal she is. We first see her in a bar, getting shitfaced, before, in front of her bespectacled male bartender, Red slowly pulls a lil' steel butt-plug outta her purse and starts coquettishly, seductively stirring her drink with the sex device, which she eventually inserts up her ass beneath her dress, basically letting the fortunate fella know precisely what she has in mind … for her behind. And (surprise, surprise) we next see the two pervs at her place, getting down and (way!) dirty. Red knows how to devour a dick with her mouth, that's for sure — and her cunt and asshole, too, as we soon see!
After Red offers a loving bj, the couple fuck standing missionary style on an indoor staircase; a horny position which magnificently spotlights Red's killer butt. They then move to a sofa, where 'Jerr' eats her twat, with the same butt-plug up her ass, before he pulls out the thing, gets Red on her hands and knees upon the sofa and sticks his prick right up her butt. Wow! She's a moaner! Then it's reverse-cowgirl and cowgirl-anal, respectively, with Red looking superb in any position in which you put the fetching fox. I really liked cowgirl-anal, however, seeing as you get a full view of her fine fanny, though the second time round of doggie-anal is eye-opening/dick-bursting, just before Jerr pops his nut in her mouth … and nostrils. Romantic!
In the next episode, directed by Laurent Sky, the tantalizing Lexi Lore (21, from Richmond, VA) is trying to maintain a career as a self-proclaimed nymphomaniac, here playing a whorish "legal aid" who likes to take it up the ass even from Mick Blue, playing an "environmental lawyer," who really stretches Lexi's butthole. And, boy, is Lex one truly gorgeous little blonde. Umphhh! One of my faves in porn. So cute, too. Anyhow, when her boss (Mick) is having a phone conversation outside in the office hallway, she takes his laptop and sees that he's been looking at sex-toy sites. Then, when a package soon arrives at the office, Lex insists that she open it — and in front of him! — pulling out some butt-plugs and vibrators ("They are for my wife," perv Micky confesses), which really primes the two of 'em up, the randy pair immediately getting it on against a glass-topped office table. Lex offers up one of the movie's best face-fucks, looking as if her head is about to explode like a Scanner on numerous occasions. Whew! They insert lots of toys up her cunt and ass, too, stretching out both orifices, before Mick sticks prick up her ass doggie style. Phenomenal. "You like how my little ass feels," she purrs to Mr. Ass Grabber himself, before she eventually, ever-so-sluttily adds, "Yeah, I wanna taste my ass," and licks herself off his dick. Yeowza!
We then move to Blue's office bedroom (must be nice to have one o' those, eh?), where they really go nutso. Reverse-cowgirl anal is terrific, especially with those brilliant gapes from Lex. Doggie-anal with more asshole dilations ("Yeah! Look at that gape!" Lex groans, though I don't know how she sees it, but I love hearing her say it!) is even better. Missionary-anal lets you fully savor those meaty Lore thighs, as well as providing some fantastic eye contact with this nympho's arsehole-for-the-moment, including some more ever-so-darling anal winkings, i.e., gape-a-roos. Micky eventually explodes ball batter all over her pretty face. "I hope when you're fucking your wife tomorrow," she filthily tells him, while scooping the sperm off her mug and eating it, "that you're thinking about my ass gaping." What a whore. Love her!
Next, in another sequence directed by Laurent Sky, we get one of my all-time favorite porn starlets, DVD cover model Gina Valentina (23, from Brazil, though raised here in the States), playing a slightly stressed-out student — pretty face, great little tits, stunning ass and all — releasing a little tension by watching an anal-themed porn movie on her laptop, upon her bed, while eventually shoving a lil' black butt-plug in and out of her ass, inevitably drawing her lucky boyfriend's attention (the goober earlier had his eyes glued to the TV set), with the dude (understandably with an ultra-fox like Geen) "rising" to the occasion and eventually/seriously fucking her mouth and dick-sinkin' her twat and tukus-hole.
And there's just never a bad position/moment with Gina. I really love seeing her bent over and having her asshole worshipped; while it's also a blast witnessing her lick balls and suck (rather than choke on) dick, before she performs some way-horny cowgirl-vadge. Such a perfect ass on this devastatingly attractive wench. Then, we're treated to Geen's succulent cunt in our face, as well as her meaty thighs, as she's butt-banged via reverse-cowgirl. We get a perfect shot of her perfectly cute face, too, with our girl eventually screaming in anal ecstasy. Then it's spoon-anal and (a true movie highlight!) doggie anal, with an awesome shot of Valentina's luscious thighs, butt cheeks and vagina (all luscious!), as well as magnificent close-ups of outstanding gapes, with Geen's eyes disappearing into her head from being so turned on. Soon it's missionary-anal, treating us to otherworldly eye contact from this super fine fox — and more incredible close-ups of the in-and-out asshole shenanigans. Check out those incredible tits, too! And wait until you witness the copious amounts of cum our bedroom lothario deposits all over Geen darling's hair, forehead, eyes, eyebrows, nose, lips, tongue and chin. Damn, dude! You didn't miss a spot! It doesn't get better with a perfect butt-fuck tart like Miss Valentina!
And we end on an apocalyptic note, indeed, in a scene directed by Derek Dozer, as the very fine Brooklyn Gray (21) admits to being sex-obsessed herself (like Lexi Lore) in her own voice-over narration and that it's best for her to have a "fuck friend," with Brook "taking the concept to a whole new level" by having many fuck friends instead of just one (sorry, it's not a gangbang); our outrageously sexy girl soon getting a bulbous black vibe up the ass, in her digs, from her flavor for the day, in the form of a somewhat grizzled-looking Markus Dupree. "It makes my asshole feel so full," Brook coos. What amazing expressions from Gray as she leans back in a comfy looking sofa-like chair. Hell, just her looks of arousal alone are enough to get you off. Markus then puts a long, snake-looking, jelly-like dildo up her ass. Wow, girl! Then it's the real thing, with Dupree-dick first inserted up her twat; Markus banging her missionary style in said chair, before he pours oil all over his dick and slowly sticks it up her asshole, going from zero to 60 in seconds, heatedly pumping that prick; the oil hornily dripping down Brook's butt cheeks. This girl is so cute and sexy … lawdy! Magnificent eye contact, too, from her — and non-stop, at that!
"I wanna feel every inch of you in my asshole," she purrs. "Please, nice and deep. Every inch, please, please, please… I'm asking nicely." Whoa. What a whore. Wanna marry her! Doggie-anal is out-fucking-standing. Check out those lovely gapes, too. Mama! Next, it's reverse-cowgirl anal, with more remarkable dilated-anus segments (watch her boobies undulate, too, as Markus turns her into a well-pounded human anal pretzel). Then it's cowgirl-anal with Brookie's booty all greased up, and when she squats on his dick with her well-oiled tukus, it's enough to get you off immediately. But hold off, as we, thankfully, get a return to doggie-anal with this truly incredible buttfuck slut; Markus eventually erupting splatter matter all over her hair and face… including her left (pow!) eyeball. Awesome. Love ya, Brook!
From start to finish, "Anal Models 7" is nothing short of fantastic, with each and every ass-fuck princess performing just as filthily as the other three. Topnotch porn!