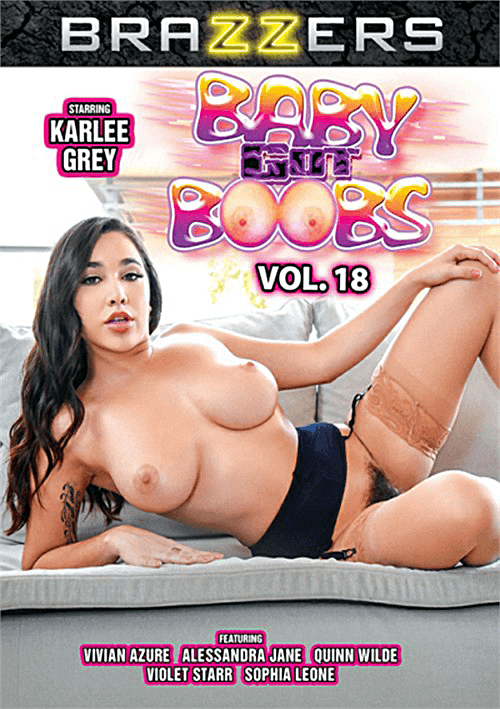 These babes don't just have boobs, they've got booty, too. And you not only get yer typical four scenes in this Brazzers title, but X-tra sequences, bringing the grand total to (yes!) six! And while each girl has her own special talents and alluring looks per scene, I definitely have a soft/hard spot for beauty Violet Starr. All in all, "Baby Got Boobs 18" is, indeed, a pud-puller from beginning to end.
And we start with luscious Vivian Azure getting it on big time with Xander Corvus. She's a great fuck doll with some nicely bumped-up chest orbs. Cowgirl is her best position, inevitably taking that tasty and large Azure ass into consideration.
Next, vixen Alessandra Jane gets it on with the banger of Danny D — who plays her randy stepdad — in their bathroom (damn, that Alessandra has a scrumptious little bod!), with the actual bj moments (as she gets the massive baseball bat 'tween Danny's legs in her hungry little mouth) being just as horny as hi-speed cowgirl and hot-and-humpin' standing-doggie.
Then, Quinn Wilde stars in a somewhat film-noirish scene, with effectively moody lighting, here going all the way with the vine on Ramon Nomar; Quinn ultimately giving the movie one of its very best sequences, as her jiggly ass wobbles wildly all over Ram's rod during cowgirl. Doggie is out of this world, too. And Wilde is just so damn passionate about her porking, it's a major turn-on in itself.
Afterwards, Johnny Sins gets to bed voluptuous, in all ways, Karlee Grey; with her own best moments being her amazing headlights going bouncy-bounce — and her way-hairy pussy being shoved into our faces — during reverse-cowgirl; ditto for spoon; Johnny grabbing her hair and slamming salami (while she occasionally bangs him herself, with her own nasty groin action!) during doggie, which also delivers some nice tit-swaying action.
But my favorite scene is with always-awesome Violet Starr, getting filthy with the schlong attached to Keiron Moore; Violet also proving that, aside from being a superlative slut, she's not a bad little actress, here getting fed up with her dumb "date" for the evening (Moore), though, being the marvelous gal that she is, she lets him demolish her throat and twat. There's just never a bad moment with this doll, who shows how funny she can be, here trying to watch her favorite show on TV as she chokes on Kieron cock, in the movie's gnarliest bj, complete with tons of salvia and unearthly throat sounds — and it goes on for a good, long slime-time, too. Doggie with this ultra-babe is off-the-scale; check out how her web-like pussy grabs Keiron-cock. The kinky hottie also likes being choked during spoon. For the record, I love the cute lil' patch o' hair above her sweet pussy. But the best with Vie is cowgirl, with this hyper harlot going totally bananas as her pussy attacks Moore-member, her perfect butt cheeks undulating into the next dimension — and that position (thankfully!) goes on and on, too. This girl can fuck! Missionary is deep and decadent, with Vie moaning and groaning as if she's having multiple orgasms, her ass cheeks even jiggling during this position, wherein she, again, digs being choked, before Keer erupts love liquid all over the babe's mouth and chest. Violet's a keeper, alright. One of porn's best!
Lastly, we Sophia Leone, who performs a "favor" for her landlord, played by the returning Johnny Sins, so that she doesn't have to pay the rent; with Soph giving a loud, horny suck-off and looking particularly great in the cowgirl and doggie positions, thanks to her own fine booty; Johnny really burning her down into a puddle of sweat and eventually releasing Johnny juice all over the grunting fox's hair and cheek. Smokin'!
Lots of energy, some always-appreciated humor, loads of bodacious babes and the truly fantastic Violet Starr (with Quinn Wilde putting in a sizzler of a scene, too), all make this Brazzers' anthology a wanking winner. Check it out.