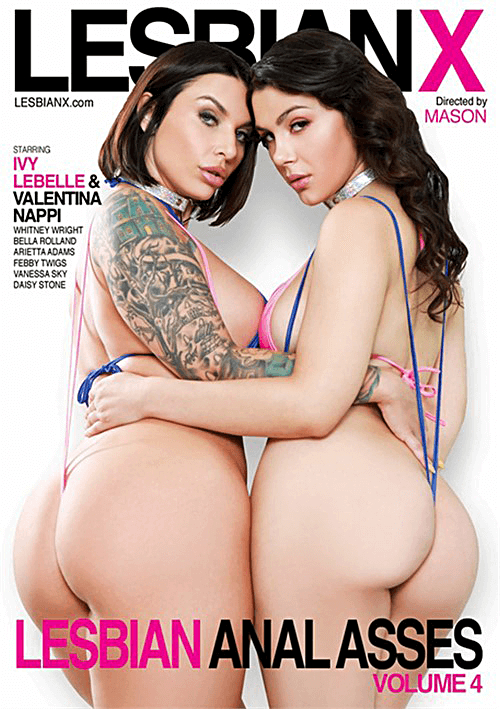 All four of these lesbo-anal duets kick ass! There's just such a magnificent collection of juicy female flesh here, with all eight of 'em sporting amazing butts and sincerely savory slit; with my favorites, however, being the opening brunettes (Valentina Nappi and Ivy Labelle) and the penultimate blondes (Daisy Stone and Febby Twigs), who are all shameless (thankfully!) consumers of vadge!
But wait! — I'm in no way denigrating the other brace of dynamic twat-feasters in "Lesbian Anal Asses 4," because they truly rock! I mean, seeing the big butts of Arietta Adams and Whitney Wright stacked upon one another, as oil is poured all over those dangerous derrieres, well, it's enough (in itself!) to get you off. Both ladies additionally, mercilessly attack each other's anus with a long-ass red vibe, while it's fun seeing Arietta (such a redheaded little fox!) have Whit sit on her face and just gobble away as Ari feverishly rubs her clit to oblivion. Also, we get two smokin' brunettes in the final lascivious lesbo sequence. I mean, witnessing the tall Bella Rolland shaking her wildly protuberant posterior — tastily augmented by black fishnets — is also enough get you off immediately. But it's even better seen Vanessa Sky eating Bella's butthole — and vice versa! — with said holes/butt-cheeks all greased up and appearing all the more glorious.
But we begin with an even more smokin' sequence, as ultra-juicy babes Valentina Nappi gets it on with another juicy-Lucy in the scrumptious form of Ivy Lebelle. I'm not really crazy about the appearances of dildos here, because I'd prefer to see the ladies themselves do the work, with their tongues, lips, mouths … but Val and Ivy do spend a goodly amount of time eating each other's goodly groins au natural, with the filthy Valentina at one point squirting her vadge juices all over Ivy's bent-over-and-shaking ass, then lapping up her own liquid from that same priceless pooper. Mama!
But I think my favorite pairing of this lusty lot of superlative slots is the one featuring the amazing Daisy Stone and Febby Twigs, which is nothing less than a nuclear twat-coupling. What's great about this one is that both ladies have perfectly giant asses, marvelously contoured; while both lassies are totally into getting their separate asses rimmed with tongue/reamed with toy; each lady equally loving feasting on puss, especially Daisy, who just never stops the action from rolling, and that includes her ever-quivering ass cheeks. Not only does Daisy like getting eaten, but she digs eating, too! And seeing her shiny, well-oiled backside in the spoon position, while Febby is attacking it with an ice-dildo then her tongue — as Daze grabs Feb's head and really jams it in there — is full-on nasty. Daze is amazing! The brilliant slut just can't get enough action! — and I just can't get enough o' her!
Thanks to the wonderfully perverted direction of Mason, her excellent camerawork, as well as Mason's spot-on choices of great-looking, whorishly-performing female talent — especially Valentina Nappi (love her!), Ivy Lebelle, Febby Twigs and Daisy Stone (adore her!) — "Lesbian Anal Asses 4" is a superb, wonderfully filthy girl-girl-anal title.