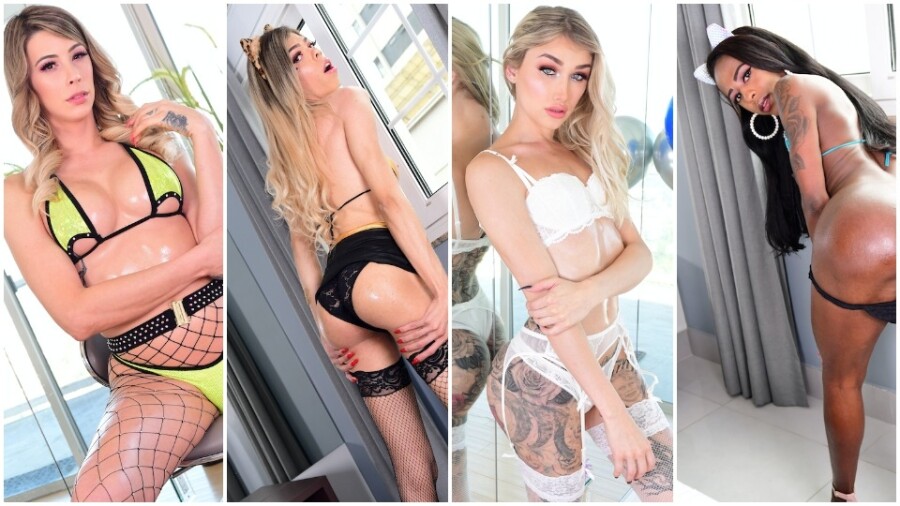 LOS ANGELES — Director Joey Silvera has corralled a star-packed cast for "Trans-Active 4," now in release in all formats. The action includes "the full menu of transgender adventure."
Roberta Cortes, Casey Kisses, Fabriny Lima, Luna Love, Roxxie Moth, Raiane, Roxxie Moth and Tayla fill out a cast that also includes Charlotte Sins with male talent Kai Bailey, Lance Hart and Alex Victor.
"How lucky I am to have this incredibly rare appearance of Luna Love — she is not to be missed, on every level," Silvera enthused. "Also not to be missed, the incredible Tayla, with Raiane," he added. "I got the word that Raiane wanted to be with Tayla, and that was enough."
"Casey Kisses with Charlotte Sins! Total top Roxxie Moth! Roberta Cortes, Fabriny Lima — just watch the trailer and you will see," Silvera enthused.
Love is paired with Lance Hart, whose "powerful buttfucking elicits raw emotion," a rep explained, while Sins' fantasy comes true when she is dominated by Kisses. The "tight, busty charmers" Tayla and Raiane open their hookup with kissing, side-by-side booty shaking and jacking off.
Elsewhere, Lima enjoys solo action while Moth "brings collared male slave Kail Bailey to Joey's set fpr a nasty oral affair featuring foot kink and rimming." Finally, a "commanding" Cortes dominates muscle hunk Alex Victor.
"Trans Active 4" streets today; four scenes are now streaming, with the fifth and sixth scenes set to premiere later in the week.
Click here for promo art, a trailer and additional details and follow Evil Angel on Twitter.
For domestic sales, contact Rick Porras at rick@evilangel.com; for international sales and licensing, email Alexandra Kelley at alex@evilangel.com.