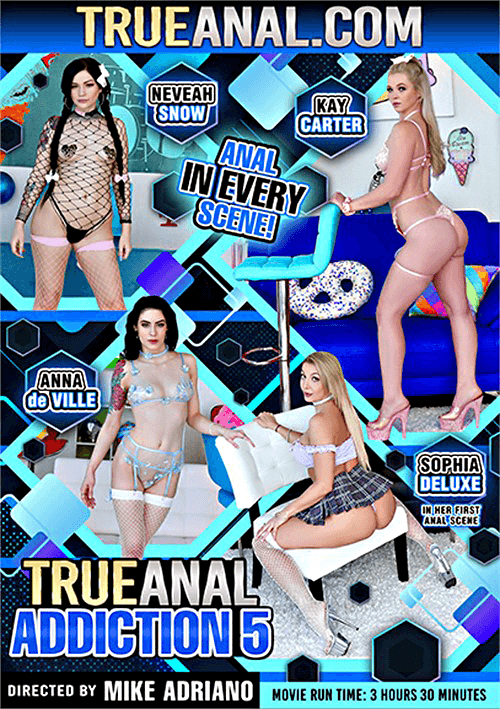 Damn! Talk about a fine flock of fuck-me-in-the-ass-happy foxes. Don't really know which one o' these tender is the tastiest! In other words, this filthy fifth edition of "True Anal Addiction" — from start to finish! — does not disappoint. Indeed, there just isn't a bad scene here, seeing as all of the fresh females look outstanding and perform just as magnificently.
Brunette beauty Karly Baker starts the dirty anal addiction proceedings and, boy, does Karly have one bodacious bottom! Major meaty thighs, too. And quite the pretty pussy. A show-stopping sequence is when she rides Mikey Adriano's cock during cowgirl-anal, her ass cheeks all greased up and quaking like they're gonna bring the house down. Excellent cock-gagger, too.
Blonde tart Sophia Deluxe gets the Adriano-ass-blast treatment next. I love her eye contact with Mikey, as he slowly penetrates her anus via missionary; though, once again, I think Deluxe's best interlude here is when Sophia-sphincter is riding Mikey during cowgirl. An energetic gal, she knows how to move that moneymaker! Greased-up doggie-anal with the ever-smiling Sophia is also pretty mind-blowing/dick-exploding! Mike eventually erupts Adriano-jam into Soph's butthole during reverse-cowgirl-anal, shot from his POV, with our man Mikey having her push the spermatozoa out into a fluted glass and then drink it (gulp!) down. Yep, Soph's definitely one superlative slut!
And we have two more even steamier scenes to go! Bespectacled Anna DeVille is another salacious sweetie. It's truly fab seeing Anna's large, succulent pussy just screaming at us when Mike bangs her backdoor during reverse-cowgirl-anal — ditto for missionary-anal, which I think is DeVille's very best position. But witnessing Anna-baby majorly gape during doggie-anal is a movie highlight; Mikey ultimately jerking off into her dilated anus during that same scalding position, after which she brilliantly rosebuds/ejects the stuff out and into a martini glass, quickly swallowing it all down. And did I mention that I love dear little Anna's spectacles?…
We end with ultra-juicy (mama!), pretty blonde Kay Carter, who really does look outrageously gorgeous, while her body is equally-off-the-scale lush — and the young lady is, actually, quite articulate, too. Here Kay gets a butt-blastin' from Euro rogue Steve Holmes; best moments being her at times energetic, at times slow, but always slutty deepthroating of Holmes-hose; getting it up the butthole doggie style (she may have one of the best booties in the biz!); sucking Stevie's soiled sword after he gingerly removes it from her fresh backside during doggie (love her!); Stevie banging her pussy itself via doggie (glad he doesn't waste that ever-valuable hole!); Kay riding cock with anus during cowgirl, as those priceless cheeks crazily cascade every which way; and, finally, Carter-baby rimming Stevie to jizz-eruption, with boy-batter dripping onto her tongue and all over her facial cheeks. Wow! Carter also (very important!) has a terrific all-around attitude. What a doll!
"True Anal Addiction 5" is one of those gonzos that moves, per chronological scene, from strength to strength, with each suck-cessive episode being better, nastier than the previous one; this fiery fifth edition ultimately getting into volcanic and nuclear territories with Anna DeVille and Kay Carter, respectively. Don't miss this wonderfully gnarly title, made all the more brilliant with its sexy, filthy, newbie female cast; especially (can't about 'em enough!) the ever-chipper, ever-nasty Anna and Kay.