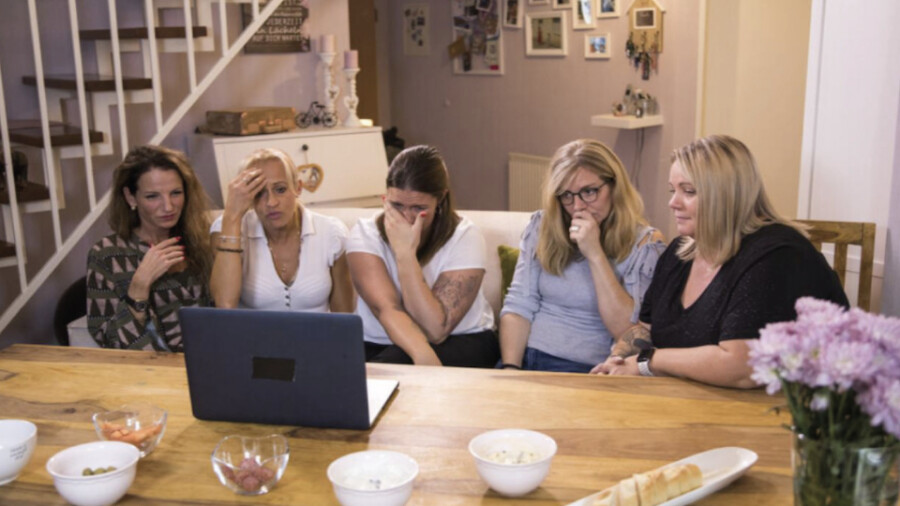 UNTERFÖHRING, Germany — The first episode of the German version of the mainstream franchise "Mums Make Porn" — a reality show where women who are not part of the adult industry and are solely defined by their parental status are coached into making a porn scene that they would approve of — aired last night.
The show's U.K. version aired in March 2019, prompting ludicrous porn-panic coverage from both the local exploitative tabloids and the staunchly anti-porn liberal publication The Guardian, as XBIZ reported at the time.
The German version, "Mütter machen Porno," follows the exact same format as the U.K. version from which it is licensed: defining a group of "concerned" cis women solely as "mums," talking to them about their perception of porn (which is determined by the mainstream press various porn panic campaigns and stereotypes), and then introducing them to European "ethical porn" proponent Erika Lust, who helps them create a porn scene that "is not as bad as the porn accessible to teens."
The show, by definition, encourages a stigmatizing definition of "mums" and "pornographers" as a source of sensational thrills for a judgemental audience, erasing the substantial number of sex workers in the adult industry who are also parents.
Scandal Baiting and Tabloid Shaming
The German version is produced by a Bavarian reality TV production company called Redseven Entertainment, which is responsible for the local versions of "Germany's Next Top Model" and "The Biggest Loser."
The format was originally developed in the U.K. by Firecracker Films, a reality TV giant based in London and Glasgow. Firecracker is responsible for a massive slate of often scandal-baiting, tabloid-shaming-ready mainstream reality shows like "Britain's Loudest Snorers," "The Town the Gypsies Took Over,""Cyclists: Scourges of the Streets?" "My Extreme Drugs Diary" and "Mini Disco Divas."
Firecracker Films' motto is "At the cutting edge of modern factual television, we tell compelling human stories more incredible than fiction."
Firecracker's elevator-pitch for "Mums Make Porn" was "five mothers have cast, written, produced and directed an adult film they'd be happy to show their children to create a healthy perception of sex and relationships."
Back when the British show aired, Britain's sensationalist press had a field day riling up their readers while teasing the show's premiere. "As part of their research, the participants watched adult films based on violence, female submission and rape," wrote the Daily Mail. "Sarah Louise, a mother-of-six who works as a beautician in Bolton, was so disturbed by what she watched that she vomited."
The format relies on embracing as a factual baseline the usual mainstream line about "porn for women," as if all women who watch porn (even non-queer, middle-class cis women like the pornomums) like the same things, and those same things always involve cis het couples, stories, tender caresses and expensive lighting rigs and camera filters.
The German War on Porn
"Mütter machen Porno," was commissioned by SAT.1 as a two-part "documentary," and aired yesterday. The German "Mums Do Porn" reality show comes at a time when reports from Germany indicate a concerted effort by moralists like right-wing politician Tobias Schmid, head of the State Media Authority (LMA) North Rhine-Westphalia, to demand that "web locks" be placed on access to, specifically, Pornhub.
Schmid leads an agency that is part of the federal state government of North Rhine-Westphalia and is of equal rank as the ministries or a superior state authority.
Clamoring for censorship of the adult platform, Schmid decried that "we check every trailer on television, but confront children online with unfiltered sexual practices." Schmid was particularly bothered by "gang bang" content, and how it was normalized on Pornhub's portal among other sexual practices.
"If children get the impression that gang bang is a normal sexual practice in which the woman is used and humiliated, it is certainly an extreme problem," Schmid said.
"The suspicion is obvious that value boundaries are shifting," Schmid added.
The German "Mums Make Porn," Redseven's press material states, "follows five women on their journey through the world of pornography."
"The docu-series follows the mothers as they develop a storyline, cast and produce their own pornographic film," the pitch continues. "They must ask themselves the challenging question of what exactly 'normal' sex is — and what it is not. On their journey to produce a 'realistic' porn film, with a 'normal' cast, the mothers travel to Barcelona to meet the award-winning, feminist porn pioneer Erika Lust, to clarify a few things, and provide some inspiration."
Following the second episode, to be aired next Wednesday evening, SAT.1 "will show selected scenes from 'Vanilla X – The Film,' the film produced by the five mothers."
The German press, like the British counterparts, is already stoking up moral panic. "Mütter machen Porno: Mütter produzieren Sex-Film für ihre Kinder"— "mothers produce sex film for their kids."
Main Image: The promo image of "concerned mums is part of the press material sent out by the "Mütter machen Porno" producers