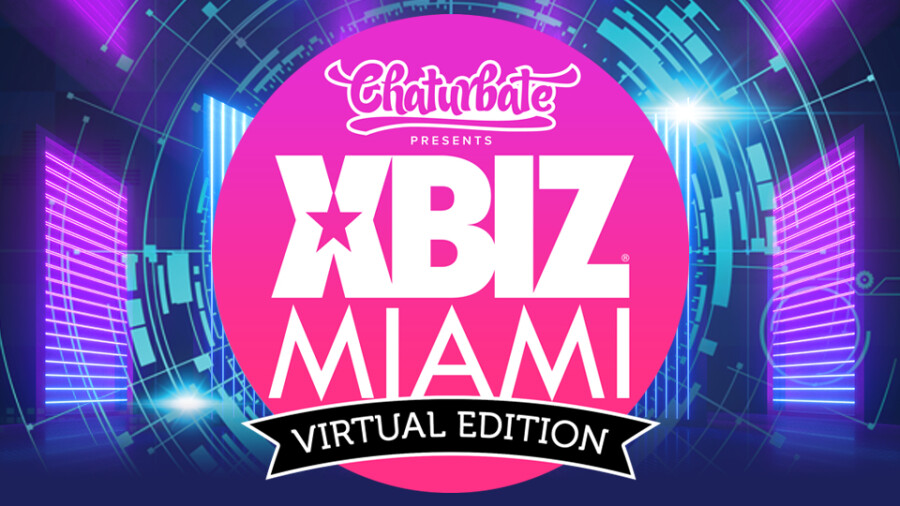 LOS ANGELES — XBIZ is pleased to announce the full show schedule for the first-ever virtual edition of XBIZ Miami, presented by Chaturbate, set to deliver an unrivaled worldwide conference program for talent, content creators and webmasters August 24 to 27 via XBIZ.net.
XBIZ has crafted a robust events series as adult's biggest summer symposium goes online with next-level networking and illuminating discussion panels, culminating with the live broadcast of the XBIZ Cam Awards on the newly launched streaming platform XBIZ.tv.
To view the show schedule, click here.
With dedicated talent and industry tracks tailored to the unique interests of each segment of the community, the three days of action-packed trade show activities leading up to the star-studded awards ceremony will begin each morning at 10:30 a.m. (PDT) with event registration for new arrivals. Then, from 11 a.m. to 1 p.m., talent and company lounges welcome attendees to gather for virtual networking, conversation and camaraderie via XBIZ Miami's exclusive platform.
From 1 to 2 p.m., XBIZ's signature speed networking sessions kick off on Monday and Wednesday (with a Mix & Meet Mega-Market on Wednesday bringing everyone together). Afterwards, three talent panels and three industry panels get underway from 2 to 5 p.m. each day, with the debut of the first XBIZ Cosplay Contest slated for Wednesday at 5 p.m.
The panels slated for Monday, Aug. 24 include:
TALENT TRACK

Profiting from Pandemania: Examining the State of Camming, Clips & Premium Social Media

Learn the latest techniques for monetizing creativity in a COVID age, where consumers' need for connection is heightened by quarantining and social distancing, creating new opportunities for talent on the rise.

Next-Level Engagement: Managing Fans Across Multiple Platforms

Today's adult ecosystem comprises a growing variety of distribution channels and platforms, including cams, clips and premium social media, offering talent the opportunity to gain fans from multiple arenas. Find out how you can tap them for maximum revenue.

Cabin Fever Lovin': How to Heal Self-Isolation With Cam Intimacy

Humans are social creatures who are not programmed to cope with the isolation of quarantine and social distancing; but help is available with counseling and the newest tech to safely bring people closer while creating new opportunities, building compassion and boosting connectivity through camming.

INDUSTRY TRACK

Paysites 2020: Harnessing Rise in Traffic, Maximizing Member Retention

The COVID pandemic has left much of the global population at home looking for an escape from reality through entertainment, resulting in increased interest in adult destinations. Find out how you can get your share of the traffic growth in this session for paysite operators.

Ad Tech: Advances in Traffic Monetization for Advertisers, Publishers

Explore the newest trends and tactics driving profits for advertisers and publishers competing in a fast-evolving landscape with some of the top experts in traffic monetization.

State of Content Production

Quarantine and travel restrictions have complicated video production and logistics while requiring players to maximize the value of their existing content. Learn about the latest production updates and how content-based businesses are circumventing these unprecedented times.
The panels slated for Tuesday, Aug. 25 include:
TALENT TRACK

Essentials of Personal Finance

While adult work has been a perennially profitable profession, it can be a rollercoaster of ups-and-downs; making money management and the need for a long-term plan a necessary task. This session will help you make the best decisions for maximizing your bottom-line.

Ask an Exec: The Latest Advances in Platforms for Talent

Have questions about your current or prospective platforms? This roundup of reps from today's top platform providers will put you on the fast track to success, with a range of insider insights, tips and techniques, in this exclusive Q&A session.

The Male Gaze: Connecting With a Gay Fan Base

Join an exclusive panel of top cam performers and content creators who have grown and nurtured an audience of gay male fans and learn how to better connect with this deeply loyal and discerning market segment.

INDUSTRY TRACK

Billing 2020: New Trial Membership Regulations in Focus

For operators of premium sites, remaining in compliance with a tangled web of ever-changing regulations is vital, with the latest trial membership rules adding further complication. Check in with our panel of billing pros for the latest on this new ruleset.

Progressive Business Leadership in a Pandemic: Making the Right Moves in a Crisis

Successful companies large and small are finding new ways to lead their telecommuting teams in order to maintain their edge. Join our elite group of company execs as they reveal their leadership strategies while finding the silver lining in the COVID cloud.

Legal Panel: Pandemic Edition

Hosted by the adult industry trade association Free Speech Coalition, this special edition of the popular mid-year legal snapshot will delve into the most pressing topics with a focus on issues that could affect your bottom-line.
The panels slated for Wednesday, Aug. 26 include:
TALENT TRACK

SFW World: Seizing Fresh Audiences Using Safe-for-Work Content

Independent creators have the luxury of completely controlling their artistry, allowing them to tailor their marketing to mainstream channels, such as Twitch, TikTok, Reddit, Discord, YouTube, XBIZ TV and more. Join an expert panel as we spotlight 2020's hottest SFW brand-building opportunities.

Stay-at-Home Content: Fashion, Fetish & Fun

Being stuck at home doesn't mean the end of production — it means the beginning of an unlimited world of opportunity for creating the types of clips you enjoy making. Whether it's lighthearted frolicking, or more explicit fare, the options for monetizing content are only limited by your imagination.

Premium Social Media: Curating the Best Feed

Converting fans from free social media channels and other platforms such as cam and clip sites to paying members requires a higher level of offering, including custom and exclusive content and more. Learn how to put your best foot forward by creating the best feed for your audience.

INDUSTRY TRACK

Content Protection Today: The Latest in Copyright Defense

When you post content online, bad actors can steal it and some may even seek to monetize it. Join this exclusive workshop that will guide rights owners on content protection best practices and anti-piracy solutions.

The War on Porn: This Is Why You Should Care

The "War on Porn" is currently being waged against all forms of sexual expression and sexually-oriented businesses on several fronts, from the political (the bipartisan attack on Section 230), to the judicial (FOSTA-SESTA prosecutions), to the cultural (blatant anti-porn propaganda spread by the mainstream press) to even the pseudo-scientific ("public health crisis" resolutions throughout the country). If history has taught us anything, the industry can only ignore these well-funded, coordinated attacks — particularly in a heated election year — at their own risk. Join a panel of experts as we discuss the "War on Porn" and its potential impact on adult.

State of the Industry

One of the most popular sessions at any XBIZ event, the State of the Industry presents top business leaders discussing the current trends across all aspects of the adult business while sharing their personal views on the future.
And last, but certainly not least, on Thursday, Aug. 27:
2020 XBIZ Cam Awards

Be part of the first-ever virtual XBIZ Cam Awards as we celebrate the most captivating personalities and creative artists in adult entertainment. Tune into the live worldwide broadcast on XBIZ.tv.
Free event registration is available to all members of XBIZ.net, the adult industry's leading social network, which hosts over 20,000 qualified members around the world.
For more event information, visit XBIZMiami.com and CamAwards.XBIZ.com and stay up-to-date with the XBIZ Miami Facebook group and on Twitter with #XBIZMiami.