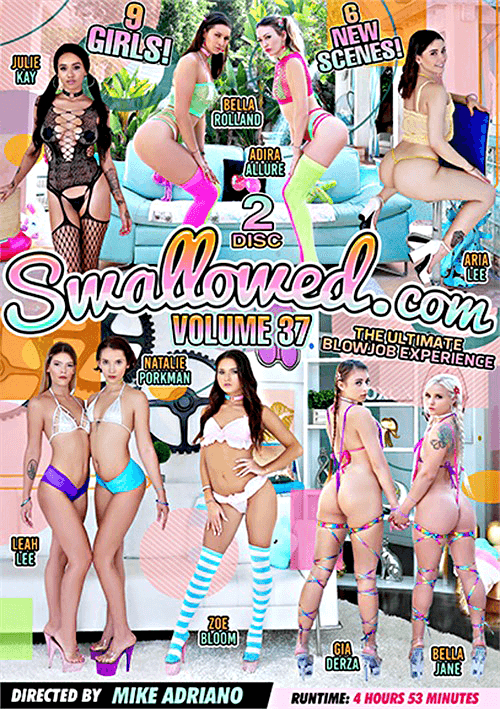 Nine girls, six scenes, one gnarly blowjob after another … all from the marvelously twisted mind of Mike Adriano, with the most memorable of this super salacious sextet o' sucking being three standout saliva-enriched sirens: namely, Adira Allure in her deranged suck-off o' Oliver Flynn's very lucky pricky (with some help from tall brunette Bella Rolland); the gorgeous Aria Lee shucking down Mikey-meat; and cute, delicious Natalie Porkman (here teamed up with underrated Leah Lee) gagging on Logan-link. Wow! But, hey, all six scenes kick butt — or rip tonsils, I should say. Zoe Bloom, for one, is just so pretty, it's hard to believe she's, actually, in porn. Thankfully she is! And she attacks Adriano dick like a maniac, getting tons of saliva all over the thing … and on her tits … and on the camera. Yeah!
But with the Adira Allure you get one totally filthy experience, indeed, with some much-appreciated whorish help from brunette Bella Rolland, as they hungrily descent upon Oliver Flynn's raging hard-on. To begin with, Adira loves rimming Bella — and vice versa. But watching both mouths simultaneously go up and down the shaft of Ollie's cocky is so, so horny. Then Adira just keeps gagging and gagging and gagging on that thing (amazing), while Bella rims Flynn's backside. Then they switch positions. But, gotta admit, Adira is tops in terms of both sucking and rimming. Such a marvelous nympho! Love her! Always intensely passionate … and producing inhuman amounts of spit! But wait until you see them both perform upside-down blowjobs, choking and hacking on cock, as Ollie goes back and forth 'tween their throats; their own spit surrealistically cocooning their faces. Outstanding! Both ladies, of course, share Ollie-spunk, ultimately slurping it all down until it's gone. "Don't we look like two satisfied little sluts?" Bella asks Flynn.
Blonde Bella Jane (so cute!) is teamed up with Gia Derza (we've seen this fox before), getting gagged via Louie Smalls throbbing dick — after, that is, they suck each other's anus and pussy — with both young sluts doing a magnificent job o' swallowing Smalls' sax and rimming Louie-backside, as well as getting their throats separately dick-dunked while they're upside-down. Intense.
Next, exotic-looking spinner Aria Lee presents another movie highlight, as this gorgeous brunette gets the Swallowed.com treatment from Adriano himself; this beauty, just like Zoe Bloom, looking simply too, too pretty for porn; but she eats man-ass, makes unearthly sounds (my favorite part of her scene) while deepthroating, and gets saliva everywhere! And it's so fantastic seeing such an innocent-looking, young, ever-smiling pixie take squirt after squirt of sperm into her gullet. Love ya, Aria!
Big-boobed/big-bottomed black babe Julia Kay goes bonkers on Alex Jones' Johnson and, yes, it's way arousing; but we end with another outrageous double-dick attack with Leah Lee and the romantically named/totally luscious/uniquely pretty Natalie Porkman — she's the one with the short hair, one of my faves, and yet another of absolute highlight in this gonzo! — sucking off the extremely fortuitous Logan Long in one of the most volcanic scenes in the movie. After the girls rim each other, they gag on cock, eat Logan farts, and eventually get the nasty, dramatic, in-yer-face upside-down treatment from Logan-log; with Nat always being delightful to watch in action, as she frequently smiles, her eyes constantly looking intent and curious, while she also exudes tons of energy and sluttiness (love her dirty talk as she watches/directs Leah's rimming of Logan's backside — "Yeah," she purrs with wicked smile as she fascinatingly divides her crazed stares between the camera and the action, "that looks so hot" — after which she oh so happily does the same), with both darling strumpets eventually cum-swapping several times, before delightedly gulping down Logan love-liquid.
Again, each of these wonderful young ladies is amazing in their oral performances, with highest points/hardest dicks going to the attractive, ever-filthy Adira Allure, Aria Lee and Natalie Porkman. The best of the best!