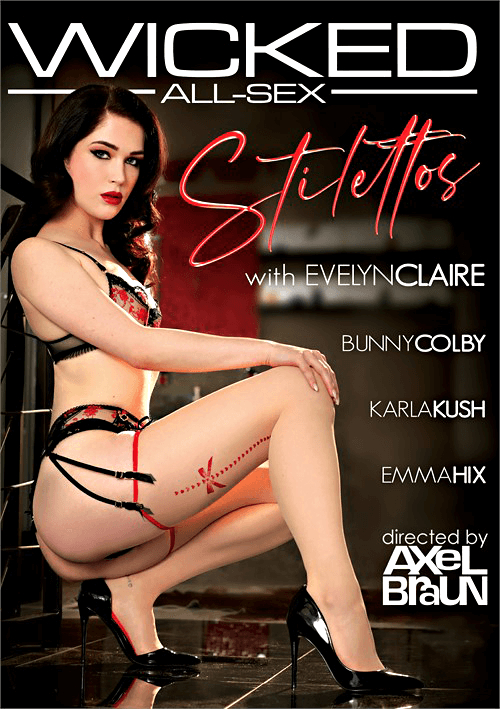 Axel Braun presents a cinematic love letter to the erotic aura and sex appeal of the classic femme fatale accessory, the stiletto high-heeled shoe.
Braun is very adept at producing fetish films, having delved into fantasies surrounding women with short hair, women who rock thick pubic bushes and women covered in elaborate tattoos to name a few, but this is the first time Braun has focused his considerable talents on the footwear fetish.
Popularized by classic Hollywood actresses like Rita Hayworth and Marilyn Monroe, the stiletto style high-heeled shoe has long held a sexual mystique and been a staple in power fantasies for both men and women. A good pair of stilettos can excite even the most chaste man or woman to the point of deviancy, as Axel shows in this film.
Evelyn Claire and Tyler Nixon:
I really like the stockings Evelyn wore in this scene. They just compliment her complexion so perfectly, and the tiny hearts running up the backs of her legs worked perfectly to highlight her bright lips and dark hair. The glossy black slip-on stilettos she's wearing are easily six inches in height, and the way the red of her stockings peeked out from under her shiny shoes whenever she arched her feet was incredibly sexy. The entire ensemble is fire. There's some kinky foot play as Nixon rubs his cock across the hard surface of Claire's shoes, and during cowgirl the camera lingers nicely on her feet as Tyler grabs onto Evelyn's heels like stirrups while she rides him. The finish sees Tyler splatter Evelyn's heels with his cum, then she caps off the scene with a filthy moment that should be seen without being spoiled.
Karla Kush and Ramon Nomar:
Karla saunters into the room with the camera firmly focused on her strapped, black stilettos. The gold buckle fastening the ankle strap really makes the shoes stand out, and during her tease she spends plenty of time showing her footwear off for the audience. Ramon enters and enjoys some foot play as Karla rubs his dick through his tight-fitting jeans with her feet, then Ramon takes it a step further and rubs her heels all over his bare chest as Karla giggles.
This was a playful, yet erotic opening that would have been dynamite with some sultry music in the background. Ramon really leans into the kink being served here as he spends a lot of time licking and kissing Karla's heels while he fucks her. There's also a very kinky moment where Ramon rubs his dick between Kush's heels while she rubs her pussy furiously. Another nasty finish closes the action here, with Kush folded up in a very compromising position that remembers exactly what the fans are here to see.
Bunny Colby and Cyrus King:
Kudos to whoever selected Bunny Colby's attire for this scene as she looks wonderful in pink lace! On top of that, her cream colored, high-back heels provide a beautiful contrast to her bright lingerie. I really liked the fact that her heels were almost the same color as the couch, because it draws the eye to the color in the scene, which of course means we are looking at the lovely Colby. Cyrus gives Bunny a thorough pounding, revisiting the sexy stirrup move from earlier, while keeping Bunny's long legs open to make sure the audience's view of her feet is rarely obstructed. Also, wow does Bunny have a pretty pussy! When King is finally ready to blow, Bunny assumes a submissive position and allows him to coat her creamy-colored heels with a thick cream of his own.
Emma Hix and Seth Gamble:
Like Bunny, Emma is also wearing pretty, lacey, pink panties and a matching bra. Her stockings are flesh colored and compliment her hair quite nicely, but the gemstone of her outfit is her hot pink, semi open-toed heels with their criss-crossed straps. I love the fact that the heels showcased in this film are a variety of colors and styles. It would have been so easy to have everyone wear shiny black heels but there's so much less fun in that. The chemistry here was pretty strong. Emma and Seth (he's such a good performer), look into each other's eyes often and their desire is plainly reflected on their faces, which makes the sex feel more passionate. Also, my word Emma knows how to ride! Her hips never stopped and her rhythm was impeccable during cowgirl; her creamy pussy oozing down Seth's cock serving as visual proof of the pleasure coursing through her body. There's also a very fun standing missionary during which Emma's stiletto-clad feet dangle deliciously in the air. The festivities conclude with quite a bang, as Emma channels her inner slut for a filthy and fulfilling facial.
Once again, Axel Braun manages to bring a fetish fantasy to life in fun fashion. Everyone involved in this film looks fantastic, and Axel never gets lost in the sex for so long that he forgets who the audience is. The sexy stilettos are the star of every scene in the film wardrobe-wise, and the kinkiness of the sex intensifies as the movie progresses which is a nice technique to use in all sex movies as it builds tension towards a cinematic climax. There's something for everyone here and it's presented in a fashion that should leave audiences spent and satisfied.