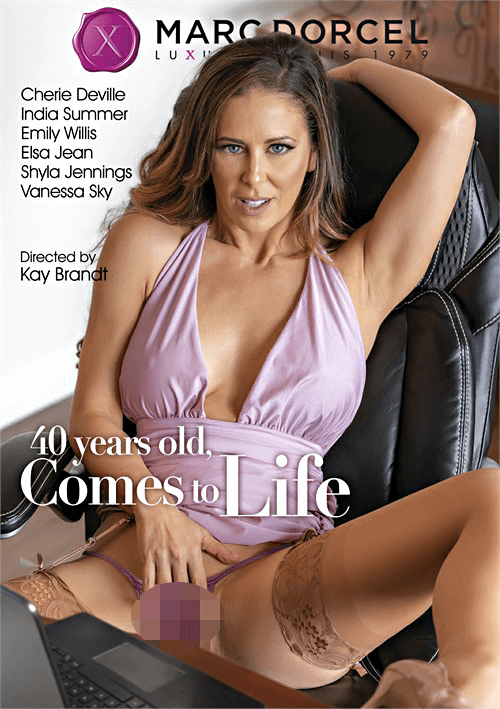 Best-selling romance author Pandora St. Patrick (Cherie DeVille) is suffering from a serious case of writer's block, struggling to figure out the best direction for the characters in her latest steamy tale. Her publisher, anticipating another bestseller and wanting to strike while the iron is hot, is hounding her to finish the novel. As Pandora starts to crumble under the pressure, she finds herself unable to separate herself from her work. Will her obsession with the characters in her book destroy her reality, or will she experience an awakening and discover the richness of life that begins at 40?
This is the second collaborative project between Dorcel and award-winning American writer Kay Brandt. She first directed an orgy scene for the French-based studio in last year's "Climax," incidentally the first time the European company utilized a U.S.-based cast, crew and director. Dorcel is at it again with "40 Years Old, Comes to Life," as Brandt steps into the role of director while American star Cherie DeVille serves as the movie's lead. I loved the way this story unfolded, with the narrative beats woven into a pleasant and comedic package that provides plenty of laughs, a little bit of heartbreak and a whole lot of eroticism. This is the most significant acting role I've seen from Cherie in quite some time, and I've always felt she was a bit underrated in this regard. She does a really good job here, injecting the story with a solid mixture of painful drama and humorous delusion. I also thought India Summer, Shyla Jennings and Will Pounder were very good in their supporting roles.
The film opens with Pandora (whose real name is Kelly in the film), trying desperately to make some progress with her writing, while her boyfriend (Will Pounder) tries desperately to make some progress of his own. This is a very strong opening as the entire crux of the plot is laid out clearly within the first 10 minutes. Cherie does a wonderful job establishing Kelly's predicament while Pounder does an equally impressive job building sympathy for his character with the audience. Their entire interaction really nails the plight of writers and addresses the struggles of building relationships while juggling careers in an honest way. It's a very real scenario and the more authentic a scenario feels, the more the audience can connect to it. I thought this was splendid writing.
After a foreshadowed but still painful heartbreak, Kelly turns to her younger sister (Elsa Jean) and her girlfriend (Shyla Jennings) for comfort and advice. Again, the writing here is pretty great. The ladies touch on some really relevant points of view regarding gender expectations, and I love the fact that Kelly finds herself challenged on the way she writes her female characters vs. the way she writes her males. It's a revelation type of moment for Kelly and a thought-provoking moment for the audience. Nuance like this is often ignored in porn which is a shame, because when utilized skillfully, as Brandt does here, it can add a very potent and immersive element to the accompanying sex.
The movie progresses through a series of encounters that blurs the lines between fantasy and reality as Kelly has waking conversations with her characters (which keeps the viewer engaged and guessing), and effectively shifts the story's tone from dramatic to light-hearted.
As is always the case with Dorcel films, the sex here is quite good, with DeVille herself really shining. Her scene with Will Pounder is fun, and I loved the romantic atmosphere created by the crackling pops of the fire during the opening moments of the sex. And Shyla Jennings has a very sensual scene together with Elsa Jean, burying her face in Elsa's pussy like it's the last thing she's ever going to eat, and her expressiveness when Elsa brings her to orgasm is quite erotic. I particularly enjoyed the rimming (I think rimming is really hot), and watching Elsa smother Shyla's face with her ass was smoldering. That visual should be a promotional poster or a painting or something.
No-named characters India Summer and Emily Willis share a wild three-way with Carson the dragon prince (Codey Steele) that has a very fun undertone because of the narrative beat that precedes it. This is exactly what I mean when I say a strong story can change the entire feel of the accompanying sex. Codey is more than just a lucky guy getting to fuck two beautiful women, he's the son of a dragon with a magical sexual magnetism that women cannot resist. It makes everything Summer and Willis do feel different and brings a fantasy element to the sex that wouldn't exist without the story. When India is trembling in ecstasy as Codey licks her pussy, when Willis finds herself unable to utter a single sound as pleasure cascades over her body under the relentless pounding of Codey's meat, when India sounds on the verge of tears brought on by ecstasy as Codey rams her in a sexy side missionary, it hits different because of the backstory. Great stuff.
Kelly experiences a sexual release with "the newest character in the story" (Ramon Nomar) and Carson that serves as her road to Damascus moment. She's wild and lustful, doing subtle things like keeping her ass in the air practically begging for someone to do something … anything to it as she fills her mouth with cock. She takes an aggressive pounding and keeps begging, sometimes screaming for more. She's open to everything here and it feels like she can't get enough even though her body is being pushed to its limit. We're talking eye-rolling, take-my-breath-away, quivering-inducing sex from start to finish. The added detail of India and Emily watching aghast from the sidelines (take note of India's expression when Ramon slides effortlessly into Kelly's ass) furthers the intense nature of the scene.
The true climax of the story occurs as Kelly changes her writing focus and alters the novel significantly, creating the characters of Vanessa Sky and Jay Smooth. Their tryst is a manifestation of Kelly's newfound freedom and the sex reflects it. Everything here is slower, more passionate, more emotionally connected. Watch the way Vanessa caresses Jay's face, the way her hands continuously roam all over his body, the way he looks into her eyes as he thrusts himself inside her (especially during the beautifully captured anal side missionary). It's very romantic.
I really enjoyed this movie. Cherie DeVille carries Kay Brandt's well-written story easily, and the supporting cast does a great job as well. India Summer really shines in her moments, particularly the way she sells the story with her facial expressions (wow she's good), and Will Pounder was a pleasant surprise as well. The sexual highlight is the raucous anal three-way, but all the sex here is pretty dynamite. These collaborations between Dorcel and American studios/talent have been quite ambitious and I hope they continue because the results so far have been wonderful.