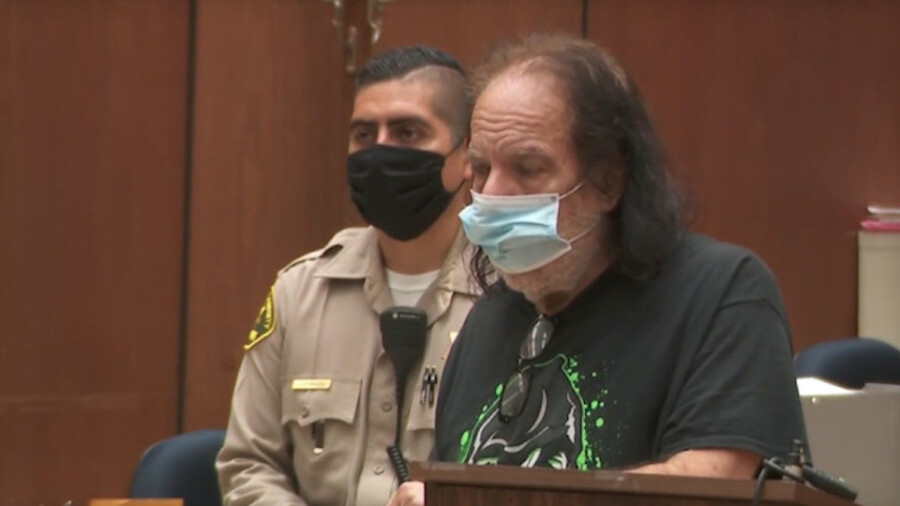 LOS ANGELES — The Los Angeles Times published this week several more accounts of alleged sexual assaults by Ron Jeremy.
None of the new accounts appear to have resulted in more charges by the Los Angeles District Attorney Office, which last June charged Jeremy with eight counts of sexual assault: "forcible oral copulation" and "forcible rape" (two separate charges) on or about May 21, 2014 against a Jane Doe No. 1; "forcible rape" and "sexual battery by restraint" (two separate charges) on or about March 11, 2017 against a Jane Doe No. 2; two charges of "sexual penetration by use of force" and one of "sexual penetration by intoxicating substance" (three separate charges) on September 10, 2017 against a Jane Doe No. 3; and one charge of "forcible rape" on July 15, 2019 against a Jane Doe No. 4.
Jeremy was arrested on June 23 and remains in jail awaiting trial.
During his bail hearing, on June 26, the prosecutor — Deputy District Attorney Paul Thompson of the Sex Crimes Division — justified that unusually high $6.6 million bail his office requested by referring to the sheer number of allegations of what he termed "sexual violence" that have been made about Jeremy, some of them going back 30 years.
Although the DA office only found enough evidence to warrant charges over four incidents over a period of five years, during Jeremy's arraignment Thompson cited 38 allegations to justify his claim that Jeremy's freedom represents "a risk" and "a danger to society."
According to the Times article, "prosecutors said they had been contacted by 25 women across the country who made allegations 'ranging from misdemeanor sexual battery to rape' against the man who for decades was one of the porn industry's most visible celebrities."
The Times then quotes an anonymous law enforcement official, most likely from the Los Angeles County Sheriff Department, which has jurisdiction over West Hollywood, where the charged assaults are alleged to have taken place.
"Following his arrest, the L.A. County Sheriff's Department has also received 30 allegations of forcible rape and groping against Jeremy involving incidents that took place in L.A. County since 2000, according to a law enforcement official who spoke on the condition of anonymity to discuss the ongoing case," wrote Times crime reporter James Queally.
Queally added that "six additional women" have contacted the L.A. Times since Jeremy's arrest, "describing interactions with him including unwanted touching as well as violent rape. The allegations span two decades and both coasts."
– Retired adult performer Billie Britt claims that at an industry Halloween party at the Sunset Strip House of Blues, "Jeremy shoved her onto a table and forced himself inside her. The ordeal lasted only seconds — Young says she fought Jeremy off — but there were at least three other people from the industry in the room, she said. None of them reacted."
No date was provided for that incident, though the Sunset Strip House of Blues closed in August 2015. The IAFD database shows Billie Britt as having been active in the industry 2000-2002.
Veteran performer and president of the Adult Performers Actors Guild (APAG) Alana Evans is also quoted, confirming that Britt had told her about the incident in the early 2000s, as did someone named Pat Cronenberg, described as "a business associate" of Britt's.
– Elle Hell alleges that "Jeremy attacked her in Chicago in 2014" and "that, despite the fact that she broke down crying and repeatedly said 'no,' Jeremy forced oral sex on her and tried to rape her."
Hell told the times she met Jeremy at the Exxxotica Expo near Chicago in 2014. She claims she went to a bar with Jeremy about 10 other people and "not long after they went inside, Elle said Jeremy suddenly pulled her onto his lap. She claimed she had to use the bathroom to get away but said Jeremy followed her."
"After Jeremy tried, and failed, to get access to a private room in the bar, Elle said Jeremy led her back to the limousine that they had arrived in. Once inside, Elle said, Jeremy forcibly performed oral sex on her. Elle said she demanded that he stop, but Jeremy slid closer to her."
"He takes his [penis] out, and I remember this vividly, I'm crying," she told the Times.
Hell said Jeremy "repeatedly tried to force himself on her, pressing his penis against her hard enough that he left an abrasion on her genitals, before giving up and growing angry. Jeremy led her back inside the club, where he wrote her a note."
Hell showed on Twitter an autographed note on a napkin purporting to be the note in question, which reads in part "You would cry, I hope … if I ever leave."
Amateur photographer Blake Clay confirmed Hell and Jeremy "were at the same after-party and that both had disappeared from the group at the bar. Clay, who took pictures of the two together, said Elle described the sexual assault to him later that night. Another adult performer who was at the party confirmed Elle and Jeremy were there. The performer, who requested anonymity for fear of reprisals, said Elle later described an assault by Jeremy."
The Times describes Hell as an "adult entertainer," and there is a verified profile for Elle Hell on Pornhub with amateur videos.
– An anonymous "sex worker formerly employed at the Bunny Ranch" alleged that Jeremy assaulted a woman (which the article implies is herself) during a 2018 birthday celebration for brothel owner and reality TV figure Dennis Hof at the Bunny Ranch near Carson City, Nevada. The woman alleging the incident "asked not to be identified for fear of reprisals."
The woman told the LA Times that Jeremy led her away from the party and toward the back of the building. "She said she tried to signal to co-workers, mouthing 'help me,' but couldn't get their attention. Jeremy led the woman to an outside area behind the restaurant, pressed her up against a railing and forced himself inside her, she said. 'He bends me over the railing at the restaurant, lifts up my dress and does his thing,' she said. 'I'm in shock. I don't really know how to process what's going on because it's such a public area. What do you do?' The woman said the attack lasted between 10 and 15 minutes. 'I feel guilty that I didn't scream or anything,' she said. 'I guess I didn't know how to react'."
The woman said she did not report the alleged attack to police, "in part because it took place just weeks before voters would decide on a ballot measure to shutter a number of Nevada's brothels. She said she told ranch staff about the alleged attack but nothing was done." She said the next day she told performer and advocate Ginger Banks (who was compiling stories about sexual abuse in the industry by Jeremy and others) and also close friend and performer Draven Star.
"Those words that she told me are burned into my brain. There's no way she was making any of that up," Star told the Times, who also described the woman as "a cam girl." Banks also corroborated the woman's account with text messages from the time.
– Marcela Latinbabe, a New Jersey model who says she has appeared in Playboy South Africa earlier this year, alleges she met Jeremy at the Exxxotica Expo in Edison, N.J., in 2015 when she was a cam girl, and, after asking Jeremy for a photo, he "immediately grabbed her breasts and put them in his mouth."
Latinbabe "provided pictures to The Times that showed Jeremy clutching and sucking on her breasts. Though she is smiling in the photos, Alvarado said she did not give Jeremy permission to touch her and was unnerved by his behavior."
"I was very naïve of what went down," she told the Times, "and because this is a famous guy I, I didn't know whether that was a normal thing or not."
The photos provided to the Times were taken by Latinbabe's ex-husband, who said "Jeremy grabbed Alvarado as soon as she asked for a photo."
"She was getting closer, just to take a normal picture, and that's when he just groped her completely," said the ex-husband, who was married to the model from 2003 to 2018.
– Alana Evans also confirmed that Jeremy had a reputation for "running a hand up women's skirts" and "trying to digitally penetrate them without consent."
"He's done that to me," Evans told the Times. "When enough women describe something that you have felt, then you know, OK, it's absolutely real."
Evans, who has performed scenes with Jeremy, added "she also witnessed him pulling up the skirt of an actress who was asleep while the two were on set together" for "Not The Bradys XXX" in 2008.
"I look over and I see Ron has grabbed the corner of her dress and is lifting it up to look underneath. … It immediately made me uncomfortable," said Evans, who woke the woman up immediately.
– Colleen Pinto, described by the paper as "a former adult film actress and exotic dancer in Florida," said Jeremy "grabbed her breasts during an appearance at a strip club in 2005. Pinto said when she tried to pull away, Jeremy smacked her in the breast with a microphone."
– Victoria Martin, described as "a former dancer who worked with Pinto at a different Florida club," said she remembered Pinto describing Jeremy striking her on stage in the mid-2000s.
It is not clear if the additional allegations mentioned in the Los Angeles Times article, or those quoted in a July 20 article by Rolling Stone magazine, are some of the 38 cases mentioned by Thompson during the bail hearing.