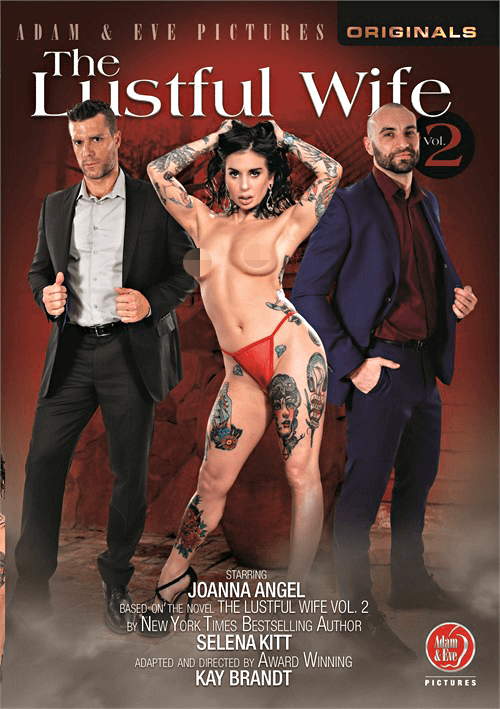 After experiencing a sexual awakening, Tara (Penny Pax) finds herself craving more of the same. But when her husband John has to leave town on a lengthy business trip, Tara realizes that she's not quite ready to explore the world of carnal debauchery alone. Enter Michelle (Joanna Angel), an old friend of Tara's friend Kelly, who agrees to take Tara under her wing while John is away. With Michelle's guidance, Tara discovers a whole new world of sexual liberation, and an adventurous side of herself that she didn't know existed.
Acclaimed erotic author and filmmaker Kay Brandt presents the sequel to her well received 2019 hit which garnered an XBIZ nomination for Best Erotic-Themed Movie. Here, Brandt continues the adventure of Tara in compelling fashion, expertly writing a continuation of the original story that was inspired by Selene Kitt's popular novel. One of the strengths of a sequel is the audience's investment in characters they already know, and their desire to see where those characters go from the last time the viewer saw them. With this sequel, Brandt weaves a tale that feels like a natural progression for our heroine while introducing new characters that feel right at home in this erotic universe. While the first film is all about Tara discovering the taboo pleasures of seduction and group sex with other men, this tale is about Tara discovering the sensual pleasures of sex with women and the excitement of open sexual relationships.
One of the strongest points of this movie is Penny Pax's ability to command the story in the presence of an industry powerhouse like Joanna Angel. Being the huge star she is, the movie could have easily become Michell's story, with Penny's character fading into the background, which would have fundamentally changed the nature of the story. The praise for avoiding this pitfall is deserved three ways; Kay Brandt crafts a story that stays focused on Tara despite the introduction of new and interesting characters, Joanna Angel embraces her role as guide to the heroine and Penny Pax immerses herself in the character audiences fell in love with from the first film which creates a strong connection between Tara and the viewer. All these factors work together to create a story that is unequivocally Tara's. We want to see where this adventure is going to take her, and while we're more than happy to have Michelle and co. along for the ride, it is without a doubt Tara that we end up invested in and rooting for.
The sex here is really good. Michelle opens the action with a nasty threesome with hubby Paul (Ramon Nomar) and Paul's best friend Marco (Stirling Cooper) in which she gets used pretty intensely. Watch Joanna's face throughout the encounter, she's so hot for everything that's happening and looks overwhelmed with ecstasy more than once. Also, holy piston-driven engine Batman, these guys are masters of the DP! They pump in and out of Joanna's holes fast, hard and in perfect sync.
Michelle introduces Tara to her world of sex parties through afternoon tea with her girlfriends Mia (Vera King), Bella (Gianna Dior) and Zoe (Sarah Vandella). It's certainly a wonderful trio to get introduced to the world of a woman's touch as these three ladies are incredibly tender and sensual with each other, which is exactly what speaks to Tara's character. Wooowee watching Vandella tremble to orgasm as she smothers Gianna's face is amazing, as is watching her quiver with ecstasy from Gianna's tongue-lashing while she munches hungrily on Vera's box. Really fantastic stuff.
The story flows naturally into a moment between Tara and Michelle where Tara makes the leap, and passion overwhelms both women. This is so well done. There's not much screen time between the two sex scenes, and the scenes themselves are quite long which could easily create a sense that the narrative moments are just throwaway instances designed to move the story along quickly to the next sex. But Brandt's dialogue and Penny's performance solidify the story being told and allows the audience to accept the quick sexual pace without question. Especially considering Tara's admissions before things between she and Michelle get hot and heavy! The intimacy here is fantastic, with Penny starting out timid but excited, and blossoming into a state of pure lust. Plus, the incorporation of the phone recording is a fantasy all its own.
Michelle suggests a step forward that Tara is initially excited for, but once the moment arrives and a figure from her past is revealed as part of her present journey, her trepidation overwhelms her. This is a wonderful character building moment as throughout the scene, Michelle exists as Tara's rudder while she navigates the proverbial uncharted waters. As the sex progresses, Tara becomes less reliant on Michelle's presence for her comfort and more engrossed in her excitement for fucking Chris (Derrick Pierce). Eventually, Mia steals Michelle away for some fun of their own, leaving Tara and Chris to explore their newfound lust and the result is beautifully liberating for Tara. Also, gosh Penny Pax has a wonderful body and she looks phenomenal in every position!
A wild threesome concludes the sexual festivities as Marco fucks Michelle and Mia to pieces on the dining room table. There are some impressive feats of stamina and balance here, as well as some particularly arousing visuals (Nomar mounting King in side missionary is a perfect example).
This is a very good story and worthy follow-up to its predecessor. Penny Pax delivers a stellar performance and should find herself nominated for some acting and sexual performance awards as this fall, while Joanna Angel is great in her supporting role. Kay Brandt's original story is strong, and I love the way it leaves itself open for another sequel.