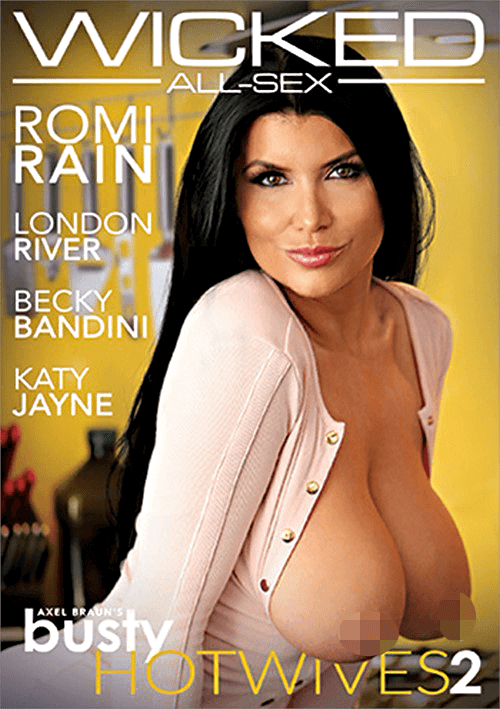 Massive mammaries are the treat of the day in this follow-up to Braun's popular 2018 busty venture. An all-star cast that includes 2018 XBIZ Female Performer of the Year Romi Rain brings some serious heat to the party as well as some of the best breasts in the industry!
When Wicked Pictures contract director Axel Braun isn't producing award-winning, x-rated comic parodies, he spends his time crafting soft fetish films that focus on a myriad of kinks. Here, he revisits the big boob genre with a strong cast and gives tit lovers something to rave about.
One of Braun's strengths as a director is keeping his fetish films anchored in their subject matter. Every scene makes tits the star of the action, while managing to incorporate all the other sexy stuff we love to see in porn!
Romi Rain and Logan Pierce:
Braun's musical choices for fetish movies often nail the theme, and he seems to have a real knack for choosing the perfect song to accompany the opening scene as well. Music is such an important component to porn in my opinion as it can enhance the tone and/or heat index exponentially. Axel chooses two winners to open this film, with the steampunk-stylized opening song and the erotic, fantasy-inducing whispers of the track accompanying Romi's scene. Great work once again!
Romi's tease is so good because of the way she absolutely eye-fucks the camera at times and the way she makes her amazing rack the star of the entire sequence. Leaning into the camera while mashing her tits together (strong nail game by the way) and flopping them side to side with glee was a perfect way to grab the audience's attention. By the time Pierce starts fucking her, we can't wait to see her tits flapping in the wind, and boy do we get plenty of it!
The doggie is shot from an angle that showcases Romi's tits and her gorgeous ass, and the reverse cowgirl just allows the audience to ogle Romi's breast freely. She's such an energetic performer, not in a flailing type of way, but rather, she shows a genuine zeal for getting plowed that comes across on the screen. The bubbly finish is nasty and naughty and feels just right.
Katy Jane and Ramon Nomar:
I saw a movie once where a man said to his female friend, "I could never be a woman. I'd just sit around and play with my breasts all day." That is exactly what Katy felt like during her tease. The playful way she jiggled her tits around made me think of a young man having one of his first experiences with a woman and being completely unable to stop playing with her tits. It brought a smile to my face. I really like the way Katy just laid her tits on Ramon's leg while she sucked his dick.
Just imagining the feel of those nipple on the inner thigh was arousing, and I think it added some subtle heat to the scene, especially with how quiet it was to start. There's an especially hot moment during the spoon where Ramon starts smacking Katy's ass, and she almost growls at him to hit her harder. Ramon responds with a vigorous pounding that sends Katy right into the stratosphere and ends with him exploding all over her massive tits.
London River and Nathan Bronson:
London River has incredible eyes. Yes, her tits are great and she showed them off wonderfully during her tease, but wow her eyes can hold the camera! Her office attire-inspired outfit can barely contain her breasts and there's a slutty secretary vibe to her ensemble (which includes a very stylish belt), that certainly excites. She grunts like an animal as Bronson feasts on her pussy and it gives the encounter an edgy "hard fuck" vibe that primes the audience for some more aggressive sex. The performers deliver in that department, with Bronson skewering River pretty hard while her tits seem to at times bounce up into her throat as she begs for more. Definitely a more intense scene that tickles the more lustful side of the libido.
Becky Bandini and Seth Gamble:
I liked the opening of this scene quite a bit! We get a bonafide lap dance from Bandini that is extremely erotic and why don't more directors let performers do this?! Watching Becky grind her hips against Gambles pelvis as he cradled her in his embrace was so hot and that was before Becky even pulled her tits out. What a great way to build anticipation for the sex! Watching Becky lean over Seth and let him fuck her mouth while her tits drooped over his stomach was super hot, and watching Seth mount her body and fuck her tits was even hotter. Things get even better when Becky mounts Seth (she has a wonderful ass and knows how to ride) and the scene pretty much wins in every minute that follows. Watching these two spoon while they looked into each other's eyes nose-to-nose was such a connective moment and really set the sex drive into high gear. What a beautiful and sexy moment.
Axel Braun delivers another fun fetish movie here with the massive tit fetish served quite well. Romi Rain is predictably awesome, but I was also pleasantly surprised by the salacious nature of Becky Bandini. She and Seth were great choices to end the movie as they captured a real passion together that functioned as a perfect send-off.