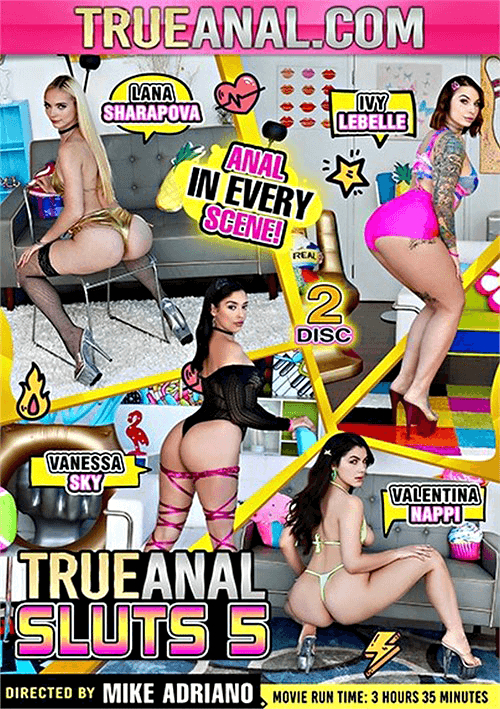 Four juicy asses, attached to four of the hottest-looking women in XXX, all take it way, way, way up their rectums, thus proving what "true anal sluts" their owners really are! Seriously, these four featured fuck-me-up-the-ass vixens rock the friggin' world, with the best being, in my humble perv's opinion, the amazing Vanessa Sky. But let's definitely not forget the other three awesome butt-blast-happy gals.
Ivy Labelle, for one, is a truly luscious woman, getting her tonsils and tukus invaded by Logan Long; her best moments being deep missionary-anal (where she's in the human-pretzel stance) and oiled-up doggie-anal, with Ivy wiggling that big, shiny butt around like crazy.
Pretty-as-hell babe Valentina Nappi has a giant ass and tasty tits to die for; her own memorable sphincter segments being cowgirl-anal (with that succulent, oiled-up ass jiggling every which way), doggie-anal (as Nappi gives us some romantic gapes), and missionary-anal (as we get to enjoy Val's face, tits and a ton more gapes), before Mikey blows boy batter into her mouth and Van baby swallows it whole. Way ta go, Nappy!
Next up is cute, petite blonde angel Lana Sharapova, a sloppy (good thing!) cocksucker who produces lots o' saliva, smiles ever so invitingly when she dilates her anus for the camera (or does anything for the camera!), and looks quite astounding during doggie-anal with that greased-up booty jutting out towards us, before Mikey erupts spermatozoa into one of her darling dilations, having her squeeze out his filling into a martini glass and then drink it down. Such a sweetie!
But my favorite scene, again, is the very first one (right out of the true-anal-sluts gate!), starring the exceptionally gorgeous (love her warm smile and ridiculously succulent buttocks) Vanessa Sky (hell, I even adore her name!), with highlights being (aside from that jelloey, greased-up butt simply captured as it walks away from the camera) reverse-cowgirl anal (shot from Mikey's POV), cowgirl-anal, and (of course!) both doggie- and spoon-anal with exceptional gapes ("Open up that slutty little ass," Vanessa coos) exhibited in the latter two stances; Mikey coming inside one of her gapes during doggie, afterwards having her squeeze it out into a martini glass and (just like Lana, although Vanessa's scene does appear first) gulping down what little wasn't absorbed by her greedy asshole. And she's just so excited about the (w)hole sleazy affair. Love ya, Sky baby!
Ivy Lebelle, Valentina Nappi and Lana Sharapova are all wonderfully slutty cornhole cuties, but the sky and my dick both exploded for the one, the only Ms. Vanessa Sky, the best of the best! But, hell, this entire gonzo is fucking outstanding. Get it!