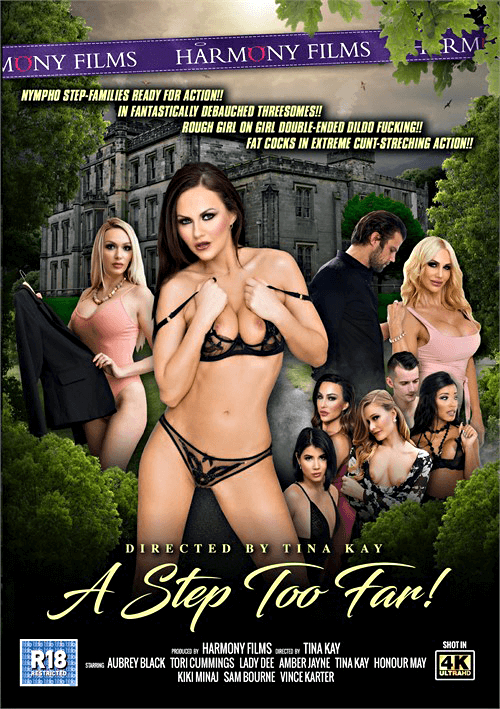 The fauxcest genre takes center stage in this raunchy fuck-fest about an extended family that can't get enough of each other.
Tina Kay directs and stars in this taboo tale. With a strong cast consisting of some of the most sultry European performers in the business, Kay weaves an intriguing story with just enough narrative depth to keep feature fans invested while offering some scintillating sex to go along with it.
The family dynamic in this film may be a bit confusing, so let's clear it up before we dive into the goodies. Aubrey Black is Lady Dee's stepmom, Amber Jayne is Aubrey Black's sister and Honour May's stepmom, Tori Cummings is married to Lady Dee's aunt or uncle, making her Lady Dee's step aunt, and Sam Bourne's dad must have some kind of history with Aubrey Black whether they're friends, siblings or former lovers, because she's staying at their house. Whew!
Aubrey Black, Honour May and Sam Bourne:
Aubrey catches Sam beating his meat on the balcony while watching porn on his phone, and she orders him inside so she can take care of his young, sexual urges. However, before things can get too hot and heavy between them, Honour walks in and is immediately snared in Aubrey's web of lust. After assuring Honour that her mother is a huge slut who would totally approve, the young minx decides to join the fun. Aubrey is absolutely the alpha in this situation, guiding both Sam and Honour through the action. Honour looks great in reverse cowgirl, and the 69/doggie combo to cap off the action is pretty hot. While we never get to see Aubrey get fucked, it fits the narrative of her guiding the two young lovers through a moment of sexual abandon.
Lady Dee and Tori Cummings:
There's some obvious sexual tension between the two as Lady Dee saunters into Tori's bedroom dressed in a sexy black nightie and languishes lewdly on the bed demanding Tori fuck her. Initially resistant, Tori eventually succumbs to her stepniece's relentless advances, and the next thing she knows, Lady Dee is fucking her with a black strap-on while a devious Tina Kay watches. I like the relationship dynamic here as it is unclear what stake Tina has in this fornication.
Is she Tori's wife? Some other deviant family member who gets off spying on sexual shenanigans? What has happened between Tori and Lady Dee in the past that has led them to this sexual explosion? Whatever those answers are, the only thing we get is the culminating sex which is just fine. Dee is aggressive and domineering, and the harder she fucks Tori, the harder Tori wants to be fucked. There's lots of slapping, spitting and roughhousing (with Tori's massive rack prominently displayed throughout), which suits the vibe of the scene perfectly.
Amber Jayne, Kiki Minaj, Tina Kay and Sam Bourne:
This scene is straight out of a dominatrix fantasy, with all three ladies effectively cuckolding Bourne simultaneously. Minaj and Jayne open the action fondling his cock while Kay smacks him periodically with a small flog. This is a power fantasy for women, considering Bourne's sole purpose is to feed the ladies' kinks. Minaj gets a nice standing fuck out of him (including an impressive sequence where he holds her like a wheelbarrow and pounds away), Jayne rides him on the floor like a pony and Kay makes him beg her for a hot standing fuck against the ornate mantle. The sexual emasculation ends with Kay throwing Bourne to the floor and demanding that he jack his load onto his stomach while the ladies watch.
Lady Dee, Aubrey Black and Amber Jayne:
Black walks in on Dee clad in a leather bustier and wearing a sheer, black, cat mask, seductively licking her own spit off a gleaming black table. Horrified, Black admonishes her step-child, but her sister is aroused by what she sees and can't resist her urge to fuck the horny home wrecker. Surprisingly, once the sex starts, it is Lady Dee who is the leader in every aspect, even though the scene opens with her being submissive and meek which was a nice swerve. She fucks the sisters with a double sided dildo, and opens her holes to a pseudo DP as Aubrey tongues her asshole while Amber mouth fucks her pussy.
Lady Dee, Tina Kay and Vince Karter:
Lady Dee reveals that she knows Tina Kay watched her fuck Tori the previous day, and clearly it turned both of them on. I like this because it offers a bit of explanation as to where the kinky, cucky, three-way came from earlier in the movie; it's highly likely Tina was so hot from watching Dee do the nasty with Tori that she needed to get some action for herself. Dee joins Kay for a bit of fun with mystery man Vince Karter, before leaving the couple alone for a raucous romp. One need look no further than this scene to see why Tina Kay is the reigning XBIZ Foreign Female Performer of the Year. She is absolutely electric here; full of vigor, wantoness and sexual abandon. She swallows Karter with the perfect amount of spit and gag, her dirty talk is arousing but not distracting, and the way she grins gleefully as she works Karter's cock leaves no doubt in the audience's mind about her level of satisfaction. This is easily the best scene in the film.
Tina Kay shines in this complicated tale and I had as much fun trying to keep the family dynamic straight as I did watching the carnal frenzy. The final scene is the crown jewel of the film, but everyone does an admirable job with what they are given.