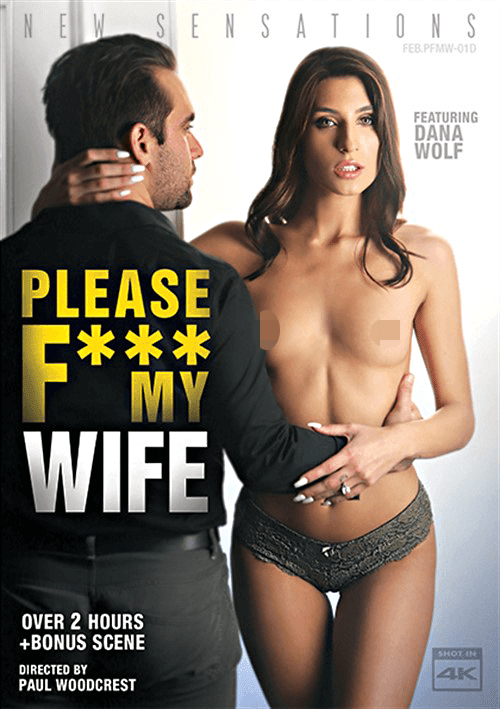 Dudes hook up with horny hotwives, whose husbands don't mind them sucking and fucking other penises, with all four of the featured young ladies putting in energetic performances — especially luscious Kate Kennedy, who elatedly takes it straight up the backdoor.
Brunette Diana Grace is up first; her hubby not at all bothered by her fucking James Deen; with the two getting it on in a very solar, white room; missionary, actually, being one of the steamiest positions, as Deeno bangs Die atop a table, before they move into a bedroom and JD slams her silly via doggie; though it's a pleasure seeing Grace getting hammered during reverse-cowgirl, as she's got such a tasty little bod; though the very best position is cowgirl, her choice ass cheeks cascading as she moans, "Oh! It feels good when you use me!" Yeow! Die-baby also has an interesting retro look, as if she stepped out of the '70s and into gnarly 21st-century porn.
Next, in the movie's most volcanic scene, blonde Kate Kennedy (26, from Boulder, CO) gets seriously filthy with Jason Moody; Kate being a bit nervous as a submissive, who soon gets (quite happily!) fucked in the ass. Hell, the deep and nasty blowjob Kate delivers is a standout moment by itself! No hands, either! — and down to the balls, with unearthly throat sounds and plenty of eye contact. Kate's amazing! Doggie vaginal is superb, with Jace soon switching her to missionary … but it's in-the-butt missionary and, man, does Kate-honey have a juicy butt. Make that a juicy bod all-around! KK's a superb gaper, as well. Cowgirl-anal rocks, letting us appreciate that ass again; while cowgirl from Jace's perv-spective lets us get into Kate's all-natch tits (not too large, not too small), with Kennedy wildly rubbing her twat during reverse-cowgirl-anal, begging ultimately for Jace to come all over her face, which he does. Boy, does he! She loves it!
Dana Wolf is a slinky brunette whose husband leaves her in their home, naked, tied to a chair, with a vibe up her pussy when their friend, played by Logan Pierce, finds her, which is what Wolf and hubby kinkily planned, as they want Pierce to really pierce the slut; doggie being a particularly excellent sequence for Dana, considering her similarly scrumptious ass, while we get to dig her meaty thighs during pounding missionary and her spinner's body during reverse-cowgirl. But it's cowgirl where we get to further appreciate that tight butt; ditto with spoon, during which Dana's eyes roll into the back of her head as Logan really reams her. We eventually get a well-lubed return to doggie, with Pierce totally plunging penis into that pussy; Dana's delectable ass cheeks all shiny from sweat by this time. Umphhh!
Lastly, the strikingly named Jenna plays a randy peroxide blonde who gets hammered by her husband's buddy in the form of the ever-returning James Deen; with Jenna proving herself, like Kate Kennedy, one of the movie's better deepthroaters; while I also like the way she groans during missionary as Deeno heavily rooters her; though her other terrific positions are doggie (eyes, again, disappearing from ecstasy) and cowgirl, with Jen's fair-skinned booty cheeks totally coming to life and wobbling madly; Deeno soon squirting up quite the sperm storm into her puss. But check out the terrific ending here: That is Jen continues to suck Deen-dick oh so trampishly, even during the scene's fade out, with her face plastered in pud-paste. Yes!
These four horny, slutty hotwives are quite the sight for sore eyes … and blue balls, with a high point definitely being Kate Kennedy's major ass-fucking; though Jenna Fireworks proves quite the marvelous lil' whore, too.