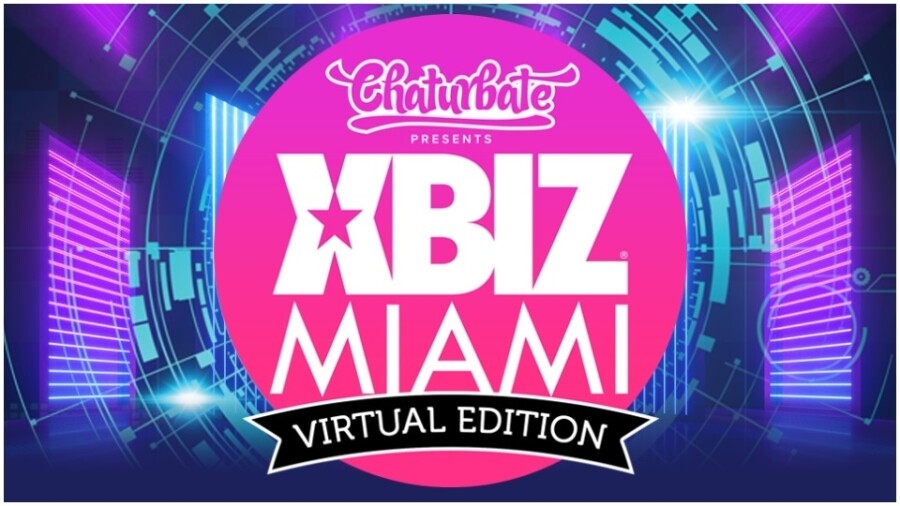 LOS ANGELES — XBIZ is pleased to announce its lineup of speakers for next week's breakthrough virtual XBIZ Miami, presented by Chaturbate.
Set for August 24 to 27, the online edition of adult's biggest summer event will capture the connection-building elements of the yearly Miami pilgrimage, leveraging internet technology to link up the worldwide community for boundless business opportunities.
The full event schedule and list of speakers is available here.
Kicking off the educational sessions on Monday, August 24, the Talent Track begins with an insider's look at the indie business landscape during the COVID lockdown, in "Profiting in a Pandemania: Examining the State of Camming, Clips and Premium Social Media," followed by a masterclass in audience-building as top talent discuss "Next-Level Engagement: Managing Fans Across Multiple Platforms, Channels." Finally, learn some tips for total self-care in "Cabin Fever Lovin': Healing Self-Isolation With Cam Intimacy."
Monday's Industry Track launches with an executive look at the business of premium content in "Paysites in Demand: Harnessing Rise in Traffic, Maximizing Member Retention," which then paves the way for a revealing discussion of "Ad Tech 2020: Latest Advances in Traffic Monetization for Advertisers and Publishers." Wrapping up the track, leading producers detail the "State of Content Production," discussing the impact of the COVID lockdown on the production community.
Tuesday's Talent Track tackles the "Essentials of Personal Finance" as a way of helping adult model/performers secure a more prosperous future. Next, an exclusive Q&A session, "Ask an Exec: The Latest Advances in Indie Platforms for Talent," provides the answers to the questions you have about today's top monetization platforms. Finally, "Men: Connecting With a Gay Fan Base," unites a panel of popular cam performers and content creators who will reveal the latest tips for brand- and connection-building.
The Industry Track will kick off with a look at the newest challenges in the evolving world of transaction processing, with "Billing 2020: New Trial Membership Regulations in Focus," before delving into a discussion of "Progressive Business Leadership in a Pandemic: Making the Right Moves in a Crisis," where corporate goals and innovation must align in the quest for future growth. Legal issues take center stage in the day's final session, "Legal Panel: Pandemic Edition," for an examination of relevant legislation and compliance requirements.
Wednesday's Talent Track takes a deep dive into mainstream-friendly production and fanbase-building with studies of the "SFW World: Seizing Fresh Audiences With Safe-for-Work Content," and then delves into opportunities from "Stay-at-Home Content: Fashion, Fetish & Fun," revealing how creating content that excites you on a personal level can lead to long-term passive-income revenue. Finally, join a panel of influencers for inside tips on leveraging "Premium Social Media: Curating the Best Feed" to help boost your profits while pleasing your fans.
Wrapping up the event's Industry Track, a group of top intellectual property experts host a roundtable detailing the newest trends in "Content Protection 2020: The Latest in Copyright Defense." Next up is a look at the politics shaping the industry today, as "The War on Porn: This is Why You Should Care" examines the influence of FOSTA/SESTA, Section 230, the media and more. Finally, the perennially popular "State of the Industry" visionary roundtable will explore the current and future trends shaping adult and will provide the best course forward through 2020's uncharted seas.
This year's virtual edition of XBIZ Miami will culminate in the 2020 XBIZ Cam Awards, presented by MyFreeCams, celebrating the most captivating personalities and creative artists in adult entertainment. The worldwide broadcast is set for Thursday, August 27 on XBIZ.tv.
For event information, click here.