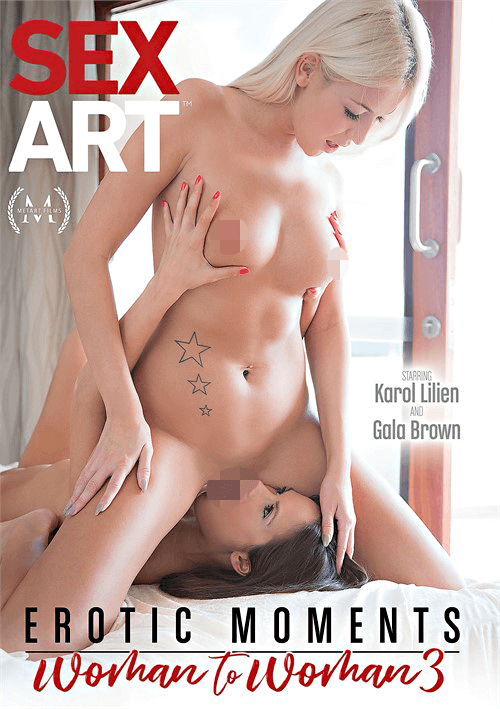 This title is one scintillating anthology of Sex Art director Andrej Lupin's lesbian centric works ranging from 2012-2015.
Gina Gerson and Linda Sweet:
This scene is from the 2015 project "Game at the Moment," directed by Andrej Lupin. The three-episode series (this scene serves as the finale), centers around a house party where a bunch of friends decide to play a truth or dare-inspired game called "69 Love in World." I like the hunger in this scene. It's not the whirlwind of limbs and tongues one might expect to accompany such a description, but rather it is a slow, deliberate, exploration of sex by two women who find themselves completely overwhelmed with passion for one another. Gerson especially is absolutely drowning in orgasms from start to finish, and one look at her face and her trembling body shows just how intense and possibly unexpected her pleasure is. The audience can almost feel her body's surprise as it responds involuntarily to Linda's tongue and fingers, and there's a palpable desire on her part to reciprocate.
Silvie Deluxe and Mia Knox:
This scene is from Andrej Lupin's 2013 short film "Hot Experience." It tells the story of two housekeepers who go about their daily duties in a lavish villa until they happen upon a thick, red dildo in the bedroom, which causes them to take a break from their mundane cleaning to put the toy to good use. Silvie really goes to work on Mia with the toy to start and the taboo idea of these two ladies fucking each other with someone else's toy adds a bit of subtle kink to the scene without broadcasting the taboo like some scenes do. I liked the slow camera pan from the floor to the action on the bed, and I like the monochromatic palette of the room. It made everything feel softer in a sense.
Gala Brown and Karol Lilien:
This is an edited-for-content cut of Andrej Lupin's 2015 short film "Invitation." It features the Sex Art debut of Gala Brown and those who appreciate a story with their porn will definitely want to check out the full film. The two ladies enter a cottage-style home hand-in-hand, laughing together like old friends or lovers. There is a real ease between them that makes for a very believable connection and it makes their encounter feel very comfortable. There are some very nice camera angles in this scene. There's a couple of overhead shots that really show off Karol's body and the close-ups of Gala tonguing Karol's clit really accentuate the action while not turning everything into overly graphic moments labia spreading or pussy gaping. The face sitting was also quite nice.
Denisa Heaven and Iwia:
Like the previous scene, this one is edited. The narrative meat of the encounter has been removed in favor of focusing on the sexual action for this compilation. This is the short film "Need You," released in 2012 from director Andrej Lupin. The piano is beautiful, mournful and a perfect musical accompaniment to the scene. Denisa is clearly distraught over something, and Iwia is comforting her. Denisa's vulnerability practically drips off the screen and Iwia is understandably gentle with her as she comes to terms with her situation. I really love the fact that Iwia stays fully clothed while fingering Denisa's pussy from behind because it shows Iwia's willingness to focus on Denisa's pleasure in her time of need. It's like a physical expression of Iwia's assurance to Denisa that things will be okay. for Iwia to let Denisa know that everything is going to be okay. This small detail makes the hungry way Denisa eats Iwia's pussy in return feel like a heartfelt thank you. The entire scene feels very personal and intensely intimate.
Vinna Reed and Naomi Nevena:
This anthology concludes with an edit of Andrej Lupin's 2015 short film "Unexpected Photo." Starring Naomi Novena and Vinna Reed (who at the time of filming was going by the name Cristal Caitlin), the film tells the story of two women who meet for afternoon tea, only to find themselves unexpectedly (or perhaps expectedly), engaging in some passionate hanky panky. I really liked the sound in this scene. You can hear every breath of pleasure from both women as things escalate. Sound is such a strong stimulant and has the ability to connect to the person listening on a very intimate level. Hearing these two lovely ladies succumb to their desire was great and it made every moment, the delicious face sitting, the lustful pelvis grinding against a slow-licking tongue, all of it was more intense because of the sound capture.
This is a good anthology of Andrej Lupin's work for Sex Art. He has an eye for capturing the beauty of women pleasuring each other, and anyone who watches this will find themselves longing to see the full experience of these short films.