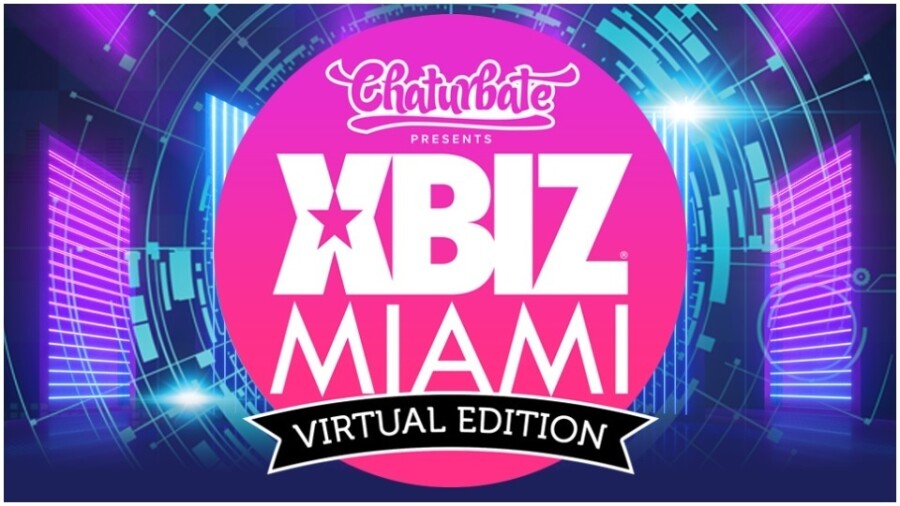 LOS ANGELES — From all corners of the globe, hundreds of XBIZ Miami attendees gathered virtually for the first-ever online edition of the event series via XBIZ.net this morning, filling a tropical illustrated backdrop of a beachside hotel split into a Talent Lounge and Industry Lounge.
After the CAM4-sponsored Event Registration kicked off at 10:30 a.m. (PDT), talent and execs made their way from the virtual outdoor gravel of the patio into the many videochat-enabled tables within.
As they did, the Space Chat window in the bottom right of the screen, which enabled viewers to send text-based messages to everyone at once, brimmed with greetings and questions, as participants learned the ins-and-outs of navigating the platform.
Soon enough, visitors began exploring the corridors of cyberspace, making their way to the Circle Bar in the very center where Brad Mitchell of MojoHost was stationed. While he would normally be buying everyone a round of drinks with his famed Bacchus-like generosity at in-person XBIZ events, there were definitely a few folks already sipping on bubbly with a glass of spiked coffee … raising their glass or mug at home in salutation.
After all, with an international gathering of attendees, it was 5 p.m. somewhere!
Jonathan Corona of MobiusPay held a particularly glorious Viking-worthy stein up from his desk, which had a list of "1. Coffee, 2. Water 3. Vodka" emblazoned upon it. He gleefully confessed, "It isn't filled with 1 or 2."
To the left and right of the Circle Bar were dozens of seats spread across scores of tables in the Talent Lounge, sponsored by NMG Management on the left half of the map and the Industry Lounge, sponsored by ImLive on the right. Clicking on a table instantly teleported visitors to a new video chatroom, where they could interact with whoever was seated there. Once every seat was filled, the chatroom was unavailable to join until a seat freed up.
A few corner tables with a more private two-seat arrangement offered a clandestine place to have uninterrupted impromptu one-on-one meetings (where Megan Stokely of NMG and Natalie of Modelhub had stepped away briefly from their sponsored tables before the room got too crowded), while other tables held upwards of eight available seats.
Many of the red, gray and yellow-hued tables sported the slick branded logos of companies like Chaturbate, Streamate, ePlay, CAM4, Satisfyer, 2049 Entertainment, Pornhub, Adult Time, OnlyFans, Satisfyer, Svakom, Flirt4Free, Pineapple Support, Free Speech Coalition and JustFor.fans on the dedicated talent side of the map, with a big NMG table in the north holding court.
In the midst of these, several show ambassadors like Amberly Rothfield, Laura Desirée, Casey Kisses, Charlotte Stokely, WhippedCreamy, Lance Hart, Romi Rain, Sofia Rose and Emily Bloom sat at their specially designated tables offering sagely advice, delightful banter and more.
And on the industry-devoted half of the map, ImLive's table dominated the upper portion, while the greater slice was devoted to YourPaysitePartner, SexyJobs, CamBuilder, Segpay, ASACP, Chaturbate, Bang!, JuicyAds, MojoHost, Gamma, MobiusPay, JulModels, NMG, Mr. Skin, Men.com and Paxum.
Then, at around 11 a.m., the image of XBIZ Events Director Moe Helmy filled everyone's screens, as he broadcast a message to the entire room.
"Welcome to XBIZ Miami, virtual edition," he greeted. "This is our first one ever, and it's presented by Chaturbate! I'm here to make everyone's life super-easy."
He then implored those still hanging out in the gravel area outside of the map to join the main room, while offering some basic guidance on site functionality to ensure cameras, mics and audio were set up to automatically transmit when hopping into new rooms, and he encouraged anyone with questions to swing by the dedicated XBIZ table.
He also let everyone know that the Zoom-based Speed Networking would commence around 1 p.m., accessible via the links displayed on XBIZ.net and that the map would close down at that point (though many loitered in the Space Chat text-based channel to ask the occasional question).
"Before we get ready to go back on the map, we've got a few words from our presenting sponsor, Shirley Lara, COO of Chaturbate!" he concluded, at which point a recorded video message from Lara popped up. She welcomed everyone to the show and said, "We hope over the course of the next couple days, you meet a ton of new people and have a ton of new business."
By then, many were acclimated to the user interface of XBIZ Miami, flitting from table-to-table as they hailed old friends and caught up with colleagues. While many were working from home; some, like Segpay's reps, had transitioned back to office work (with new pandemic precautions in place).
At their company table, reps Teresa Van Eps and Kristi Geer sat, cheerfully discussing payment processing options and trends with prospective and current clients. One of the newer faces was Patrick Nielson of fetish site FeetFinder.com, who swung by for several minutes to talk shop.
At one point, Van Eps shared that they were having temperature checks at the office and that their cubicles were safely enclosed on the sides with plexiglass, while dedicated pathways had been designated as walkways in their office amidst other measures, like frequent COVID-19 testing. Many other attendees likewise shared their own experiences with the realities of the pandemic throughout the next hour at a variety of tables, both commiserating and inspiring one another.
On the other side of the map, at performer-entrepreneur Lance Hart's table, a mix of industry figures came through, like Colin Rowntree of Wasteland.com and indie creator Meana Wolf of MeanaWolf.com. Conversations spanned the gamut, from virtual Zoom strippers to the importance of work/life balance amidst the pandemic's unique opportunities for extra traffic and the dangers of how to deal with social media toxicity.
When the topic shifted to virtual events, Rowntree observed it's easier to get in touch with people via chatrooms in this manner, rather than trying to catch their eye in the hall, though he missed the opportunity to extract insider secrets from attendees late at night when they were buzzed and more blunt. Hart concurred, sharing how his first few years in the biz, he learned quite a bit from legacy players who confided more freely after a few rounds at the Circle Bar.
As the minutes fell away, visitors jumped back-and-forth from the industry half of the map to the talent side, and vice-versa, which was apropos given the increasingly blurred lines between traditional players and indie performers in today's market.
Recognizable names affiliated with sponsored tables traveled the room when they weren't posted at their own digital corner of the map, interacting with a cornucopia of players and personalities.
At any given moment, a table could be filled with a decades-long marketing director like Frank Stacy of Gamma;a two-years active Chaturbate cam model like Bella Bondai; Germany-based VXPages' head of business development Ruxandra Tataru; and eight-year MyFreeCams superstar Emily Bloom. Bondai and Bloom praised the inclusivity of the adult entertainment community, and celebrated the many opportunities to monetize content.
Bondai shared that she focuses solely on camming, which Bloom said she also used to do that exclusively, but now has a variety of endeavors from selling acrylic Renaissance-style paintings of herself to clips. She said there are so many options, with the consumer "starting to realize that subbing to an OnlyFans is like accessing a farmer's market of porn." As for Bondai, she said that having the opportunity to chat with Bloom intimately was a plus of XBIZ Miami, with her biggest takeaways being the importance of streaming consistency, cross-promoting on multiple platforms and not overworking.
Next to their table, Charlotte Stokely chatted spiritedly about her recent forays into Twitch with a souped-up gaming room backdrop behind her. She offered an amusing window into her personal life, like how in eighth grade, she was once called into the office by the principal, who accused her of having her parents write an essay (though, in truth, she was just that good of a writer.)
One of the hottest tables was Chaturbate, which had all eight seats filled nearly the entire time, while other tables turned into unofficial company hangouts, as Bishop Wages and Stephane M. of AEBN discovered after staking out one of the lounge spots in the upper-half of the industry area. Wages looked positively professorial, with his impressive beard and a shelf wall filled with books behind him.
Bouncing back-and-forth from table-to-table, it also became clear that the attendees were truly international, with studio, agency, paysite, ad network and marketing reps covering the gamut from the U.K. to Canada, Spain and beyond. Though a few were sleepy, given the nightly hour in their timezone, others were sipping on steamy caffeine concoctions.
Suddenly, a countdown clock appeared on everyone's screens, as Moe Helmy once again broadcasted globally. Time had flown by, and the commencement of Speed Networking at 1 p.m. was five minutes away.
"Hi everyone!" he said. "We are wrapping up and getting ready to close the map in just a couple minutes. Once I get off the screen, all the other events can be accessed on XBIZ.net. After Speed Networking, which is next, we have the seminar sessions. Thanks, and I'll see you soon!"
After a slight delay, at around 1:15, the Zoom-driven Speed Networking took off, switching attendees to one-on-one chats with new faces every two minutes, allowing just enough time for introductions and business banter to take place.
And once it concluded at 1:45, the dedicated XBIZ Miami window on XBIZ.net, now the main hub for information, soon displayed Zoom links for the first round of panels on deck, with Industry and Talent Track sessions lasting one hour each until 5 p.m., when Chaturbate was slated to present its "How-to Create Live Hentai Cam Girls."
All in all, despite the virtual nature of events during the pandemic, business and merrymaking was in abundant supply during the first few hours of XBIZ Miami. After all, the "new normal" has become rather normal, as family, friends and peers become increasingly accustomed to teleconferences.
And now that the initial ice-breaking, camera-shy greetings are out of the way, with folks rocking a steadier grasp of the ins-and-outs of the platform, Day Two is primed to be even smoother and table seats will be filled up much quicker.
Stay tuned to XBIZ.com for in-depth coverage of the seminars that took place after Speed Networking on Day One, and for those who are jumping in tomorrow, be sure to stay updated on XBIZ.net where the agenda and links are kept current.