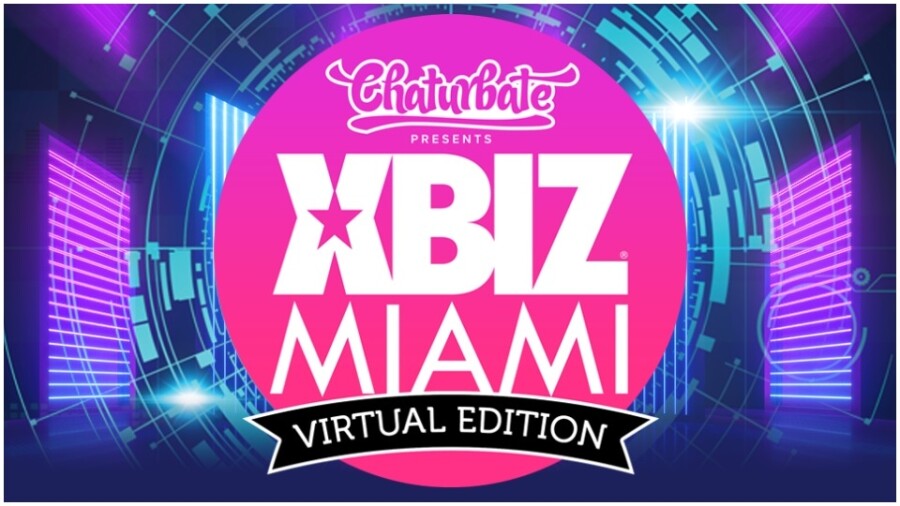 LOS ANGELES — Day Two of the first-ever virtual XBIZ Miami began with more speed networking and virtual lounge table-hopping and led into simultaneous Talent and Industry Tracks that explored progressive business leadership during a pandemic; delved into the latest legal challenges facing adult; offered career and financial advice; and gave male performers the spotlight to discuss how they connect with their gay fans.
Carrying forward XBIZ Miami Day One themes of paysite content shooting and monetization as well as the strategies needed for driving traffic today, Day Two's Industry Track delved into a discussion of how to bill customers for adult content, products and services, honing in on "Billing 2020: New Trial Membership Regulations in Focus."
It was a timely discussion for operators of premium sites, as remaining in compliance with 2020's tangled web of ever-changing regulations is vital, with the latest paysite trial membership rules adding further complications.
Moderated by XBIZ's Stephen Yagielowicz, the seasoned panel of billing experts included Cathy Beardsley of Segpay; Jonathan Corona of MobiusPay; Wendy Nelson from NETbilling; Jeffrey Adams from CCBill; Karen Campbell of OrbitalPay; and Luca Bizzotto of Alto Global Processing, each bringing a wealth of knowledge to the table.
Yagielowicz got the ball rolling by asking the panelists about a range of current hot topics impacting our industry in 2020 that adult merchants should become aware of.
These topics went beyond Visa's new rules regarding trial memberships to include Visa EU's new registration fees; the WireCard insolvency; the rollout of PSD2 for Europe; the newest trends for ACH processing; cryptocurrency for adult transactions; PayPal's continued reemergence on the adult scene and more.
Beardsley began by highlighting the WireCard story, when in June of this year, some two billion (that's "two billion" with a "b") dollars in assets was discovered missing from the company's balance sheet. This shortfall has caused a renewed focus on due diligence by payment processors that will lead to an overall tightening of the billing space.
Adams agreed with Beardsley, noting the WireCard story will reverberate within the industry because the company was so huge and had such a diverse portfolio.
Next, Nelson drilled down on the panel's primary topic, Visa's new trial membership regulations that are bringing more transparency to the billing process. This includes having the customer acknowledge that they are signing up for a recurring transaction as well as requiring the addition of the word "trial" to the billing descriptor, while the inclusion of a toll-free customer support number in the descriptor has always been considered a best practice.
Bizzotto reassured the audience that there was little to worry about and said that this was Visa's way of adding a few new requirements to its high-risk regulations to better police industries with high levels of consumer complaints.
Visa isn't done yet with the curveballs it's throwing, as Corona pointed out, and noted the new $500 annual registration fee for mainstream dating sites seeking processing. Adams added that MasterCard once had a similar fee and then dropped it, but may go back to the charge in the face of Visa's move. It is an all-too-familiar refrain for adult merchants accustomed to Visa and MasterCard's "high-risk" processing fees.
As for current trends in payment types, the panel's consensus was that credit cards remain by far consumers' dominant choice when paying for porn — and in adult 2020, no one really cares about crypto, except perhaps as a payout mechanism for models.
"ACH is also outdated, especially for cams, as [electronic checks] will take a few days to clear," Campbell explained. "In the meantime, your models still want to be paid, even if that check doesn't clear."
As for those third-party payouts to cam models, Beardsley teased Segpay's upcoming launch of such a service as yet another needed piece in the overall billing ecosystem.
The panelists all recognized a surge in new businesses coming online, especially in the retail segment, where brick-and-mortar stores shuttered by the lockdown continued to serve their customers. This sudden jump in new clientele is causing problems for processors that are running on reduced and remote staffing, however, where the burden of onboarding new clients and the resulting integration and support overhead is taxing their teams.
It's important for merchants who may be intoxicated by a sales spike to understand that a hangover may be on its way in the form of a delayed wave of chargebacks from consumers who may have, since their purchase, lost their job and perhaps home, too, as Bizzotto pointed out during a discussion of cancel culture's impact on the industry and noted that those chargebacks will be handled by a stressed, skeletal staff, making this an ongoing process for the foreseeable future.
On that sobering note, the billing panel ended and the room cleared in preparation for the next session slated for the industry track, "Progressive Business Leadership in a Pandemic: Making the Right Moves in a Crisis."
"Progressive Business Leadership in a Pandemic"
Beginning with the premise that successful companies large and small are finding new ways to lead their telecommuting teams to maintain their edge, an elite mix of company execs that included Brad Mitchell of MojoHost; Kelan Stone of Exoclick; Megan Stokes from NMG Management; Ellisa from CAM4; Brad Estes from Flirt4Free; and Austin Fiascone from Mr. Skin, revealed their leadership strategies while finding the silver lining in the COVID cloud.
Among the topics, the team discussed the pandemic's long-term effects on the industry and what could be done about it.
Stone said COVID has caused employers and employees alike to view the whole "work from home" concept in a new light and told the audience, "we're constantly adapting and changing and this is just another challenge — a new adventure in our careers."
"If you asked me earlier this year, in January or February, if I wanted my staff to work from home, I would have said 'no,'" Estes exclaimed. "Now, talented people from the East Coast and elsewhere around the world can fit into our team."
For her part, Stokes always insisted that her key team members worked in the office, but that meant being able to hire staff only from within a few certain neighborhoods in Los Angeles since once you passed 20 miles from the office, you likely faced more than five hours of daily commuting time due to heavy traffic.
Now, she echoed Estes and said, "We will end up getting some more interesting people coming on board by not relying on L.A. for staffing."
The expansion of staffing opportunities is mirrored by the fast expansion of the online population as folks increasingly stay home and rely on the internet for work and play — and adult businesses seek to capitalize on this surge.
One such business is MojoHost, with Mitchell telling the audience that he is building a slick new datacenter to take advantage of the newest technology for providing faster, more robust and less expensive web hosting solutions for his clients. "We must sell smarter and better," he said.
Another market vastly impacted by the pandemic lockdown was camming, with many out-of-work women turning their webcams on and spinning up their fan sites.
"Initially there was a huge influx of new models coming to the platform after losing their jobs," Ellisa revealed. "This was a difficult surge in new model applications for our compliance team to handle."
It is a sentiment that stretched back to the billing panel and its warning of delays in chargeback processing due to compliance team staffing shortages.
Staffing limitations are not the only concern for adult execs, however, as evolving employment laws complicate the addition of remote workers who may be subject to specific regulations on a city-by-city, state-by-state and national basis.
"The way that wage and hour laws work makes us have to comply with where our employees work," Fiascone explained. "There is also concern about extending our workman's comp coverage to employees while working from home, outside of a controlled environment."
It all added up to more tasks for execs as they cope with COVID's challenges and opportunities while moving their businesses forward.
"Legal Panel: Pandemic Edition"
The last panel on the Industry Track for Tuesday was the "Legal Panel: Pandemic Edition," hosted by the Free Speech Coalition (FSC). The panel was chaired by the FSC's Michelle LeBlanc and featured industry attorneys Lawrence Walters, Corey Silverstein, Maxine Lynn and Jeffrey Douglas.
Each of the panelists were allotted 10-15 minutes for presentations, followed by answering questions posted via chat by the attendees.
Walters prepared a very formal presentation about current challenges to Section 230, the so-called "First Amendment of the internet."
Section 230, he explained, "allowed the internet as we know it to exist and profit" by limiting liability of platforms for third-party content and also allowing platforms to moderate some content.
But, as Walters explained, the first big damage to Section 230 was brought by FOSTA/SESTA legislation signed into law by Donald Trump in 2018, which created exceptions to Section 230 immunity and also a new federal crime around assisting "sex trafficking" online.
FOSTA/SESTA was "the first major blow to Section 230" and, as Walters explained, his firm has contributed to challenging it through the Woodhull case.
Walters also highlighted current legislative and political challenges in the form of the proposed EARN IT Act — which would "reward certain platforms for acting in a good manner according to the government," or to a controversial commission to be appointed by William Barr — a competing proposal to curtail Section 230 protections, the PACT Act, and a recent executive order by Trump specifically aimed at Twitter and Facebook.
After 15 minute mini-master class, Walters yielded his time to Maxine Lynn, an IP and adult entertainment attorney. Lynn gave a shorter, highly organized presentation about liability and protection, particularly around the COVID crisis.
"The only protection," Lynn explained, "is to completely refrain from shooting."
Otherwise, Lynn pointed out, there is much uncertainty to the extent of liability, compounded by possible public relations issues in the case of a potential on-set transmission.
Other topics covered for content creators included incorporation, contracts and protection of intellectual property. Lynn referred to the recent Supreme Court "FUCT" decision, which open the door to trademarking sexually explicit terms.
Corey Silverstein also spoke about IP and trademark protection, focusing on the importance of securing and protecting a multitude of domain extensions for brand names. Silverstein recommended brand owners to at least register all the most important extensions (aka, TLDs), although he acknowledged that at this point there are so many that it makes the task very complex.
"Make sure your trademarks are in order," added Silverstein, who also spoke about the confusing European GDPR privacy law confusion and the recent, FOSTA-related CityXGuide case, which resulted in the arrest of California classifieds operator over third-party posts placed for a region in Texas.
Finally, Jeffrey Douglas, who also chairs the FSC board, gave a bird's-eye view of the last year's political and legal challenges to the adult industry as a whole, pointing out that for one more year "2257 has been kept away from our door."
"There have been virtually no 2257 prosecutions ever because FSC has kept it in litigation since its inception," said Douglas about the record-keeping mandate for adult shoots.
Douglas pointed out that there's some risk for performers engaged in content trades, who may not be particularly meticulous in securing and storing 2257 forms for those shoots.
"Your library has market value," he told performers. "If you lack adequate 2257 records, you're reducing the market value of your library in case you might want to sell it later."
As for obscenity cases, those also have been kept at bay because, as Douglas pointed out "obscenity is an undefined crime."
"Anything depicting genitals in action it 'could be' obscene," Douglas explained, so the industry is still functioning at prosecutorial and judicial discretion.
As for the impact of the 2020 election on the industry, Douglas unequivocally opined that there's "no equivalency between Trump and Biden," because, Democratic administrations have never made "a concerted effort" to destroy adult entertainment.
Trump's current AG, William Barr, as Douglas reminded the panel, "is the last attorney general that led an overall aggressive attack against the adult industry," under the first George Bush.
Also, Douglas said, "in Democratic administrations, the FSC has had access to people of power. We can get our message across. That is impossible in an environment with a Republican administration." Especially if the Department of Justice, led by someone like Barr, is "surrounded by religious zealots."
"There's not even tolerance of the adult industry," Douglas said, "but hostility."
Finally, Douglas ended with an impassioned plea to donate money to the FSC.
"We ask you to make a meaningful donation, $500. Do a little bit to support the trade association that supports you," Douglas said.
"It's deductible as a business expense!" LeBlanc added.
"Essentials of Personal Finance"
Day Two on the XBIZ Miami Talent began with "Essentials of Personal Finance," led by Beth McKenna, who took a break from being a performer to show off her other skill set: her vast knowledge of law, taxes and finances. With over 30 years of experience, McKenna offered performers valuable advice on how to handle money and finances, structure a business and prepare for retirement.
McKenna's first bit of advice — which she consistently came back to and stressed during the presentation — was to have a clear split between personal and business accounts. Not only should a performer have sperate business and personal checking accounts to accept payments, but they should also have separate accounts for savings. McKenna explained how she used her company's savings account to hold money that would be used to pay quarterly taxes.
A main reason given for having separate business and personal accounts is that performers should never mix personal and professional finances. This means keeping a receipt for every business purchase and being able to justify why a business purchase is professionally needed.
In addition to having a savings account, McKenna suggested that performers should look into self-employed retirement plans sooner rather than later. Everyone has different financial opportunities and needs, so McKenna stressed that to do the research so that each person could find the retirement plan that best fits their situation. While she didn't recommend one above the rest, she did mention retirement plans such as Simplified Employee Pension (SEP), a 401 (k) plan, and various IRA plans.
A final set of points McKenna discusses involved incorporation to avoid liability and gain access to other benefits. At any level of success, a performer should consider doing the paperwork so that their work is under a legal corporation. The three main corporate structures McKenna discussed were S-Corp, C-Corp, and LLC. Each one has comes with pros and cons, but having one is far better than not.
"Ask an Exec"
Moderated by Vicky Vette of VNALive and VNA Girls Network, "Ask an Exec: The Latest Advances in Indie Platforms for Talent" featured Shirley Lara of Chaturbate, Liz of Streamate, Natalia of Porn/Modelhub, Andrea Fioriniello of FanCentro and Dominic Ford of JustFor.fans and continued the XBIZ Miami Day Two Talent Track.
Vette started the panel with a commonly heard question: "Why are people spending more on porn than in the recent past?" Lara spoke to how consumers want a unique and customizable experience, and these experiences can not be easily acquired via piracy. Natalia put forth an additional suggestion that this generation of porn buyers value being able to pay directly to content creators. Using the notion of farm-to-table restaurants, Natalia thinks that consumers are becoming more ethical in their buying habits. Additionally, the panel largely agreed that consumers are willing to spend more because they want a fund a personal experience with performers; an emotional element one can't get from pirating old videos.
Vette observed that porn is currently experiencing a monetary boom, and asked the panel when, or if, this bubble would burst. Fioriniello didn't believe there will be a dramatic burst, noting the pandemic has forced people to reprioritize their spending habits and during economic difficulties, many have decided to prioritize spending on adult entertainment. Echoing Fioriniello's point, Lara explained that the personal connections performers and consumers are forging during this period will remain even after the pandemic is over. Liz's predictions are a bit more tempered in that she thinks spending will drop, but it won't be a collapse.
Otherwise, the panel discussed the various ways tube sites and other platforms are shaping how creators release content and how they find fans. While each person had their own unique take on this subject, the overall consensus was that models should be willing to try multiple sites but overtime focus on which platforms work best for them.
"Men: Connecting With a Gay Fan Base"
The third and final panel on the XBIZ Miami Talent Track for Day Two was "Men: Connecting With a Gay Fan Base" and featured a sextet of studs who actively cultivate a gay fan base: Matthew Camp, Wes Myers, Steve Rickz, Johnny Stone and Leo West, plus prolific fetish specialist and content creator Lance Hart, who moderated the discussion.
The group covered the gamut of adult content creation, from clips to camming to studio shoots. Only two, Camp and Myers, identify as gay. Hart and Rickz identify as bisexual, while Stone spoke candidly about his own sexual fluidity. Rickz, too, admitted that while he had a difficult time connecting with fellow bisexual men, coming out "lifted social restrictions that were plaguing my life." However, he echoed several of the others on the panel with a stated preference for avoiding labels when camming, in particular.
Leaving it open, Stone observed, "allows fans to have their own ideas of what you're into," while Rickz said he "looks for a more personal connection, depending on who's tipping me. I reveal a lot about myself. I'm an oddball. I reveal my hobbies; it doesn't get as big a response as a picture of my ass, but it's appreciated."
Camp, however, advocated for the other side of the coin. "Stay generic," he said. "I don't think people are interested in my personal stuff. They're interested in sex and interaction between guys. I purposely try not to put myself out there. What people are buying is a perspective into your life, not your whole life."
Hart asked the group, particularly those who do not identify as gay, about their participation in Pride events and how they choose to ally themselves with the gay community. He shared anecdote that ended with him jumping onto a float in a Pride parade; afterwards, Hart realized he was "showboating. I tried to correct that [behavior] going forward."
Rickz emphasized "being conscious of everyone and their [lived] experience. Read the room," while Hart spoke candidly of reminding himself of his own privilege and "respecting that gay fans go through different experiences."
If you really want to be an ally, said Myers, "don't only show your support during Pride Month. Show it all year 'round to really be an ally." Further, he said, "Don't 'gay-bait.' Fans don't like it." He cited the pattern of male cam duos who market their show as if something might happen between them, but it never does.
Leo West urged male performers to be open to "different branches on 'the guy side,'" and allow themselves to explore, which doesn't necessarily have to define their own sexuality.
"Shut up and slut up!" Camp exclaimed in response.
Rickz advocated for performers to explore a wide range of content "to see what works. My gay stuff does best on OnlyFans and Clips4Sale," he said, "but straight content does great money on Pornhub and ManyVids."
Stone echoed that assessment; his own gay and solo content performs well on OnlyFans, while his niche and fetish content is most popular on iWantClips, but not ManyVids. He urged performers to research the other guys on various platforms and to take note of what they're posting most frequently, which is advice he wished he'd followed when he was first starting out.
West noted that different OnlyFans channels is another popular option, while Hart said that "changing categories on places like Pornhub can totally flip over a rock — there's gold under there."
Stone returned to the subject of advocating for change and "creating an environment where I can use my privilege to help." Camp urged fans and attendees in the audience to support the Ali Forney Center in New York, while Myers made a case for the Rainbow Railroad.
The panel ended with a lively discussion of fetish exploration and custom clips. Hart and Rickz urged performers to avoid the performance of any fetish that feels uncomfortable or awkward; Camp brought up the existence of "snipers" who order extremely specific, potentially offensive custom clips in order to post the content on social media to shame or embarass the performer.
Meanwhile, Rickz intrigued the group, and the busy chatroom, in the panel's closing minutes by explaining a new "blueberry" fetish he'd been hired to enact and the group of "blueberry bros" who now reach out to him.