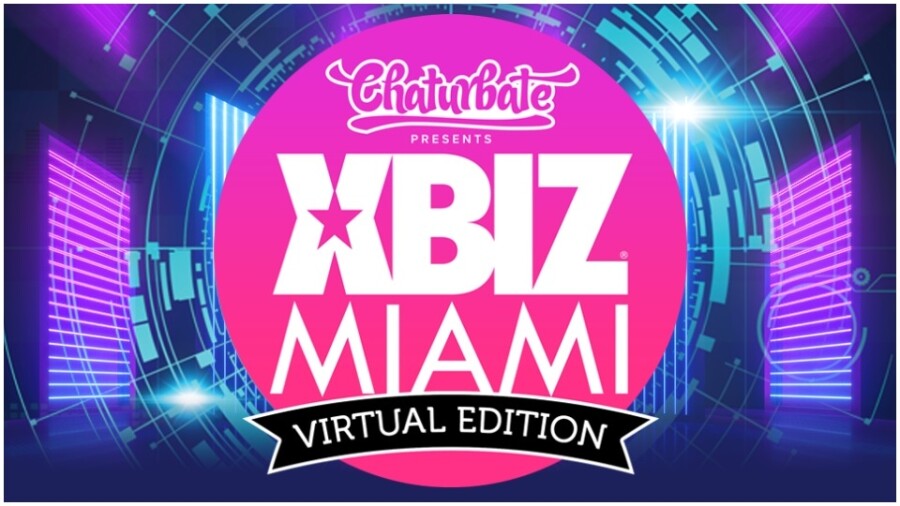 LOS ANGELES — The first-ever virtual edition of XBIZ Miami opened its third and concluding day with one final round of business and personal connections in the online lounges, and in lively speed-networking sessions, before the concurrent Industry and Talent Tracks offered an eye-opening look at the current state of the "War on Porn" and an insightful "State of the Industry" discussion, and presented vital information on how content creators can legally protect their work, manage self-care and monetize their social media following.
The final day of XBIZ Miami's Industry Track got underway with a look at "The Latest in Copyright Defense."
It is a topic with many twists because when content is posted online, bad actors will try to steal it and some may even seek to monetize it, driving rights owners to adopt best practices for copyright registration while seeking out anti-piracy solutions.
Megan Stokes of NMG Management moderated the session, which featured a panel of attorneys and experts in intellectual property protection, including Jason Tucker from Battleship Stance; Larry Walters of Walters Law Group; Corey Silverstein of Silverstein Legal; Dominic Ford of JustFor.fans; and Mark Bauman from DigiRegs.
As a pragmatic matter, much of the discussion was in the context of U.S. copyright laws, including the remedies available to rights owners that are infringed upon, mechanisms for self-protection, registration practices and more.
Focusing on the tube site situation, Tucker told the audience that right now, the tube sites are relatively under control regarding copyrighted content, with only 20 or so problematic sites at any given time and few problems with the major sites. More to the problem are cloned streaming sites that pop up as fast as they are taken down.
Stokes asked the panelists if the size of a company or producer impacted its rights.
Tucker explained that while any individual cam model may have the same rights as a major studio, they may not have the resources to pursue a robust legal action against an infringer that resists takedown notices, which are the first step in removing stolen content from a website or service.
"It doesn't matter who you are. Anyone can serve a takedown notice — you don't need to be an attorney," Tucker said. "Start with Google Alerts and carve out an hour per week to search the internet for your content and then copy-and-paste those links into takedown notices."
"Take all of your streams and do a single copyright registration once per month as a start to your management campaign," he added, offering cammers a cost-effective solution to helping secure their rights.
Bauman provides copyright holders of all sizes, including independent talent, with DMCA takedown services backed by considerable experience, but said that if these notification efforts are not effective enough, piracy victims will need to consult with an attorney. Still, his company helps leverage the efforts of individual rights holders.
"We will identify and provide to you a list of all the sources of your content," Bauman told the audience. "For every source you find on your own, we may find 10 or more."
In addition to his JustFor.fans platform for performers, Ford operates Porn Guardian, which works with individual models to protect their rights. He explained that contrary to the popular belief that the internet runs rampant with countless content pirates, "it's just one or two guys doing a fuck-ton of damage."
"Studios know how to register their copyrights because they need to do so in order to claim damages," Ford said. "Models shooting lots of four- or six-minute videos may not be bothering with registering them, but they are clearly limiting their options."
Walters concurred that while all U.S. copyright holders have the same rights, there will be differences in the ways that larger operators secure their rights, compared to smaller producers — and differences in the benefits they receive. As one of the adult industry's most experienced attorneys, he is well versed in the needs of sophisticated studio operators and independent performers alike.
"You have a lot of discretion in how you register your work," Walters said. "If you register your work before it is infringed, you could get up to $150,000 plus attorney's fees per infringement. Otherwise, it is impractical to pursue a legal option beyond issuing takedown notices."
Silverstein underscored the need for vigilance when it comes to copyright protection and lamented how rights holders often wait too long to take any action. He echoed Tucker's call for producers to spend some time each week searching for their content online and as a reminder to his clients refers to the practice as "Takedown Tuesday."
"You have to be actively watching your content," Silverstein said. "When a video gets stolen and posted to a site, 15 other sites are trolling that site and then stealing its content and so the forest fire begins as content gets stolen and re-stolen."
While copyright protection remains a daunting undertaking, the audience seemed relieved that something could be done about content theft in 2020 besides writing it off as a cost of doing business.
"State of the Industry"
Continuing along XBIZ Miami's Industry Track, the highly anticipated "State of the Industry" session carried on its legacy of learning and forecasting from the business' top players as they discussed current trends while sharing their personal views of the road ahead.
Featuring the insider insights of Shay Efron from ImLive; Gunner Taylor from Cams.com; Shirley Lara from Chaturbate; Michael Klein of Next Step Entertainment; and Greg Clayman of Flirt4Free; with MojoHost's Brad Mitchell lending his guidance to the panel, attendees were treated to a stellar lineup of expert executives with many decades of collective experience as they outlined the current state of the industry today along with some of the key factors that are shaping its future.
As expected, a key area of discussion was how companies are coping with COVID.
"We have definitely seen a lift," Clayman confided. "But with a lift comes other challenges, such as the ability to scale and an increase in fraudulent transactions."
"It is a good challenge," he added, "but it requires attention and to be ready to move on a dime without skipping a beat."
Lara enthused over the positive way that much of the media has treated cam workers, camming and content creators, portraying the industry as an acceptable way for out-of-work or underemployed people to make a living. She said that the crisis couldn't have come at a better time, technology-wise, since "we all carry computers in our hands so it's easy to create content now and to share our lives."
"This is the first time that our industry has been so in-line with the stay-at-home environment," Shay said. "But from the user-side, it's hard to keep them interested as they face depression over the loss of jobs."
Speaking to the casual dating market, Taylor told the audience that COVID-19 has limited the options for personal connectivity via dating and swinger sites, with FriendFinder Networks hosting a "virtual orgy" to help fill the gap.
"As people are self-isolating, we've seen a ton of new users, including many folks who wouldn't normally join a dating site," Taylor revealed. "Those kinds of changes are here to stay."
Klein has seen the same shifts in sites, and as an example, discussed how IsMyGirl has attracted a lot of new members, including dancers who are out of work because their clubs had to close.
"Now, as content creators," Klein said, "they're able to make money from IsMyGirl's 10 different revenue streams."
Other topics included the range of adult operators that are benefiting from COVID-19 — and those who are not — such as production crews, studios and studio staff; and how the scene is evolving as the lockdown lingers.
"People are at home and are bored," Shay said, "but you have to figure out how to make money from them."
"You have a lot of people who want to get something for free," Clayman explained. "And a lot of people have more time on their hands to disrupt chatrooms or are more sophisticated attackers who try to take you down."
Ongoing challenges in the banking sector are also in play, with Mitchell discussing the discriminatory cost of capital as he seeks funding for his new data center — funding that would be cheaper and easier to obtain if it were not for his hosting company's large percentage of adult business clients.
"Banks are closing down their offers to the adult industry," Shay said.
"I've never seen a more difficult time in moving money around the world," Clayman added and noted the impact this has had on paying a global model and studio system.
The future of cam studios in a socially-distanced world hampered by persistent payment problems came into focus with the panel agreeing on their necessity in certain regions of the world, and their desirability all over.
"I think that studios are really important for the business as many broadcasters may live with their parents, partners, or in a dorm," Lara explained, and told attendees that many of these models need somewhere safe and well-equipped to go to work and to provide the emotional and technical support they require.
As for forward-looking opportunities, the panelists advised entrepreneurs to avoid the competitive cam market and instead look at underserved niches across social media.
"You have to have something new and innovative," Klein concluded, underscoring the bottom line for business in adult, circa 2020.
"The War on Porn"
Concluding the week's educational series on XBIZ Miami's Industry Track was "The War on Porn: This is Why You Should Care," presented by YourPaysitePartner.com.
Moderated by XBIZ News Editor Gustavo Turner, the panel brought together experts on the adult industry and free speech to discuss how the "War on Porn" is currently being waged against all forms of sexual expression and sexually-oriented businesses on several fronts, from the political (the bipartisan attack on Section 230), to the judicial (FOSTA-SESTA prosecutions), to the cultural (blatant anti-porn propaganda spread by the mainstream press) to even the pseudo-scientific ("public health crisis" resolutions throughout the country).
The panelists were longtime industry attorney Lawrence Walters; Section 230 expert Jessi Miers; performer and Adult Performers Actors Guild (APAG) union president Alana Evans; "Reason" magazine journalist Elizabeth Nolan Brown; and veteran studio owner Colin Rowntree of Wasteland.com.
After a brief introduction defining the War of Porn, Walters offered an enlightening explanation of the word "obscenity," and how its vagueness — based on the concept of "prurient" content — places free sexual expression in a constant legal limbo ultimately at the discretion of potentially hostile prosecutors and judges.
Miers, a legal scholar who is currently working for Google on compliance and moderation issues, gave a short history of the origins of Section 230, the so-called "First Amendment of the Internet" and went over current attempts to revise it or abolish it.
Nolan Brown, one of the top free speech reporters in the nation, explained then how FOSTA/SESTA opened the door to possible exceptions to the Section 230 protections, driven by a bipartisan scaremongering campaign linking all sex work classified ads to vaguely defined "human trafficking." The journalist also described attempts to demonize sexual expression with "sex traffic" panic campaigns.
Alana Evans shared her experience trying to protect performers from forms of corporate "censorship" through social media shadowbans and deletions. She mentioned how APAG keeps a database of incidents involving adult performers and social media platforms and has been successful in challenging those Big Tech giants about their discrimination against sex workers.
Rowntree spoke about the differences between Wars of Porn past and the current, ongoing attack against sexual expression, which the veteran studio head sees as much more organized across borders and weaponized through well-funded, religiously inspired lobbies like NCOSE and Exodus Cry.
During the following conversation, the panelists agreed on the importance of both keeping an eye on the organized forces in politics, law and mainstream media waging the current War on Porn, and in providing a fact-based reality check in the form of columns, essays and testimonies to journalists, showing the adult industry as a non-stigmatized, legitimate business with its own issues and realities.
TALENT TRACK
"SFW World"
Carpe audience! On Wednesday, XBIZ Miami's Talent Track introduced another entertaining and informative series of discussion panels, starting with "Seizing Fresh Audiences With Safe-for-Work Content (Reddit, YouTube, Twitch, TikTok, Discord, XBIZ TV)," moderated by XBIZ Managing Editor Alejandro Freixes, and featuring Lily LaBeau, Noah Bensi, Dani Daniels and Quincy.
During this panel, the group spoke on how they not only use their SFW social media platforms as a way to stream viewers to their adult premium channels, but are actually making revenue from the SFW content as well.
It's also a great way to connect with fans on a human level, Bensi explained. "A lot of the fans and customers that stick around are the ones that know you on a deeper level," she said.
Each panelist went over their preferred forms of SFW, such as Bigo, Twitch, Tik Tok, and more.
They agreed that not only are SFW spaces great for connecting with fans, but also as an important networking tool with other content creators, some outside of the adult realm. "[Mainstream] people are hesitant to team up with adult performers, so I try to make them feel comfortable," Daniels revealed, referring to her podcast, "Two Onions."
LaBeau agreed. "I just want to have a conversation, and include the rest of the world on what it's like to be a sex worker, and on the fringe of society," she said. "[Producers] can book you and pay you, but you can also help the world."
Quincy shared how she quickly rose from Twitch newbie to Twitch Partner in the past year, in part by joining talk shows in the platforms "Just Chatting" section and also hosting her own entirely SFW hangouts there. She also went into the many ways stars can manage their fans using Discord, which enables the creation of custom channels to better organize messages and build a core community for regulars.
"Adult is run by two things: intimacy and authenticity," Freixes concluded, wrapping up the hourlong discourse, while noting that personality-based content from YouTubers has rapidly eclipsed mainstream media consumption for both entertainment and news.
"Stay-at-Home Content"
The second Talent Track panel of the day was entitled "Talent: Stay-at-Home Content: Fashion, Fetish & Fun." The animated discussion was hosted by XBIZ winner AstroDomina and featuring Lindsey Love, Goddess Valora, Annabelle Rogers, Meana Wolf and Kitty Quinn.
Domina dove into the discussion by emphasizing that "all the speakers today thrive in specific fetish niches. They all have specialties."
The group discussed how they stay motivated to create content at home during lockdown. "Right now is a great opportunity to learn something new," Valoran said, encouraging viewers. "You can't make the excuse that you don't have any time."
The panelists explored the silver lining to being stuck at home and implored viewers to get creative and try out new ideas.
"Go out there and do your own thing, and pick up a camera!" said Love.
Many of the panelists agreed that while they miss making content with performers outside their homes, their most popular clips have been solo, or with their domestic partners, so their profits have either stayed the same, or increased, during the pandemic.
They were all-too-familiar with lockdown burnout, however, and reflected on the importance of having stored content for when they need to take a day off.
"I encourage everyone to take care of themselves. It's okay not to film amazing content every single day. Be kind to yourself and take care of your mental health," said Rogers. "When you're happy and in the mood is when you'll make amazing content. It's okay to take time [off].
If it gets toxic, she advised, performers will get burned out.
"Premium Social Media"
The concluding installment of XBIZ Miami's Talent Track panel discussions was "Premium Social Media: Curating the Best Feed" with moderator Alejandro Freixes, and panel guests Savannah Solo, Ana Foxxx, Natasha Nice and Chris Crocker.
They began by opening up about their preferred paid platforms, and how they organize their routines and schedules for posting content — even when they're not in the mood to create.
Solo remarked, laughing, "Some days I wake up and… do a full photoshoot, but some days I just take a photo with a Snapchat filter and call it a day."
Foxxx concurred, adding "I try to take photos daily, no matter what… I try to be consistent by giving them something, even if I don't have a partner to make content during lockdown."
They all agreed that having a store of content helps make the off-days a little easier.
From there, the discussion turned to the content their fans most enjoy viewing. Each panelist had a speciality they are known for, some of them were more unusual than others. Crocker kept it straightforward. "A lot of [OnlyFans subscribers] love my 'cowboy' character," he said. "Knowing my demographic helps, and I [typically] play it butch, because a lot because my fans are female. I have a couple cowboy hats and that act really seems to meet their needs."
Freixes kept the discussion flowing, covering topics such as organizing custom video requests, self-care practices, accessing premium platform analytics and breaking out of frustrating quarantine blues.
Nice had words of encouragement for someone feeling stuck in a creative block. She urged the audience to explore and take creative risks.
"Literally, I can take this [wet wipe bag] and cover myself in wet wipes, and someone will love it," she said. "You can create something out of anything."