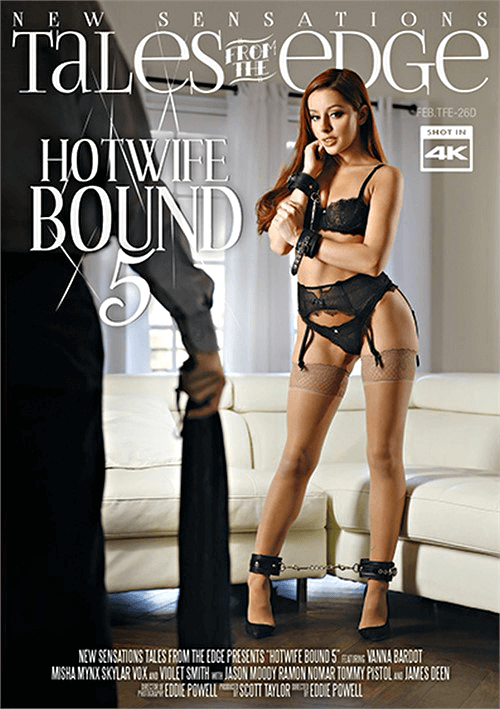 Beautiful submissives — ranging from 20 to 36 years of age — get way kinky for our masturbatory pleasure in this fantastic fifth volume of "Hotwife Bound" from the good pervs at New Sensations.
Redheaded babe Vanna Bardot is one of the movie's highlights, her hands bound and, when she isn't getting zapped with some electric toy/wand from James Deen, is a joy to behold, especially when Deeno deeply drills her doggie style; Vanna also offering a brilliant deepthroating of Jimbo's cock, ultimately leading to him blowing his load all over Bardot's hungry tongue. Yep, she's a keeper, alright.
Misha Mynx is in a cage in a rather clean-looking dungeon and getting dominated by Tommy Pistol, with her own truly steamy segments being when, hands bound with collar (and leash) 'round her neck, she's fed Pistol-penis, as well as when she moans and moans while riding Tommy meat via reverse-cowgirl; although missionary is pretty damn passionate with MM, too; Pistol eventually making her beg for his cum, with which he bathes her tongue and shoulder.
But in my favorite scene, cute, all-around juicy blonde Skylar Vox has her hands tied (for the most part) and gets way naughty with Ramon Nomar; her most volcanic segments being when her tits and ass are gyrating during doggie; her awesome butt is madly shaking during cowgirl; those amazing headlights are hypnotically swirling during reverse-cowgirl, spoon and missionary; as well as when she oh so whorishly inhales Ramon-rod, before he ultimately sprays seed all over those world-class hooters. Love her!
Delectable brunette Violet Smith gets the "Hotwife Bound" treatment from Jason Moody; and, boy, does this chick have one round and succulent butt, which she enjoys getting spanked via riding crop (our girl soon having her hands tied); spoon a la Smith being particularly terrific with that luscious rump on her, while that same superior posterior shines during cowgirl; Violet's deliciously meaty thighs in our face during reverse-cowgirl; while her large, all-natural breasts and scrumptious rump crazily sway during a final session of deep doggie; Moodinski eventually dumping Jace juice all over her "teets" as he pronounces 'em. Yep, Violet's yet another all-around winner!
It's one amazing-looking, kinky babe after another getting her mouth and muff obliterated by the raging hard-ons attached to extremely lucky dudes; with cute/fresh Vanna Bardot, curvy/juicy Skylar Vox and round/succulent Violet Smith especially putting in truly volcanic performances. Outstanding stuff.