LOS ANGELES — The 2020 XBIZ Cam Awards, sponsored by MyFreeCams, were broadcast Thursday evening on XBIZ TV. It was the first of its kind, combining dynamic digital graphics with a seamless integration of live, real-time footage – an experiment in transitioning the award show format, one of XBIZ's signature achievements, to the new era of social distancing.
There were, it is true, issues with sound, oftentimes the product of the lag involved in getting a strong, steady signal from around the world — some nominees were in Scotland, or even the Antipodes. But the few missed speeches did not hamper the overall atmosphere of celebration of the best in camming, clips and premium social media.
The pregame was a "Virtual Red Carpet," hosted by cam star Emily Bloom, wearing a sparkling tiara and a pink princess dress she designed and made herself.
During the red carpet, Bloom introduced the audience to one of the key components of the groundbreaking broadcast: a live in-studio feed from a secure, appropriately socially distanced location in Los Angeles.
From the remote studio, Bloom interacted with the nominees at home who had dressed especially for the occasion, as the familiar step-and-repeat backdrop of the traditional in-person shows scrolled behind her onscreen.
"Welcome to the live worldwide broadcast of the 2020 XBIZ Cam Awards, presented by MyFreeCams," Bloom announced to viewers. The cheerful host also displayed some serious improv chops during the initial minutes, as audio issues surfaced.
Bloom kept trying to make contact with some of the nominees, who could be seen in their red carpet glory at home. "You look beautiful!" the host told them, hoping they could hear her. "It's nice to look at you," she quipped.
Keeping the audience aware of the experimental nature of the event, Bloom made it explicit that "this is the first broadcast of this type."
"Award shows haven't been done this way, so you can expect some technical difficulties, but at least we get to look at the beautiful people and enjoy amazing company," she remarked.
Finally, Bloom was able to hear Rising Cam Star nominee Melissa Mills followed by XBIZ award-winning camming duo Callum and Cole, who wore matching sweatshirts, and exclaimed that it was "three o'clock in the morning for us in Scotland!"
From Canada, Rising Cam Star nominee Jane Lucier was punched in, wearing a cleavage-revealing sparkling gown. "I love this whole shiny situation and your deep neckline!" Bloom enthused.
The red carpet continued with nominees being "beamed in" from around the world, like Best BBW Cam Model nominee Mischievous Kitty, streaming from South Carolina in front of a rainbow flag, and Rising Male Cam Star nominee TheTribalGuy who "loves wolves," streaming from Canada in a wolf-themed room and wearing a wolf tie.
The red carpet portion of the event kept apace, including everything from true bonafide adult stars (like Premium Social Media Star nominee Ana Foxxx) to cosplayers showing their transformation skills (like Shane Hall, addressing Bloom from behind an outlandish rubber mask).
By the time the red carpet wound down, Bloom had found her groove, expertly moving through the extensive parade of talent at hand. It was now time for the main event.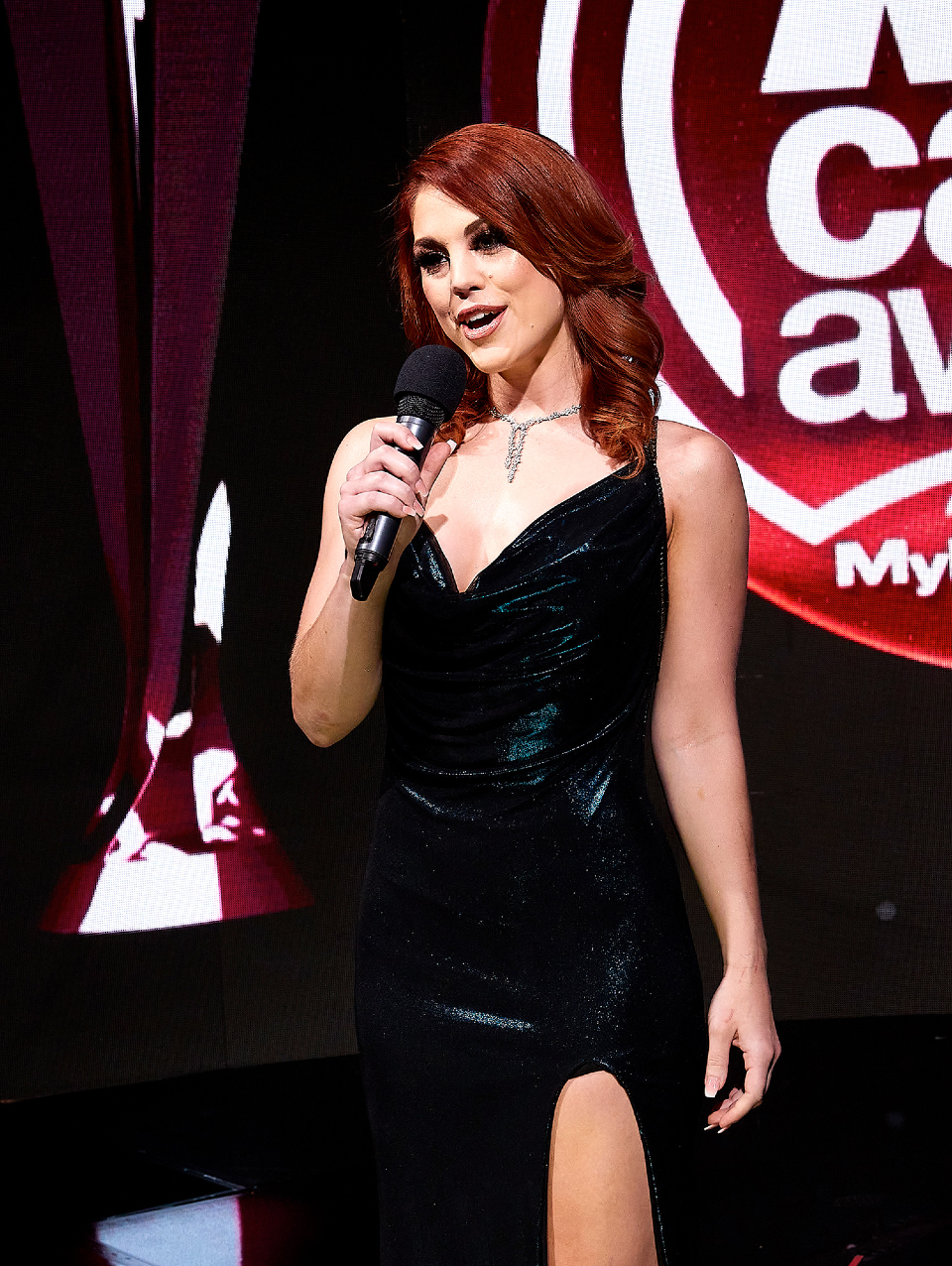 Molly Stewart
From the Los Angeles studio, Molly Stewart, in a shimmering green gown, welcomed viewers to a "live global celebration" honoring "the creative artists who shake up the world of adult entertainment."
"Right now," Stewart contextualized, "we're all going through some seriously challenging times. For those who are used to being hermits streaming or shooting content at home, this pandemic might not be that different from the usual."
But the 2020 XBIZ Cam Awards, she told the audience, should serve as a reminder of "how wonderful it is to be part of such a radical community."
"We are a family, a rowdy sometimes dysfunctional family at that," Stewart added. "A community of badass and empowered artists."
After a few jokes about the seemingly apocalyptic times we're living through — such as a "firenado" recently spotted in Northern California — Stewart riffed on the often weird spelling of cam model names.
"Even Elon Musk and Grimes would be confused!" she deadpanned.
Stewart then welcomed the first awards presenter, a radiant Bailey Rayne in a red dress with shoulder straps.
After announcing the nominees for Best Cosplay Cam Model, Rayne unveiled one of the most successful innovations of this "virtual" show: an Academy Awards-style grid where all the nominees could be seen in real-time, reacting to the announcement of the winner.
The trophy went to Lara Loxley, who could be seen onscreen wearing a feathered green gown with her cleavage enhanced by bondage straps.
Rayne next announced the Best Cosplay Clip Artist, which went to Evie Rain, who could be seen in a futuristic cam room — several models broadcast themselves from their natural camming habitats — wearing a striking metallic gown with multiple, strategically placed cut-outs. Rain was visibly moved by her win.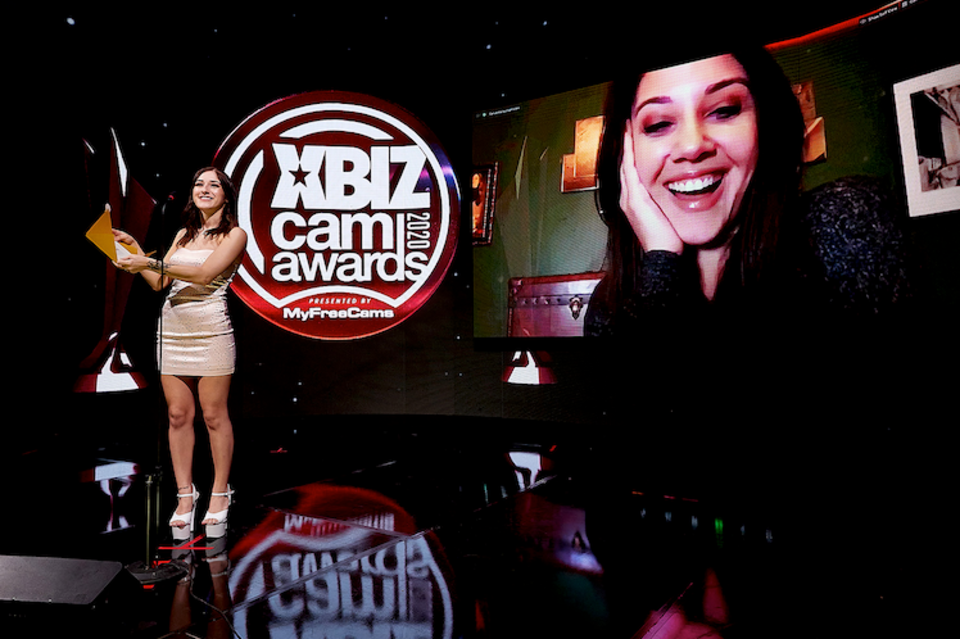 Nicolette Nicole
Nicolette Nicole, in a light pink gown with bared shoulders, introduced the fetish categories. Best Fetish Cam Model went to Vickie Jay and the Best Fetish Clip Artist award was given to Ceara Lynch.
"Can I be heard? Hopefully you guys can hear me," a casually dressed Lynch said. "Thank you so much! This is my dream — to win an award with no pants on," she quipped. "Thank you to everyone who voted for me and to all the guys who jerked off to me over the years. You guys are gross and I love you."
Sheena Rose
Sheena Rose — in a black lace dress showcasing her tats — introduced the two BBW awards. Best BBW Cam Model went to the tattooed, voluptuous Zariah June, who was glamorously made-up for the occasion. Best BBW Clip Artist went to Sofia Rose in stylish jewelry and accessories.
"You guys are all so beautiful, and you guys are all an inspiration, and thank you for keeping me so young and relevant," Rose exclaimed.
Casey Kisses then presented the MILF categories. Clad in a beige sleeveless minidress, the sculptural Kisses announced Ainslee Divine as Best MILF Cam Model and Annabelle Rogers as Best MILF Clip Artist.
"I'm so honored to accept this award," said Divine. "My fans and followers are the best around."
Divine then addressed her fellow nominees next and told them that "everybody's beautiful, and we're all winners," while Rogers celebrated by shaking her boobs and flashing a radiant smile.
The willowy Amanda Kelly presented next, in a green slip dress with a heart-stopping leg slit. Best Inked Cam Model went to ravishing redhead GoAskAlex, who couldn't give a speech but managed to beam another triumphant smile. Best Inked Clip Artist went to noted Canadian star Samantha Mack.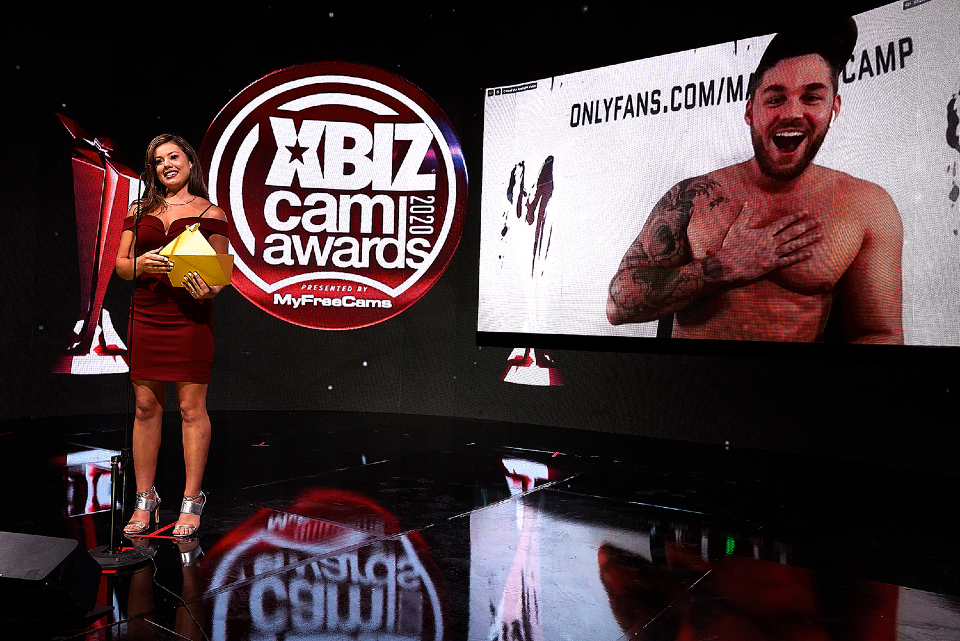 Bailey Bae
Bailey Bae, in a wine-colored, shoulder baring gown, presented Best Premium Social Media Star, Male and Female.
A shirtless, shocked Matthew Camp accepted his award in front of a wall decorated with his OnlyFans account information. "Oh, my god! Thank you so much, that is incredible," Camp enthused. "I'm kind of new to this and it is really great to be considered for this, let alone win it. I cannot even express how much I appreciate this. Keep jerking off to my films, I'll play with my butthole soon, I promise guys. I love you."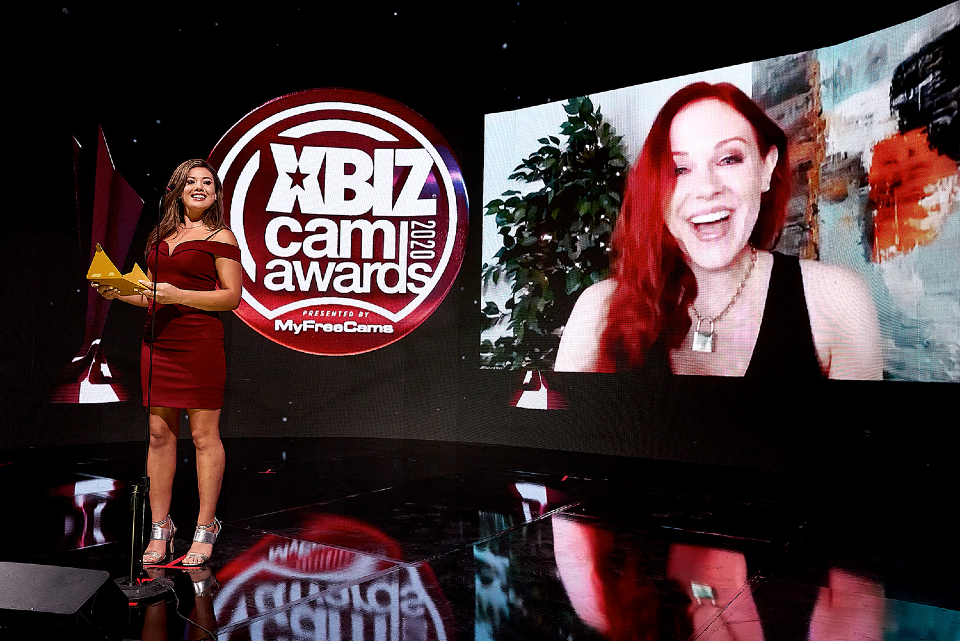 Bailey Bae
Best Female Premium Social Media Star went to Maitland Ward. The mainstream-to-adult crossover queen thanked XBIZ for being supportive and extended her gratitude to her vocal fan base. "Everybody deserves recognition and praise," she told the other A-listers in her category.
Molly Stewart returned briefly between a bouncy MyFreeCams ad and a sparkling spot for Satisfyer, yielding the floor to the stunning Kylie LeBeau, in a glittery black gown, to announce the trans categories.
LeBeau announced her partner, and fellow presenter, Casey Kisses had been named Best Trans Cam Model. "I really wasn't expecting to win," said Kisses from the studio green room. "This has been my dream since I left Miami in 2016 to become an adult performer and to spend as much time online as I have."
"Thank you to my girlfriend who presented this award," Kisses added.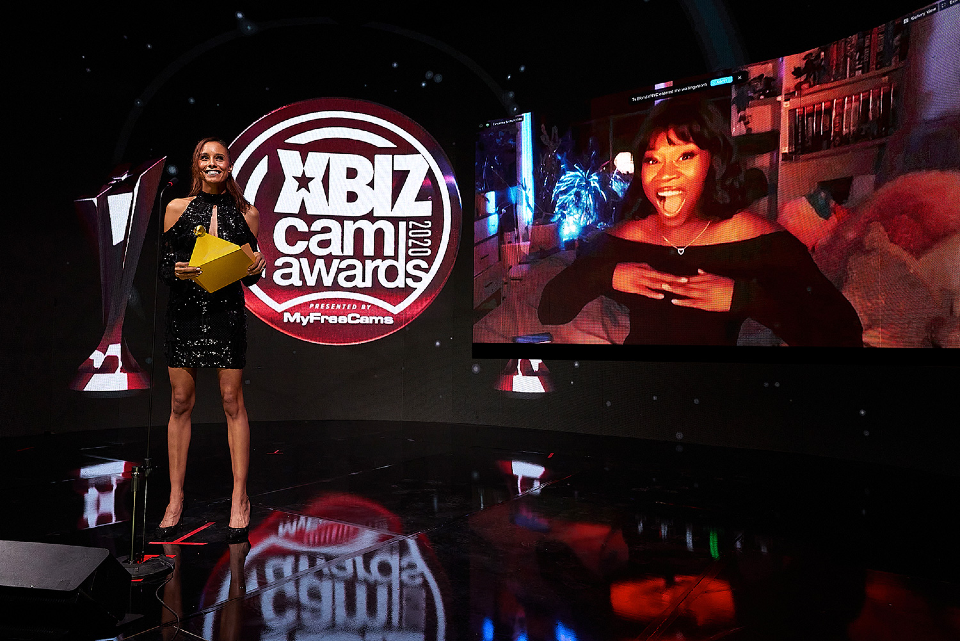 Kylie LeBeau
Vanniall was named Best Trans Clip Artist, which she celebrated with contagious, unstoppable laughter in lieu of a formal speech. "I'd like to thank Jesus, [and] my dad!" she said, interrupting herself because she could not stop laughing. "Sorry, I laugh when I get nervous!" she explained.
One of the night's winners, Sofia Rose, returned as presenter to announce the Best Cam Model Duo and Best Clip Artist Duo winners, which went to Sophie and Eva, and MySweetApple, respectively.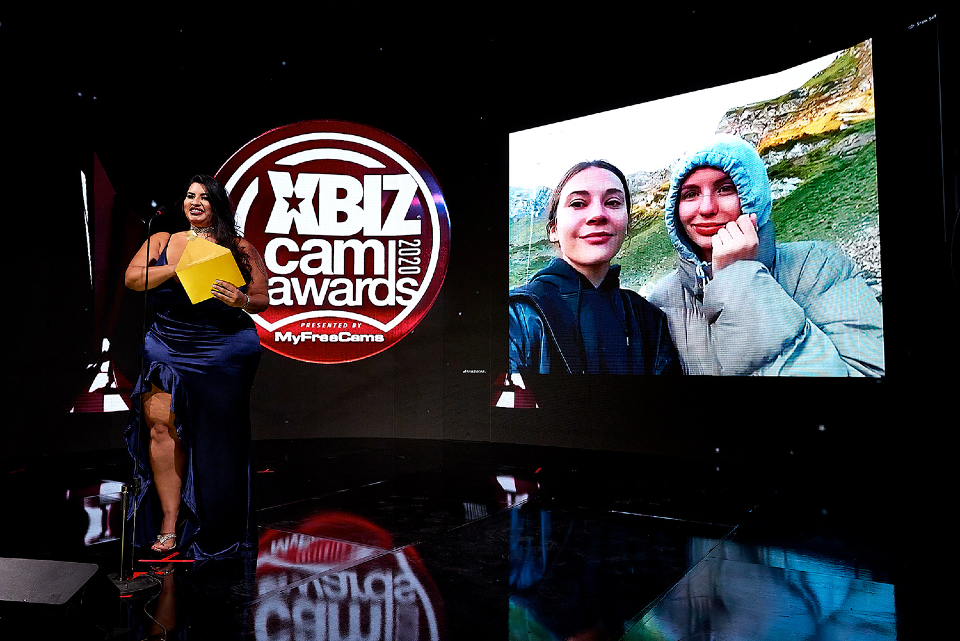 Sofia Rose
Sophie and Eva beamed in from an outdoors, mountainous location in the daytime, wearing camping gear, and looked moved although the sound glitched out. MySweetApple were able to express their gratitude in a domestic tableau with their delightful bull terrier.
Emily Bloom returned to announce the Rising Clip Star winners: ItsBen and Aubrey Diamond. "Thank you! I'm so honored" said ItsBen, who asked his fans to "keep supporting me, and I'll make some more content for you guys."
Model Alexis, in the most fashion-forward outfit of the evening, a two-piece combo of white pants and asymmetrical blouse, announced Jason Williams as the winner of male Rising Cam Star and Belle Creed as female Rising Cam Star.
Williams' live stream had some camera focus issues on his end, although his money-making bulge was clearly visible under his tight trousers, despite the blurriness. Creed, in an epic white jumpsuit, thanked her fans for "watching me and putting up with my rants."
A special segment was broadcast to honor this year's Community Figure of the Year award recipient Amberly Rothfield. Afterward, Amanda Kelly returned to announce the top Clip awards.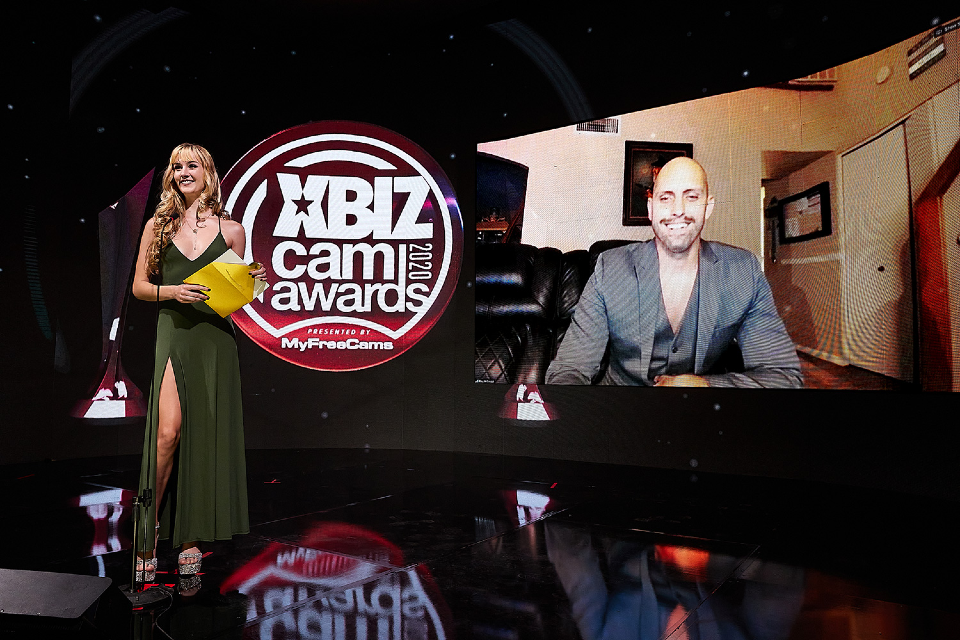 Amanda Kelly
RealMrSmith was named Best Male Clip Artist, which he accepted wearing a three-piece suit with no shirt underneath. "Keep following me and hoping for a big 2021," he said.
Reislin was awarded Best Female Clip Artist. Wearing furry ears and a shimmering black slip, Reislin was speechless and gave the evening's most emotional, tearful moment.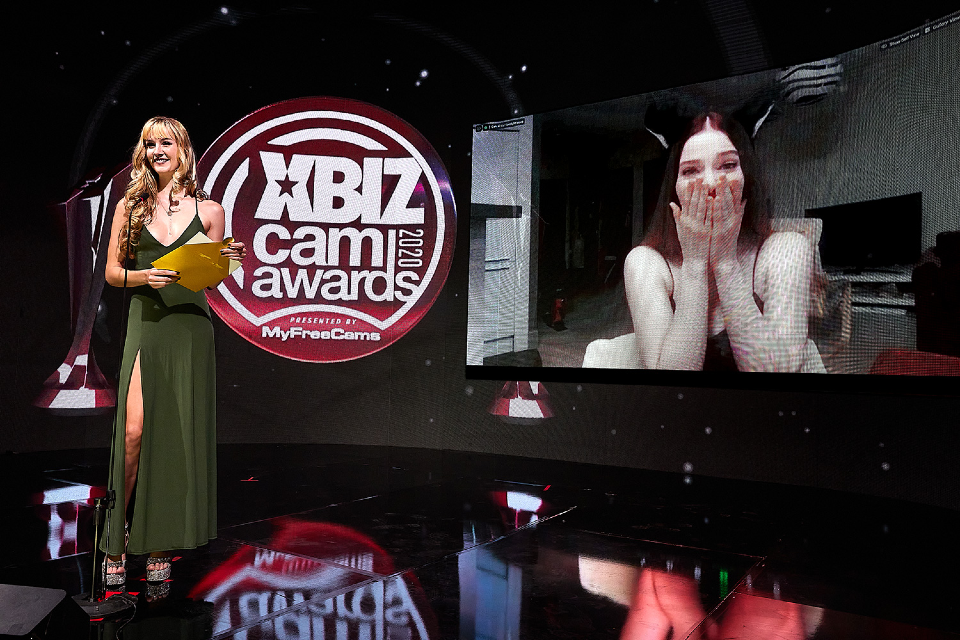 Amanda Kelly
The last two awards were presented by Bailey Rayne. Best Male Cam Model went to Max Konnor, the first male ambassador for CAM4. "I was not expecting to win this," the ultra-muscular Konnor said.
Blonde Rider was named Best Female Cam Model, which she accepted sitting at home with her partner, both matching in all-black. "I really appreciate the love," Rider offered. "I can't believe it, I'm in shock."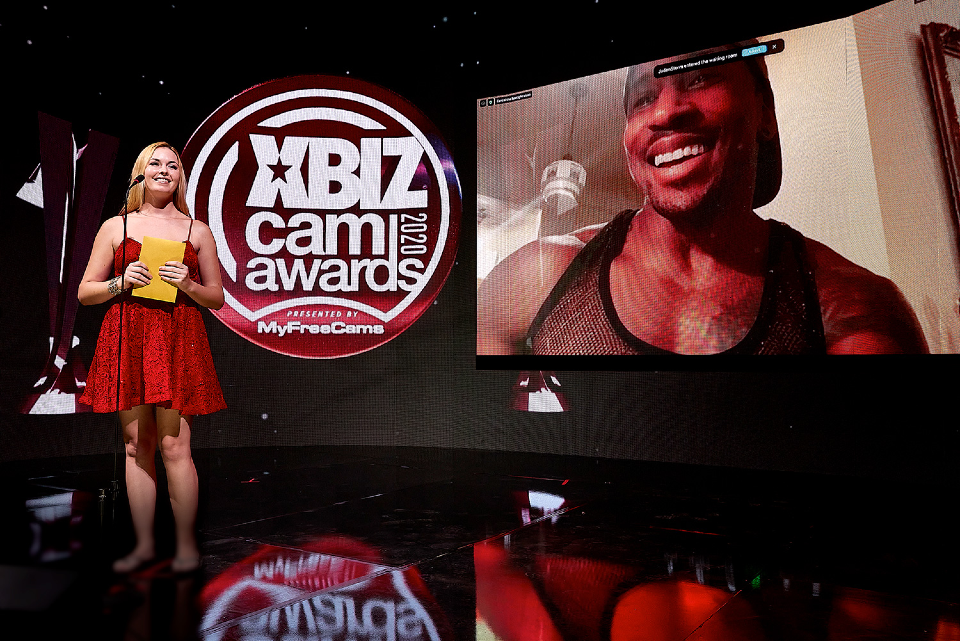 Bailey Rayne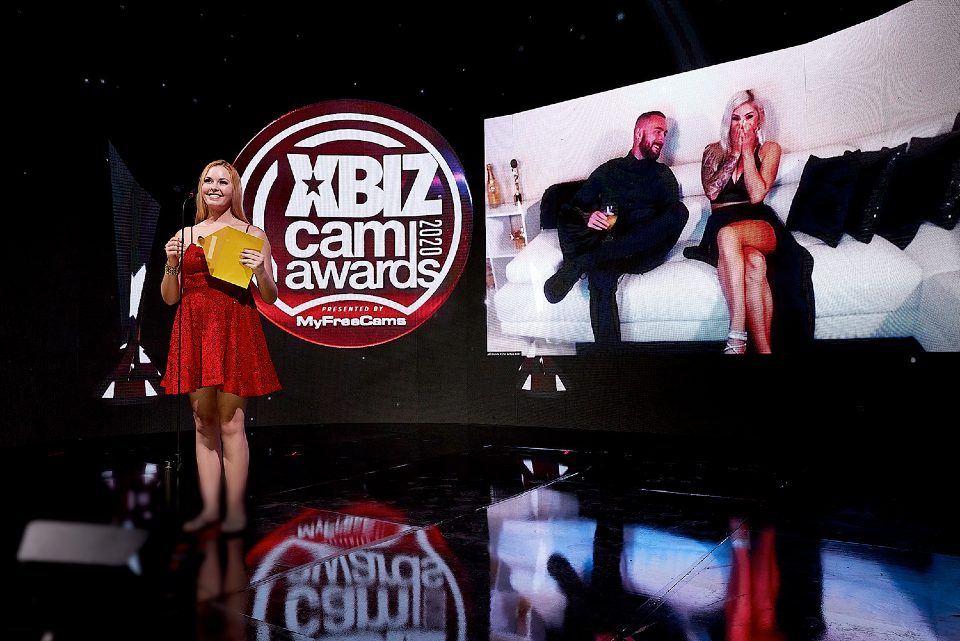 Bailey Rayne
Host Molly Stewart returned to close the proceedings and thank the viewers "for being part of this historic event."
"Stay safe — and wear a mask," Stewart reminded.
Find a complete list of XBIZ 2020 Cam Awards winners here.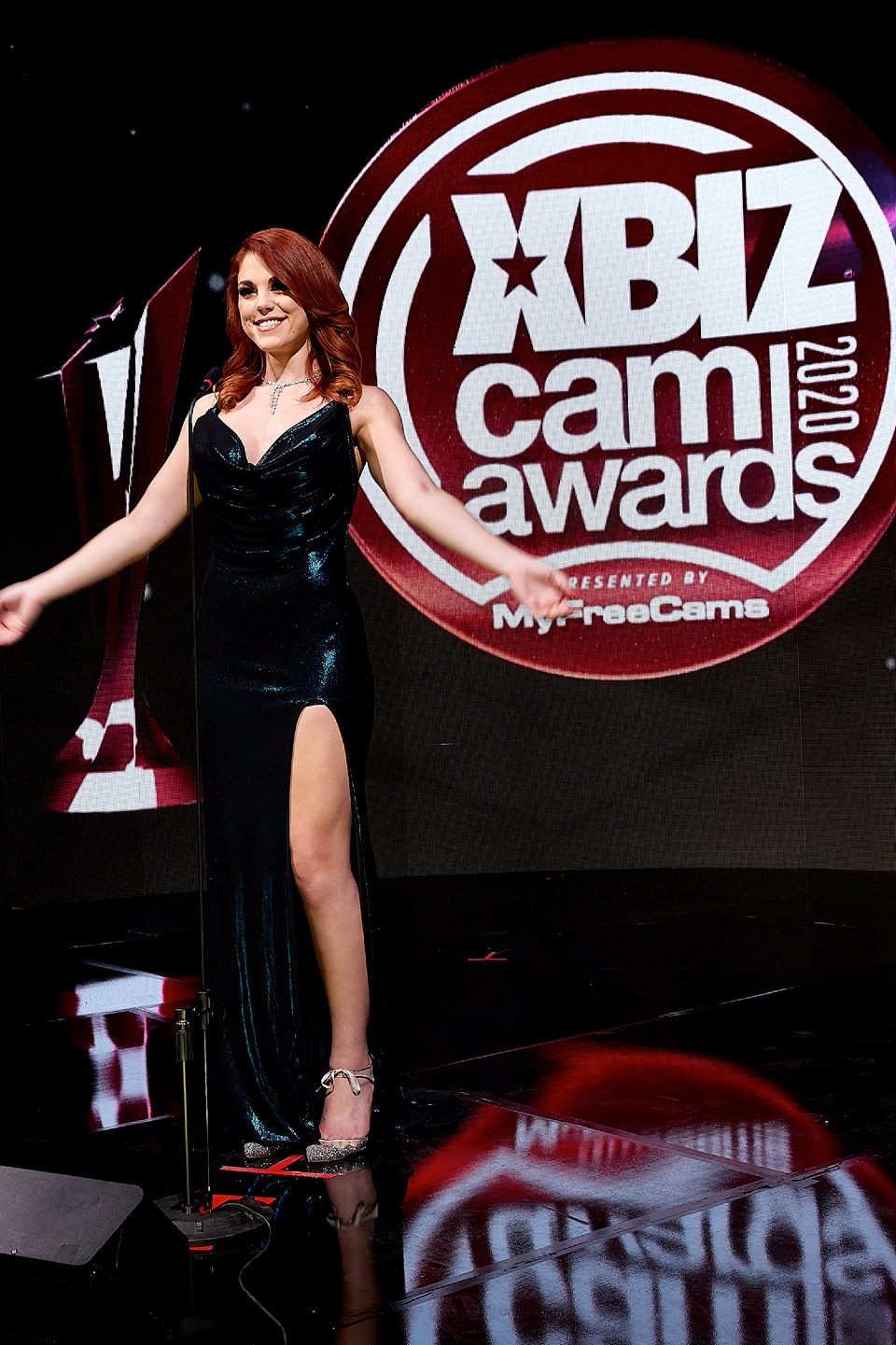 Molly Stewart