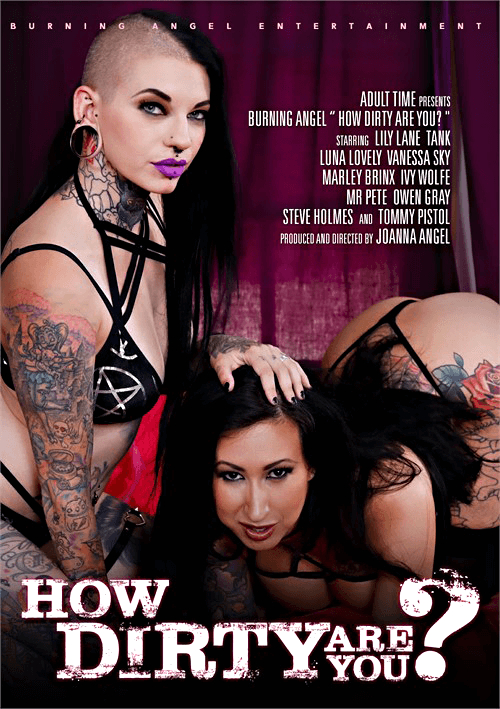 It does seem as if ink is just as important as pink in this filth-feature/semi-gonzo from director Joanna Angel, with some truly delightful tatted sluts such as Lily Lane (a personal fave!), Vanessa Sky (gorgeous), Ivy Wolfe (ditto!) and Marley Brinx (ditto, ditto!) — amongst a terrific total of six tatted tarts — powerfully bringing plenty of o' vice to the small screen.
In pretty much a straight-forward gonzo sequence, cutie Luna Lovely (harboring delicious dimensions) is teamed up (in a somewhat ornate living room) with Tommy Pistol, with potent doggie-vaginal being especially deep, as well as a loud, wet, nasty bj from lascivious Luna. And I just love how insatiable LL longingly looks at the camera, even when her pussy is being powerfully pounded by Pistol-pud, as if she's simply not getting enough fucking on her daily diet. For the record, Loon also possesses one mightily meaty butt that truly shines for the camera. Yeah!
Lucky Owen Gray, in another out-and-out gonzo episode, gets to have the juicy likes of Lily Lane (I've always dug this gal and her curvy dimensions) and a babe named Tank all to himself, with Owen passionately cornholing both strumpets; best moments being doggie-anal with each chickadee, especially when the bent-over babe is eating the other's pussy/asshole; as well as cowgirl-anal with both vamps, Tank's insanely jiggling cheeks rapidly becoming deep-red from repeated spanks during her own cowgirl segment.
Gorgeous Vanessa Sky, with steamy proportions is dominated by Mr. Pete in her full-on sex scene, with Sky never putting in a bad position, though highlights include hammering missionary, wherein she's choked with a belt, her nipples are twisted and her face is slapped — Vanessa adoring it all; Sky frequently gagging on dick, as well as fucking that Petey prick all by herself during cowgirl and doggie; our girl eventually begging to get creampied during missionary, which Petey more than happily does; and VS pushing Pete-paste out, scooping the stuff up with her fingers, eating it, and still (after alla that!) looking great.
In more of a story-based segment, the vivacious Marley Brinx meets a widower, played by Steve Holmes, at an outdoor funeral; Stevie boy banging her tonsils and twat somewhere upon a semi-private patch of grass. Holmsie first gets a major bj from this mouthwateringly stunning specimen, then seriously doggie humps her a few times. Reaming missionary is, actually, terrific because of the absorbing eye contact Marley offers up; our girl eventually taking a full load upon her incredibly pretty face. Love her!
And in the movie's most intense episodes, Ivy Wolfe plays a crazed inmate in an insane asylum — in a padded cell, even! — with one of the institution's workers, Owen Gray, satisfying her mad nympho needs (love the black fishnets, Ivy!) care of his blood-enriched penis. Doggie with Ivy is a true movie highlight (and it's repeated, with plenty of hair-pulling); ditto for spoon; while there's also some amazing face-fucking feats; though, I have to admit, cowgirl is especially phenomenal, as Wolfe obsessively rides that dick, her butt having a mind of its own. Gray eventually ejaculates into a little paper cup reserved for pills, with Wolfe obediently gulping down the 'meds' whole. Ivy is such a major babe, she looks outstanding even whilst donning ghoulish mad-woman makeup.
Tattoos, sluts and kink are on all boldly on the menu with "How Dirty Are You?" X-tra high points go to Ivy Wolfe, Vanessa Sky, Marley Brinx and our movie's tag-team butt-fuck queens Lily Lane and Tank. Top-notch whacking material!