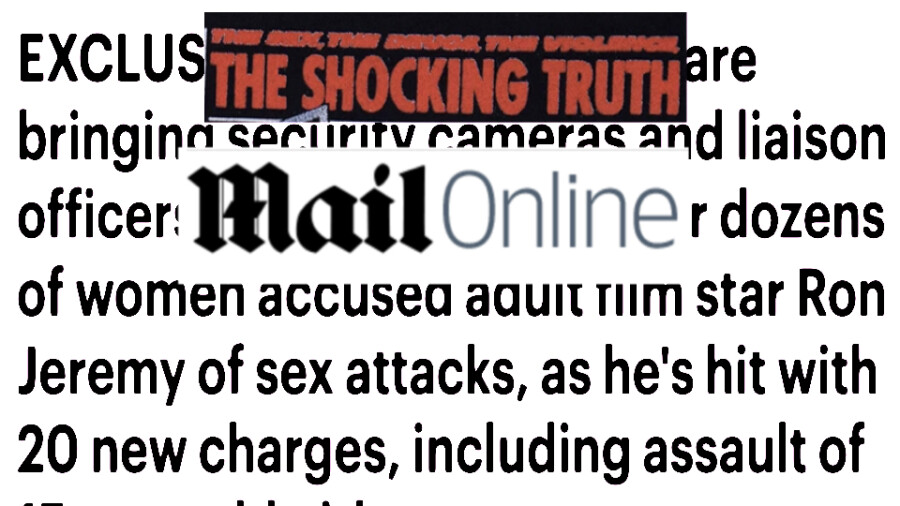 LOS ANGELES — British tabloid the Daily Mail published this morning a report implying a direct connection between new on-set guidelines by "the porn industry" and the current Ron Jeremy sexual abuse trial in Los Angeles, a connection that is not supported by any facts.
The article relies mainly on a single interview with performer/producer Keiran Lee, who spoke to XBIZ this morning to clarify he had been "misquoted" by Daily Mail journalist Alex Diaz.
Lee told XBIZ this morning that he had requested the removal of quotes misattributed to him regarding Brazzers.
The original Daily Mail article was rife with factual mistakes and serious misrepresentations and implications about the adult industry in general, its connection to the criminal proceedings against Jeremy, and the studio Brazzers in particular.
Deliberately Misleading
The lede to the story reads, "Porn producers are bringing in special measures to protect performers after dozens of women accused adult film star Ron Jeremy of sex attacks, DailyMail.com can disclose."
The Google News headline is even more generalizing and deliberately misleading: "Porn industry to have measures to protect performers after Ron Jeremy is charged with sex abuse."
The reporter spoke to Keiran Lee, who owns Los Angeles-based production company Mr. Big Entertainment, and who has a distribution deal with Brazzers. But this morning's article stated that Brazzers had "confirmed" Lee's statements, which Lee says had been misquoted.
Sources at Brazzers told XBIZ that no statements on the matter had been made to the Daily Mail, in spite of the Daily Mail's alleged "confirmation."
The article claimed that "now, Brazzers — one of the world's leading porn production companies — has decided to introduce measures, including the use of security cameras on set and hiring 'talent liaison officers' to help performers deal with any allegations of abuse."
"The Canadian firm confirmed it made the move in response to the ongoing court case against Jeremy," the Daily Mail published this morning, in a statement that Brazzers disputes. Also, Brazzers is actually based in Burbank, although its Luxembourg-based parent company has offices in Montreal.
XBIZ and Lee contacted the Daily Mail about this discrepancy, which constitutes the entire basis of this inaccurate report (the tabloid has Brazzers stand for "porn producers" and "the porn industry" in general).
The Daily Mail subsequently altered the article which now only vaguely refers to Lee as affiliated with Brazzers, does not ascribe quotes to the studio, but continues implying a causal connection between the on-set changes (now limited to Lee's production company Mr. Big Entertainment) to Jeremy's arrest.
No correction note has been attached to the piece.
Mistakes Galore
According to the misleading article, Brazzer's "top male performer Keiran Lee told DailyMail.com the new anti-Ron Jeremy guidelines will come into effect when the porn industry returns to on-set production following the pandemic."
Lee has not returned to production yet, but much of "the porn industry" has been back on set for several months.
The reporter asked Lee in general about the Ron Jeremy case, and originally, before XBIZ contacted them this morning, alleged that Lee said "I've never met him and he never worked with us but after the whole Ron Jeremy thing kicked off what Brazzers is doing is making sure there is a special female liaison on set at all times."
Lee thinks the misunderstanding was due to him having spoken about "my production company," referring to the third-party contractor he owns, Mr. Big Entertainment, and not to Brazzers.
Lee also disputes the following quote attributed to him: "Brazzers saw the Ron Jeremy situation and decided to review best practices during lockdown to make sets even safer than they already are."
Speaking to XBIZ, Lee clarified that having a performer's liaison, CCTV cameras, etc. were on-set protocol changes him and other industry figures had been discussing in the wake of several on-set allegations, which were were not limited to Jeremy's arrest and prosecution.
The Daily Mail quotes Lee as saying "From what I understand Ron Jeremy was a sleazeball off camera so we want transparency on set at all times, although from what I understand a lot of the women who have made complaints against him were not involved in the porn industry."
The substantial second half of the article is about the Ron Jeremy case, told in the typically salacious, exploitative note the anti-porn tabloid uses for porn-related stories and it includes the brag that "last month DailyMail.com published exclusive photos of Jeremy's filthy, cockroach-infested LA apartment."
Factchecking Pornsploitation
Part of the problem with factchecking the onslaught of pornsploitation, stigmatizing stories that are routinely published by U.K. tabloids — and which then enter the non-tabloid news stream via their powerful SEO and Google News placement — is that some of these salacious offerings are not produced by the tabloids themselves.
In the process of researching this story, XBIZ became aware that it might have originated not with the Daily Mail, the Sun or the Daily Mirror (the usual anti-sex-work, right-wing-leaning U.K. newspapers with worldwide reach via the internet) but with a Los Angeles outfit called Coleman-Rayner.
Coleman-Rayner bills itself as "a news and picture agency launched by two British journalists with considerable experience of working in the US."
"Mark Coleman and Jeff Rayner and their hand-picked team," reads their website, "have since established a formidable reputation as the agency people trust." The agency specializes in "celebrity stories and photo shoots but also covers hard news events and in-depth features throughout the U.S."
It is unclear at this point if the packaging of the Keiran Lee interview — with his thoughts about the Ron Jeremy case and the on-set protocols he has in mind for when Mr. Big Productions returns to set — was packaged to imply a non-existent relationship between industry-wide protocols and the Ron Jeremy case by Coleman-Rayner or by the Daily Mirror.