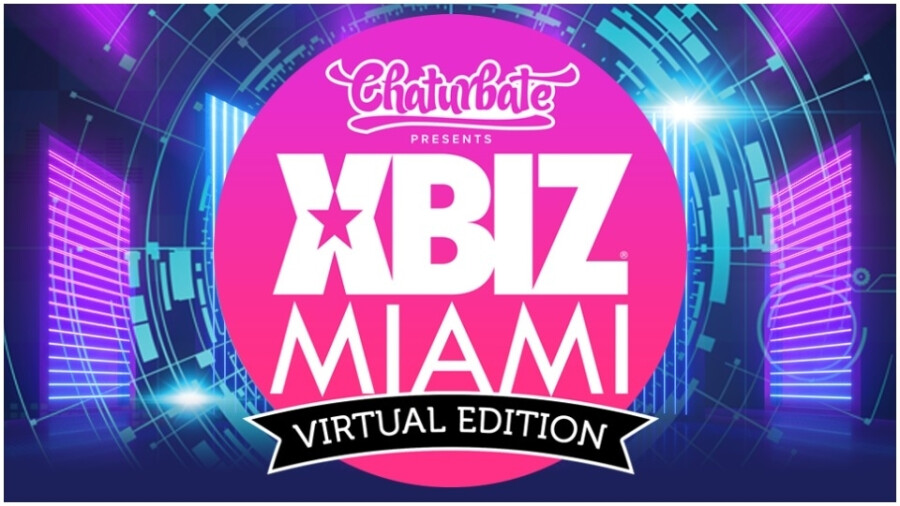 LOS ANGELES — The XBIZ Miami virtual conference brought together execs, stars, seasoned vets and newcomers across the globe for a fully online events series August 24 to 27 that featured video chat-enabled lounges, interactive panels and special events capped by the XBIZ Cam Awards.
In the days leading up to the climactic finale, the trade show spanned a lively opening Monday during a jam-packed Day 1 of content and camaraderie, a busy Day 2 that fostered community connections and a memorable Day 3 that delved into everything from premium social media to legal issues.
But what was the overall experience like, in the eyes of industry attendees from both the talent and business sides of the fence? What was it like clicking on a virtual map to zip around tables, fire off Q&As via chat buttons during panels and hawk company wares during an online Mix & Meet bazaar?
We reached out to several participants to share their experiences, and here is what they had to say:
Shirley Lara, Chaturbate COO
XBIZ is well-known for amazingly well-planned industry-exclusive events, and the Miami show was already top of summer's list. The Circle Bar at The Industry and Talent Lounge was a hit. It was a great pleasure to see the Chaturbate table full. This year's virtual show had beyond-excellent planning. Panel discussion subjects, from COVID-19 to FOSTA/SESTA, to finance and so much more, were clear and on target. Chaturbate is proud to have helped present clearly entertaining and informative content.
Kristi Greer, Segpay Director of Sales
It's always nice to see people in person, but I'm glad there was an opportunity to still connect virtually. The show floor and lounge areas were really cool and my favorite parts of the show. I was able to make a few new connections and reconnect with some existing clients during the event. In a world where face-to-face is not an option, XBIZ did a really nice job connecting everyone virtually.
Corey Silverstein, Silverstein Legal Attorney and Founder
Nothing can possibly replace the experience of attending an in-person XBIZ trade show. XBIZ has always separated itself as a premier trade show organizer. Unfortunately, COVID-19 has changed the world, but XBIZ was quick to respond and make changes on the fly to present the 2020 XBIZ Miami virtual edition. It was clear from the start that XBIZ went the extra mile to ensure that all show attendees were comfortable with the virtual show platform and was constantly present to assist anyone that was having technical difficulties. As both an attendee and panelist, I found the show highly organized and a tremendous experience for all attendees. The seminars were exceptionally well-attended and the education provided was top of the charts.
Megan Stokes, NMG Management Partner
The virtual XBIZ Miami was my first virtual show and since we are a relationships-based services company, I was a bit nervous about losing the connection of meeting new contacts virtually and I have to say, I was pleasantly surprised! Not only did I get to meet many people I have not met at shows in the past and see the familiar faces of those I have been missing, but the way we could all jump from table-to-table turned out to be a lot of fun. I also really enjoyed several of the panels. I don't usually get a ton of time during shows to attend many panels, since I am usually jumping from meeting-to-meeting, and that was a nice change for me. Best of all, I didn't even have to wear real pants to attend this show and get a lot of business done! Ha!
Romi Rain, Performer and CAM4 Ambassador
I had such a great time networking and chatting with my peers on such an innovative platform during XBIZ Miami's virtual week. Running my lounge during the show was such a cool way to get to interact and share some tech views I've accumulated from years of camming and making content. It's honestly fascinating seeing how the industry is constantly evolving and I'm glad I got to have so many personal conversations with so many I may have never gotten the chance to meet otherwise. The ability to 'poof' in-and-out of rooms at will to say 'hi' to friends old and new was all sorts of fun, too!
The present and future, I believe, is in streaming services, interactive platforms and content creation, and I'm so happy to be a part of the industry now when it has more opportunities than ever! Even though we weren't able to share a ballroom together this year, I still could feel and appreciate the good vibes from everyone involved. Hard work is still being done and we've all been forced to adapt, somehow keep pushing forward and keep honing our skills to hopefully come out of 2020 better than ever! Thank you for having me XBIZ; maybe next time we'll be on the beach? Until then, see you online!
Alex, SextPanther Founder and President
On behalf of the SextPanther team, we'd like to thank XBIZ for having us as a sponsor and putting on such an amazing all-digital event! It was refreshing to see so many familiar faces and new entrants into the adult community. It's events like XBIZ that show the true power of our community especially through the extremely trying times everyone has been going through. XBIZ has set the bar exceptionally high for virtual events moving forward and we cannot wait for the next one!
Shay Efron, ImLive VP of Marketing and Business Development
XBIZ Miami's virtual show proved to all of us in the industry how much we miss each other, and it was a great opportunity to talk business again in a well-organized format.
Vanessa Eve, Streamate Director of Talent Recruiting
My gratitude to XBIZ for bringing the industry together during a time when community support and human connection are needed most. The map set-up facilitated an eagle-eye view of who was in attendance, and I liked the fact that you could easily mobilize to different booths. Most of the time, you wound up talking in groups, so it was a simple way to meet people from various sectors of our industry and, just as you would during the live events, it felt as if you were chatting amongst good friends.
It was nice to relate with others on how they were adjusting to our 'new normal' and get a better sense of how they have shifted their efforts during this global pandemic on both the work and home front. That sort of relatability is genuinely what brings people together. What stood out to me on the virtual platform in contrast to the live event was that with the removal of the South Beach 'party' atmosphere, it was easier to focus on each conversation's quality, with minimal distraction. That said, it would be nice to have the ability for one-on-one conversations and extend the time for networking for future shows. Although nothing can replace in-person interaction, the virtual experience was really fun and invigorating!
Brad Mitchell, MojoHost CEO
I thought the XBIZ implementation of virtual sponsored booths and the virtual Mix-and-Meet Market set the gold standard for online conferences. Having a visual of the entire 'show floor' and being able to identify attendees in each location was a real success in my opinion.
Lawrence G. Walters, Walters Law Group Attorney and Founder
The virtual XBIZ Miami show was a change for all of us, but felt like a success. The three panels I participated in were well-attended and filled with thoughtful questions. The 'War on Porn' panel was particularly insightful as the adult industry arms itself with facts and logic to battle its opponents. While I missed the exciting poolside events and personal connections we enjoyed in Miami during previous events, the virtual conference helped fill the void many of us feel as we cope with these difficult times. Thanks to the XBIZ team for a great job putting this conference together.
Charlotte Stokely, Performer and CAM4 Ambassador
It was an absolute pleasure and honor to have my own lounge table at XBIZ Miami's virtual event. XBIZ gave me the ability to voice my opinions and share what I've learned with other industry professionals. I focused my table discussion on balancing your work life and personal life. Primarily, finding balance within a home/work environment, how to save and earn money, finding things that bring you joy, opening and using your creativity, allowing yourself to focus on goals and how to truly manage your time for success without burning out.
I loved the feedback from everyone that stopped by and ultimately this weeklong event was fun! I've been 'staying home' during this pandemic and it was lovely to meet and see so many like-minded faces! Ten-out-of-ten; I will be attending this event again. The networking was incredibly valuable and I especially loved that XBIZ set up a panel specifically to educate sex workers on how to manage an S Corp, how to pay taxes, tips for write-offs and ways to invest. Great job, XBIZ!
Frank Stacy, Adult Time Marketing Director
As someone who might not always be the strongest at networking, I felt the XBIZ Miami Virtual Edition made it easy for me to make contacts and break the ice with strangers. The interface was simple, the mood was light and fun and the attendance was surprisingly high for an event happening entirely online. Our open casting call was a much bigger success than anticipated, and we got a lot of interesting leads for future projects and for our Model Time venture. I might have left the day with a dry throat from talking so much, but I felt very satisfied with our sponsorship and our participation. If this is the future of adult networking (at least for a while), that's fine with me.
Dominic Ford, JustFor.fans Founder
We were very impressed by the virtual XBIZ show. The Industry/Talent Lounge had a similar sense of discovery and serendipity as the in-person version. Our virtual table got a lot of traffic, and we made some great connections both with models and potential business partners. The seminars were also very lively. The cool thing about the virtual panels was the audience feedback. Typically, live panels leave the last few minutes for audience questions. But with the live-stream of comments coming in via the chat, those of us speaking on the panels could answer and adapt our conversation to answer many more audience questions. It was great knowing what people were thinking in real-time, and audience members weren't afraid to be vocal when they agreed or disagreed with a panelist.
Ruxandra, VXPages Business Development
The overall experience was absolutely amazing. I was impressed by the XBIZ team that managed to present an online event so close to a real face-to-face experience. Starting with the show map, then speed networking and the Mix-and-Meet Market, all were planned to have the opportunity to make business and meet everyone. Definitely a step forward in the new normalcy of online shows. Congrats, you guys!
Austin Fiascone, Mr. Skin Head of Business Development
While there have been several shows recently that have had to go virtual to adapt with the ongoing pandemic, XBIZ Miami was by far the most technologically advanced and successful at making this move online. The virtual lounge and Mix-and-Meet layout was stunning and incredibly useful to conduct business with. Being able to visually see where people were sitting, and then subsequently sit at their table, not only aided in getting business done, but also gave the feel of a real in-person show. While we at Mr. Skin look forward to being able to see everyone in person again, the XBIZ Miami virtual show was an overall success that set itself apart from the other virtual shows that have taken place thus far this year.
Natalie Pannon, MojoHost Business Development Manager
For me, the best part of virtual XBIZ Miami was the seminars. It is remarkable how many knowledgeable industry veterans were brought together to contribute, and I appreciate the opportunity to educate myself in the comfort of my own home. The lively, sometimes boisterous, but nevertheless relevant chatrooms provided both entertainment and pointers from the audience to the speakers. I can't wait for the videos to be released, so I can catch those seminars that I was unable to attend during the virtual event.
Sofia Rose, Performer
Since I learned so much in my first XBIZ event a couple years back, I knew I never wanted to miss one! The virtual Miami show was fun, thorough and easy to navigate. It wasn't foreign, since we already do so much work online, so it made sense. And I met so many amazing people from around the world at the lounges and speed networking, including models, talent and companies I'd like to work with one day. The general vibe I was getting from everyone I spoke with was the same; it was a lot of fun and a unique experience. I walked away with so much learning, as I would have in person.
I was able to connect with key people and walked away with so many amazing opportunities at this year's event. I cannot stress enough why these events are important to models and talent who want to grow. XBIZ events provide us an opportunity to network and meet face-to-face, even virtually, with individuals who may be only considering working with you. Or in some cases, you connect with those who never heard of you and you fit perfectly for their brand etc.
There is so much opportunity, I'd like to see more talent, especially the marginalized groups, be present at these events and take advantage of these opportunities. My main takeaway was this: I met so many models who said, 'I've always been so nervous to go in person, and this virtual event made it an ice breaker,' and now they can't wait to go in person. I can't wait, either!
Emily Bloom, Cam Model
I think XBIZ did a great job putting together a virtual convention. The entire idea with the interactive clickable map was amazing. It was so easy to see who was at which table and pop in to say 'hi!' It definitely gave the convention more of a 'real' feel. And, of course, the panels were really fun, too. It was overall a very welcome distraction from the last six months of being stuck alone at home. But I can't wait to hopefully actually go to XBIZ Miami next year!
Amberly Rothfield, Performer and 2020 XBIZ Community Figure
After doing in-person conventions for years, the idea of taking that experience and putting it online confused me. Experiencing it was great, though, and I hope when we can all be together again, that there will still be some virtual aspect. XBIZ hit it out of the damn ballpark with their online convention! The tables were easy to understand within seconds.
It was also less intimidating to hop on over to someone you wanted to see and say 'hi.' Rather than being surrounded by tons of people, you [could] sit down if there was a seat open. I absolutely loved the seminars and panels. I learned so much about aspects of the industry that I had no clue about. The panelists were exceptional. I loved the Premium Social Media panel so much, as this is clearly how the industry is shifting. I can't wait to see what 2021 will hold for future XBIZ conventions!
Johnny Diamond, CAM4 Senior Account Manager for North American Markets
XBIZ Miami will forever hold a special place in my heart as it was my very first event as a platform broadcaster in 2017, and truly opened my eyes as to how big of a community we have. Fortunately, as an account manager for CAM4, I am now able to travel to events and have the opportunity to meet countless amazing individuals within our ever-growing industry. Sadly, due to the current state of the world, many events have been cancelled due to borders being closed and global travel bans.
But the show must go on! Flash-forward to the very first virtual XBIZ Miami in 2020. What would normally be a very drastic shift into the new 'norm' was made easy. It was a fantastic experience overall, leaving our CAM4 team excited for the future, finally seeing a glimmer of hope for what is to come. For someone who isn't very tech-savvy, the layout really stood out for me and was very user-friendly, allowing attendees to navigate the event with a clickable aerial view 'virtual map' with the ability to see who exactly was where, and at what booths … with a simple double-click, you could join other attendees at virtual tables or hang out in the Virtual Lounge to mix-and-mingle while you wait.
Each day, Moe from the XBIZ team would take over our screens with important announcements, which was perfect for someone like myself who 'tries' to schedule everything generally. Moe was very direct and clear, avoiding any confusion. Basically, we all knew where to be and when to be there, without thought or question. Daily, the Virtual Lounges would close, kicking off the rest of the event starting with XBIZ Speed Networking. It was here our team was able to see some familiar faces, but most importantly, connect with people around the world with whom we otherwise wouldn't have had such an opportunity. It was nice to be able to connect with models, platform employees and even payment system CEOs alike … without the need to leave the comfort of your home in such crazy times.
The beauty of this was XBIZ was able to guarantee that all participants in Speed Networking were all industry professionals. It also gave us the opportunity to network with some of the top industry creators without all the fluff. We got to interact with so many well-developed cam models and couples as well from all cam sites and platforms, and in an environment that was not competitive, but friendly and comfortable. Social distancing at its finest! After Speed Networking, there was even more opportunity by sitting in on some amazing panels. The panels were grouped as either a roster of industry talent or industry insiders, combining many great topics and inclusive of all, truly encompassing the industry in one crazy, fun and virtual nutshell.
That being said, whether it be handshakes or virtual hugs, I cannot wait to see what XBIZ Miami 2021 has in store. Thank you to the hardworking staff at XBIZ … Alejandro, Moe, Leah and everybody CAM4 had the pleasure of connecting with during such an awesome event. Cheers, and see you next time!
Chris, Dares.tv Founder
I enjoyed both Lounges and their format, where I managed to connect with many other execs and veterans from the industry. At the Speed Networking event, I managed to connect with amazing people from the industry with whom I'm sure I'll build long-lasting connections. I can't wait to meet them at the next live event!
At the Mix-and-Meet we actually had a table for our social platform Dares.tv and did a soft launch. It was such an exciting time! Dares.tv is a platform that allows fans to engage with their favorite performers in a new fun way, by asking them to perform paid dares (one-minute videos). We also have paid subscribers, DMs, clip stores and other monetization options. People came by our table curious to find more about our product and what we're trying to do for the industry.
Going more into the technical panels, I really loved the content protection and legal ones. They offered valuable insights into two of the most challenging aspects in the industry from my perspective. Looking forward to seeing you guys at the XBIZ Berlin event! Kudos to the XBIZ team for all the effort they put into organizing the Miami event.
Bishop Wages, AEBN Executive
The concept of a virtual convention seemed really alien to me when I first heard about it. I think it turned out really well for the first time. Once I was a bit familiar with the interface, I liked it. It was good to see some old friends and associates, especially after the year we have been having. My favorite part of the shows is always the seminars and I got as much out of the virtual seminars as I would have if it had been in person, I think. Some of my staff that would not have ordinarily attended this show in person were able to sit in on some of the seminars. It was a pleasure not to have to deal with the headache of travel.
Lance Hart, Performer, Producer and Member of FSC Board of Directors
I really enjoyed the map layout. Of course, it was a new thing to almost everyone, so it took some getting used to. It was great to instantly DM anyone at the show. For example, when I was talking to a newer producer who needed something, I could just intro them immediately to whoever they should meet. At a 'real' show, we both have to find the person, wait until they aren't busy, try to impress them with our appearances, etc. Everyone was basically in pajamas, so that helped level a lot of appearance stigmas as well.
Jonathan Corona, MobiusPay Executive VP
I found the entire experience very pleasurable and easy to navigate. I particularly enjoyed the 'table' concept and being able to be at my table all day on one monitor and continue with other work on my other monitor. I feel like I got more face-time with other attendees, because it was so easy to jump from table-to-table and not get distracted along the way, as I typically would crossing a hotel property to get to my next meeting. I feel like XBIZ has now set the bar for future tele-conferences.