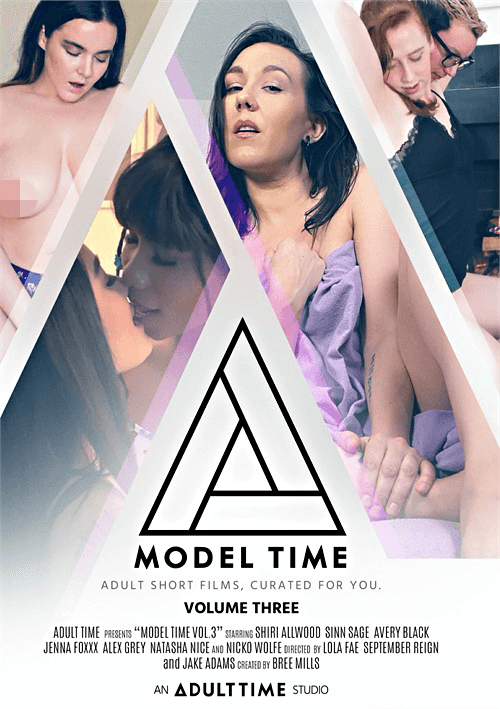 Bree Mills conceptualized Model Time as an avenue for independent content creators to showcase their filmmaking, performing and creative skills for a large audience.
Shiri Allwood and Nicko Wolfe:
Hell yeah, Nicko Wolfe is playing a Nintendo Switch to open this story! I love this because so often when we see video games incorporated into porn scenes, the performers are so clearly not playing anything as they mash the hell out of every button randomly. Here, Wolfe actually looks like he's legitimately playing the console which adds a layer of realism that is nice to see. Eventually, Wolfe puts his gaming on hold and sets himself to the task of transforming the room into a bastion of romantic allure.
While Shiri is initially oblivious to Nicko's efforts, she eventually realizes the painstaking ends he's gone to, and settles in for a night of erotic passion. I love the fact that the director doesn't rush the action, allowing plenty of time to let the foreplay build the anticipation. Nicko fucks Shiri's ass passionately with a strap-on in multiple positions, including an enticing moment where Shiri strokes her cock while Nicko fucks her ass, before retiring to allow Shiri to finish herself off by riding a dildo while she faps herself to a creamy finish on her stomach.
Sinn Sage:
After a relaxing massage, Sinn Sage is basking in the afterglow of her session, and finds herself overcome with a strong desire to masturbate. With the room all to herself, Sage takes all the time in the world to really pleasure herself sensually. There's plenty of close-ups of the action and the scene drips with a delicious eroticism.
Jenna Foxx, Alex Grey and Avery Black:
These three scrumptious lady treats are lamenting their self-imposed quarantine due to a hurricane and pandemic. I love the fact that this short film incorporated the current state of the world into a sexual story because it speaks directly to so many of us right now. With nothing else to do, the "prisoners" decide to have some sexy times, which includes a huge strap-on and some incredibly fiery triple play masturbation on the bed. This is the highlight of the scene as all three ladies spread themselves wide so the audience can get a great look at their puffy, pink pussies. It's pretty hot.
Natasha Nice:
The voluptuous Natasha Nice opens this scene on the phone talking to her friend about trying some anal with her boyfriend. Natasha is understandably worried about it being painful, so her friend suggests she try some anal play with toys before taking the plunge with her man. This is a nice, simple opening to a solo scene that could easily fit into a larger narrative and I liked seeing the amateur nature of the scene unfold. Natasha doesn't feel overly scripted here, making the encounter feel very authentic. My goodness watching her bang her pussy is a total treat! She has such a wonderful body (including luscious tits), and when she slides the huge black dildo into her waiting asshole, the knowledge that sometime in the near future that dildo will be replace by her boyfriend's throbbing dick makes the entire moment even hotter.
I like this project because it gives an opportunity to creators who otherwise might not have gotten one to tell their stories and show the porn audience at large what they're capable of. The video quality is certainly in the realm of amateur, but that doesn't take away from the scintillating nature of the project in any way. Both solo scenes here are spectacular (Natasha Nice is a total dream), and Jenna Foxx really shines during her sexy three-way with Alex and Avery.