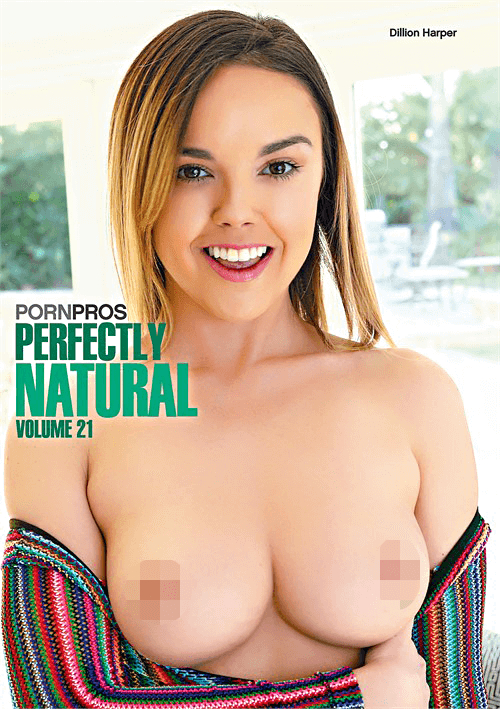 All of these women definitely have 100% natural, magnificent-looking breasts, which look even better oiled up; and that's precisely what happens throughout this marvelously messy, dick-hardening Porn Pros gonzo, wherein we also can't ignore the ladies' outstanding (shiny!) asses as our busty, slicked-down tarts royally suck (in a good way!) … as well as get royally fucked.
I haven't seen Dillion Harper in a while, and it's fab that she's included in this title, seeing as Dill looks very fresh, with her much-appreciated upbeat attitude; and here showing what a fine, happy little slut she is. Now, just when you think Dillion is using too much wrist in her blowjob, she submits to some gnarly throat-fucking — insisting on it! Love the tiny nipples on her big (but-not-too-big) boobies. Her wet ass is stupendous-looking during cowgirl; while you really get to see her boobs bounce during reverse-cowgirl (love the bush there, Dillion baby), doggie (standing, while shot from below to get full view of those undulating headlights) and missionary.
Up next is Gia Derza, who is excellent to view in sopping-wet action from start to finish in her own lusty lick-and-stick scene. Check out all of the spit Gia produces during her deep, loud face-fucking. Her greased-up, fine ass seems to have a life of its own during doggie, which is truly slammin'. Ditto for cowgirl. G-baby offers up fantastic eye contact during missionary; but when cowgirl is shot from the front, followed by reverse-cowgirl, then you can really enjoy our girl's tantalizing tits. And check out those cum-greedy eyes just before dirty Derza is happily served up a hefty heaping of hose sauce.
Then, ever-gorgeous Gianna Dior once again doesn't disappoint — via her pretty face, delectable derriere, tasty tits and horny attitude — with this well-oiled scene being no exception. It's fun watching Gee's delectable breasts dangle during her fantastic face-fucking (love her longish nipples!). And, of course, doggie is off-the-scale with a world-class ass like Gee's; followed by more deepthroating, cowgirl (with an inevitable focus of that beautiful booty), reverse-cowgirl (giving us a good view of those unique-looking breasts) and missionary (get a load, again, of that righteous rack, as well as Gee's puffy pussy, and, of course, that runway model's face, which she loves getting moisturized in cum, before swallowing it down whole … whew!).
And we end on a high note, indeed, with juicy Eliza Ibarra who uses her mouth, vagina and overall body like a truly insatiable (love her!) whore. I mean, check out Liza's ultra-wet/-deep/-loud/-nasty blowjob. She goes balls-deep, lemme tell ya. Best suck-off in the movie! Her oiled-up and meaty thighs are phenomenal-looking during missionary, while her boobs look way delish during reverse-cowgirl. Observe how she wildly grinds her hips and pussy on that raging hard-on. Man! Liza's ass cheeks look like they're on Warp 10 during cowgirl, with the ever-energetic Ibarra still crazily grinding that pussy all over that very lucky dick. And doggie? Simply awesome, Liza getting so turned on, she loses her ability to speak, moaning and grunting, almost totally incapable of completing a sentence in her fuck-me-fuck-me state; her brilliant boobs still managing to be seen, while her eyes roll into the back of her head as she gets majorly banged; just before, that is, having her mouth whitewashed with goo. She can't get enough! In fact, Liza begins deepthroating the guy again, as the shot fades. She's the best!
This gonzo is outstanding (and there isn't even any anal in it!), simply because the girls all look amazing from head to toe, especially those tits … those ass cheeks … those sweet faces … those probing tongues … with high points going to the incredible Eliza Ibarra. I wanna marry this chick! Who the hell in their right mind wouldn't?