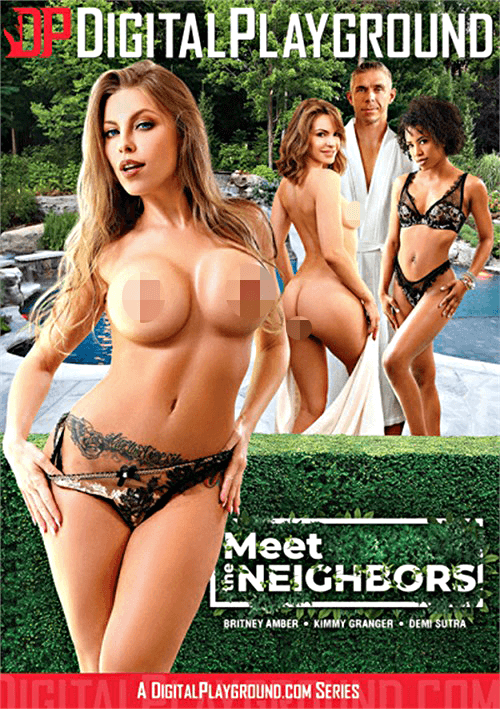 Adventurous Jenny (Kimmy Granger) convinces her more cautious friend Abbie (Demi Sutra) to sneak into her absentee neighbors' back yard to have some fun in their lavish pool. But when they get caught in the act by the residents who are indeed home, the nubile friends find themselves swept into a web of debauchery unlike anything they've ever experienced, courtesy of their overly kinky neighbors.
This short film, written by Mikey Douglas and directed by Andrew W., is presented in a three-part episodic format. The cast is good; any time Britney Amber and Demi Sutra are listed, it's likely to be a good time. And I really love the light-hearted tone the movie embraces!
Part I:
The tale opens with Jenny and Abbie sneaking onto the property (Abbie hesitantly), to take advantage of the pool that Jenny assures her friend has laid unused for weeks. After some prodding, Abbie reluctantly decides to join her as she frolics blissfully naked amidst the beautiful backdrop of the grounds. Meanwhile, inside, a masked Gerald (Mick Blue) and his nude wife Holly (Britney Amber) are in the middle of some kinky dom play when Holly spies their unexpected guests. Intrigued and aroused by their naked, glistening bodies, Gerald and Holly are inspired to fuck while watching the friends play.
This is a very hot sequence as Holly strokes Gerald's thick cock while pressed against the glass doors, leading Gerald to stuff her pussy from behind right there without much preamble. Britney has a dynamite body and after some hot standing doggie that serves as a sexual appetizer, she leads Mick over to the bed for the main course. I have to comment on just how much Mick's cock fills Britney's mouth when she's sucking him (literally every inch of her mouth is full of his meat), and as he thrusts into her, she gets more and more consumed by the carnal pleasure of the moment.
This is a great way to stimulate the voyeur kink because it shows just how easy it can be to get off on the idea of fucking one's partner while watching someone else in a sexual situation. Here, it's the idea of getting aroused from watching two beautiful, naked women and rewarding that arousal with vigorous sex. It is such good stuff. After dropping a heaping load on her mouth, the couple heads out to the pool to surprise their intruders, leading to an awkward confrontation.
Part II:
After introducing themselves and assuring Jenny and Abbie that they aren't in trouble and have no need to worry, Gerald and Holly invite the young women inside so they can all get to know one another. Jenny is all for it as she has been dying to see the inside of the "weird" couple's house, while Abbie is mortified and nervous. Mick decides to show Jenny the home theater room since she has a love for the movies, while Holly takes Abby upstairs to show her the impressive view.
During the tour, Abbie stumbles upon a strap-on and is predictably taken aback, but Holly reassures her and even gets her to admit that not only has she had very few experiences with women, but she's also never been with a guy. Intrigued by Abbie's relative inexperience, Holly offers to show her what to do in both scenarios.
The fantasy of the young virgin is strong in this scene, but the twist is it's a woman effectively taking another woman's virginity, which was a nice subversion of expectations and a conscious choice to speak to lesbians who may find the intimacy and significance of their virgin experiences glossed over. Demi gets more energetic as the scene progresses, and Britney stays in control while giving Demi all the room she needs to open up. It's really a beautiful coupling. Demi has such a great ass and there's a ton of time devoted to cowgirl, which gives the audience the treat of watching Demi ride Britney's dildo like the champion she is.
Part III:
In the video room, Gerald shows off the video equipment he and his wife use to film themselves fucking, which Jenny criticizes because of its outdated nature. When she suggests Gerald and Holly should just use their phones to record themselves, Gerald suggests she show him exactly how it should be done. Of course, this leads to Jenny and Gerald fucking like rabbits in the studio, all while the camera is rolling. Can I just say what a fucking dynamo Kimmy Granger is?
Watch this woman tease her pussy onto Mick Blue's cock at the start. I honestly have no idea how he kept himself from exploding all over her pussy right there, but then she hits him with a downright relentless, hip swirling, ass bouncing ride of a goddamn lifetime that would have finished a mortal man in mere moments. Holy cow this woman knows how to fuck.
Mick annihilates Kimmy in return with his tongue, bringing her to an intense squirt that she barely survives herself before pounding her into an ecstasy-filled state of bliss. Just before Gerald explodes, Holly and Abbie walk in, still basking in the afterglow of their own raunchy adventure, and Abbie happily joins Jenny on her knees so Gerald can spray them both with his seed.
This was a fun experience. The sex is really outstanding (Jesus Christ, Kimmy Granger!) and the character work is solid. The editing is very strong and showcases the performers in all their glory, while the story is just deep enough to make feature fans smile in appreciation.