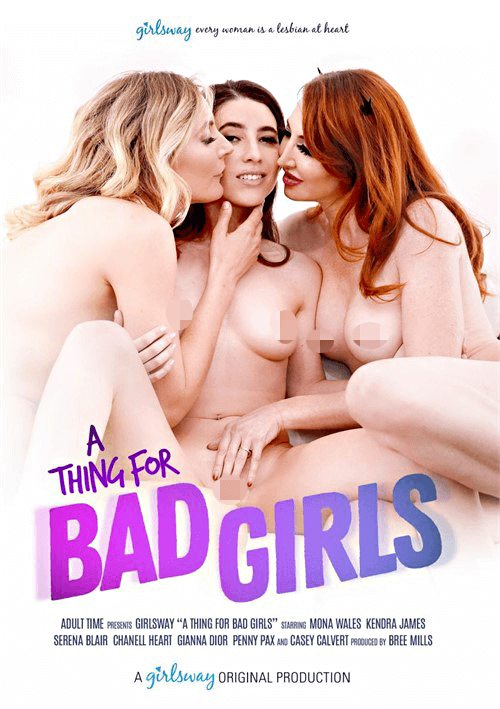 Girlsway presents three stories within the framed narrative of good girls giving in to the naughty seductions of bad girls with direct input from their members-only community of website subscribers.
"Between Heaven and Hell" (Kendra James, Mona Wales and Serena Blair):
This story is based on an original submission by Girlsway.com member EnigmaCharmer. Serena finds herself in purgatory waiting for judgment. Mona Wales arrives to make sure Serena hasn't done anything that would bar her from entering the pearly gates before taking her to eternal bliss, but the nefarious Kendra James arrives from Satan's realm to pitch the counterpoint that hell is full of fun and fuckery. With Serena torn between her two choices, Mona and Kendra decide to seduce her to their side through sex.
I like Mona Wales so much. I think she's got a uniquely beautiful face and it makes everything else about her shine like a treasure at the end of a rainbow. I also applaud whoever opted to have Kendra sporting horns and actual fangs as it instantly made her feel like a demonic succubus. Fantastic art direction. The sex is fantastic as well, with both Mona and Kendra really staying in character while Serena just melts into their arguments figuratively and physically.
Take note of the way Mona lovingly embraces Serena while Kendra feasts on her muff hungrily. Also, it's incredibly arousing to witness Mona and Kendra 69 each other while Serena watches and rubs her clit furiously. Someone get some cold water! I also really appreciated the narrative swerve to conclude the story.
"A Thing for Bad Girls" (Channel Heart and Gianna Dior):
Based on an idea from Girlsway.com member PJ Fearless, this tale revolves around a despondent Chanell Heart, who's tired of being single, being accosted by Gianna Dior who breaks into her house to lay low for a while after robbing a bank. Upon discovering that Gianna bribed her way into the robbery by passing off her fingers in her pockets as a gun, Heart finds herself enamored with the idea of coupling with such a bad girl. She comes on to her, and a surprised Dior (who still needs a place to hide for 12ish hours), decides to play by Chanell's sexy rules.
I loved the power switch here. Initially, it's Dior who is in control, dictating to Chanell that she's got no choice but to do as she says, but once Chanell puzzles out Gianna's ruse, she takes all the power and controls Gianna for the duration of the sex. Man, Gianna is a master of the tongue, flicking, licking and slurping on Chanell's cunt like a snake exploring its environment. It's easy to see why her girl/girl scenes are always so highly rated, and Heart remains one of the prettiest performers I've ever seen.
"The Neighborhood Gossip" (Penny Pax and Casey Calvert):
Nosy neighbor Penny Pax spies Casey Calvert in the arms of a strange woman while her husband is away. Concerned about how such scandalous activity might impact the neighborhood, Pax takes it upon herself to find out exactly what's going on, hoping to convince Calvert to reign in her fiendish ways. Calvert (miffed at Penny sticking her nose where it doesn't belong), refuses to shackle her devious nature, opting instead to show Penny exactly why so many women succumb to her salacious lifestyle of seduction. Casey Calvert is so pretty (there's an innocent deviousness to her that is just so enticing), and Penny Pax is so good at playing the shy, inhibited, girl-next-door character.
It seems to come naturally to her and that makes this pairing really wonderful. The 69 is fantastic, because there are so many shots that capture Casey and Penny's full bodies. I often feel directors and editors get too caught up in zooming in on the action, which denies the audience the opportunity to experience the performers' full reactions to the pleasure they're experiencing. That's not a problem here, as the mix between close-ups and wide shots is nicely varied. I also applaud the editor for capturing some very candid shots of Casey's face (disheveled hair and all), at the moment she arrives on ecstasy island.
The anal play is also fabulous, because both performers stay perfectly in character with Casey slyly pushing Penny's boundaries by introducing her to avenues of arousal she's never experienced, while Penny allows herself to slowly succumb to the taboo pleasure of having her asshole licked. When she returns the favor, there's a hunger emanating from her that feeds the naughty nature of the story perfectly.
This is a very nice project that should be applauded not only for having a great cast and arousing sex, but also for giving fans the opportunity to see their input realized on the grandest stage of them all. Talk about building a rapport with your fan base! Congratulations to Girlsway.com users EnigmaCharmer and PJ Fearless for having your submissions turned into short films, and kudos to the folks over at Girlsway for enhancing the fan experience.