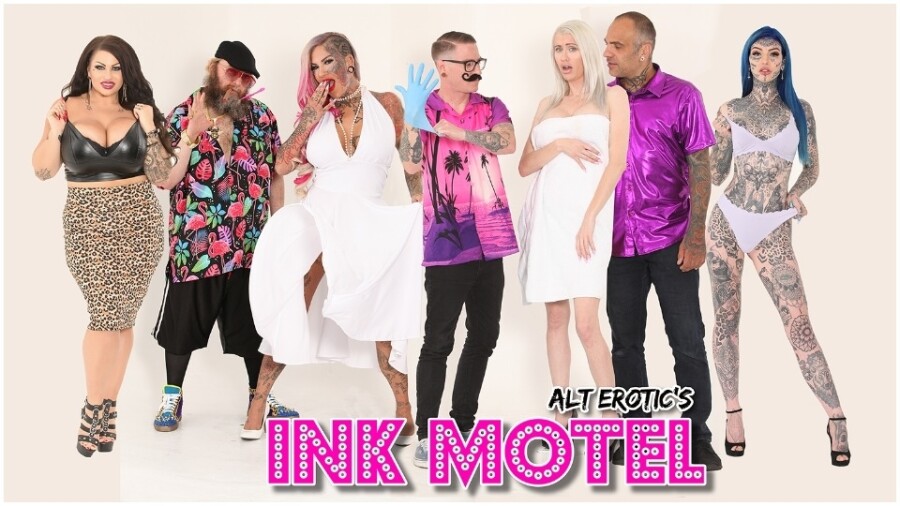 LOS ANGELES — AltErotic is teasing the pending release of "Ink Motel 2," starring brand ambassador Evilyn Ink, with a trailer that teases the film's comic grindhouse tone.
"When grindhouse meets film noir for a secret comic rendezvous in a seedy part of town, there is only one place — Ink Motel," a rep exclaimed. "Welcome to the second installment of the series as Russian pornographer 'Ivan Dragon' implores his crew of miscreants to seduce new guests into getting tattooed and fucked for his hidden camera pleasure."
Besides Evilyn Ink, the cast also includes returning characters Duke Daybreak and Sascha Ink with Amber Luke, Samantha Mack, Katie Monroe and director and Alt Erotic principal Ivan (aka Ivan Dragon).
"I think Evilyn is one of the most unique and coolest people I have met, so I wanted to capitalize on her look and talents. She is the alt-Marilyn Monroe, the boujee Alt-omic Blonde I wanted to build," said Ivan. "I've also wanted to work with Samantha Mack for years and we finally got on the same set to collaborate on some pretty fantastically campy action. I am very proud of this movie."
He notes a "projection screen tease" featuring Evilyn Ink "has nothing on what comes next. This alone is worth the price of admission."
The star expressed enthusiasm about her experience filming "Ink Motel 2."
"When Ivan approached me about this project, I was like, 'What the fuck is he thinking?' But I trust his vision; he always makes me look so good," she said. "I ran with it and fuck, he made me into Marilyn Monroe of 2020! I had so much fun on this project, it truly showcased me more than I could ever imagine."
In the film, Evilyn Ink performs a solo scene; she and Daybreak tattoo and then fuck each other; and Evilyn deflowers Ivan by giving him his first tattoo.
Sascha Ink, the owner of AltErotic, praised his creative collaborators.
"I am thrilled what the team has accomplished with this project. We seem to be stepping up our game from one production to the next," he said. "The quarantine hasn't slowed down our creative juices, it might have squeezed even more out of us."
"Ink Motel 2" will street at the end of the month. Find AltErotic online and on Twitter for the latest updates or email ivan@alterotic.com for additional details.
Visit their SFW YouTube channel Tattoo Addiction here.