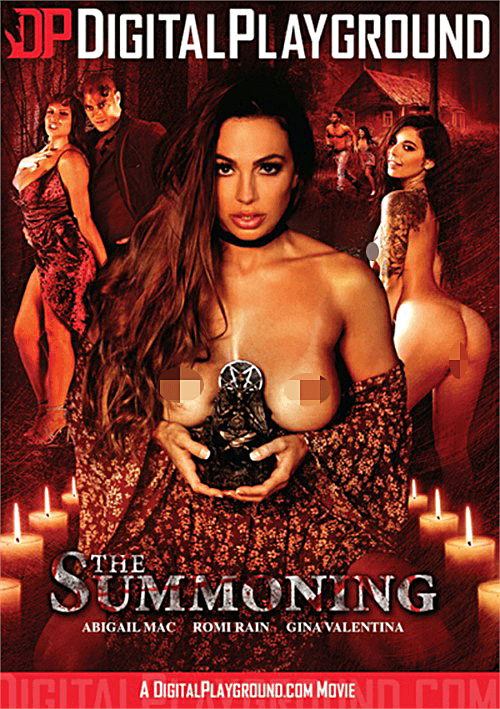 Spooky enthusiasts Ivy (Abigail Mac) and Nick (SethGamble) convince their much more apprehensive friends Regan (Gina Valentina) and Toby (Billy Visual) to spend a weekend with them in a creepy cabin for some paranormal partying.
But once the couples reach their destination, Ivy and Nick set their true plans into action, unaware that their nefarious machinations will release an evil not seen for nearly a millennia.
Co-written by Xander Corvus and J. Bonare, and co-directed by Corvus and Billy Visual, "The Summoning" is a collaborative love letter to the horror genre presented in a four-part miniseries.
The film opens with some really fantastic overhead shots that immediately make the movie feel on par with something one would see in a mainstream film, dismantling the stereotype that feature porn is "low-budget." The movie takes its time establishing the plot, characters and tone (which is very strongly established through the impressive visuals of the opening credits).
Part I:
After a very horror-esque arrival at the cabin (including a very clever cameo by Corvus), Ivy and Nick head off for some private fun leaving Regan and Toby to turn in early. The plot thickens as Ivy casts a demonic spell in the woods while Nick sneaks back into the bedroom to complete the curse on their unsuspecting companions.
Back in the woods, Ivy puts the finishing touches on the spell as Nick rejoins her and asks if it worked. She assures him they'll find out in the morning, then demands he fuck her because spell casting turns her on. The red lighting is awesome (exactly the kind of thing that helps build and hold the horror vibe), and there's a really fantastic overhead shot of Seth and Abigail entwined in each other's bodies surrounded by the pentagram that is absolute gold. It's top-notch editing.
Part II:
The film transitions to Regan being roused from her slumber and coaxed into the woods by some unseen supernatural force, where she is confronted by a lewd Succubus (Romi Rain), who tells her she's been chosen because she bears the mark before seducing her. Romi's incredibly long tongue fits her demonic character perfectly and she practically oozes sexual abandon while Gina starts out demure and grows slowly into her lust as Romi's influence over her expands. It's a well done scene and both ladies look fantastic, particularly during the 69 and face sitting. Meanwhile Toby, alarmed when he wakes up to find Regan missing, ventures out into the woods to find her and meets a predictably gruesome fate. Regan awakens from a fitful sleep, and upon seeing herself in the mirror, comes face-to-face with a terrifying reality.
Part III:
The episode opens with Regan freaking out about her plight and confronting Ivy and Nick. While Ivy is fully committed to the sacrifice they've offered the demon Baphomet and what's to come, Nick has second thoughts and agrees to help Regan find Toby and escape whatever horrors they've awakened in the forest. As the scared companions venture into the woods to find Toby, Ivy finds herself confronted by the newly awoken demon Incubus (Corvus). He promises her eternal life if she will let him in, and Ivy submits to him immediately. Xander lays some fantastic pipe on Abigail here, taking her vigorously in multiple positions (the cowgirl is wonderful), while staying completely in character. The sex just feels different because in addition to the massive horns emanating from Xander's head, the way he handles himself during the scene makes him feel every bit the manifested demon carnally ravaging a human acolyte rather than a regular man fucking a regular woman. Naturally, Incubus' promise to Ivy plays out differently than she expects while Nick and Regan discover Toby's fate.
Part IV:
Incubus and Succubus confront the terrified companions with every intention to kill them, but Nick discovers a critical loophole that offers them a last ditch chance to survive. If Regan (who is a virgin), cums harder than the demonic strength of Incubus, the demons will be forced to return from whence they came. This sets up the final sexual encounter, which turns hard towards porn campiness (while most of the film focused on evoking intense horror), but the idea of dueling sex is a fun one and is executed quite well in spite of the tonal shift. Holy cow the image of the dual cowgirl is amazing and Gina Valentina looks positively delicious as she rides Corvus like a rancher breaking a horse. There's plenty of partner swapping, but they always seem to stay in the same positions at the same time, which follows the story narrative that this fuck fest is a competition. It's pretty great. The story ends with the presumed defeat of the demons, but as with any true horror flick, you'll need to keep watching to the last moment to see the true fate of the survivors.
Everyone involved with this project deserves to be praised for a job well done. This movie takes itself as seriously as it should (the feeling of the cult classic "Evil Dead" is unmistakable and nearly perfectly executed) and the end result is an honest horror experience that fans of the genre will appreciate. Gina Valentina really goes for broke here with her acting and acquits herself quite well, while Xander and Romi become their antagonistic characters with ease. The sex is quite good with some really fantastic angles incorporated to keep things fresh, and the special effects are better than what you'd see in most porn productions. Definitely check this one out.