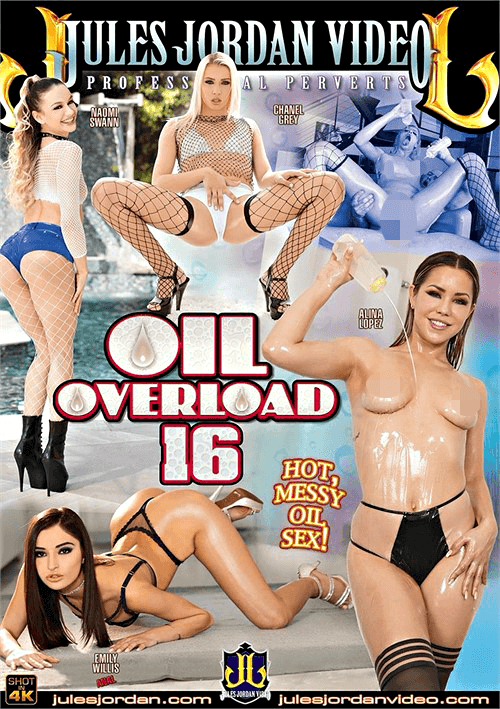 Just as high heels magnificently accentuate a woman's every curve, so too does oil make them glisten with a wet, shiny and succulent state. And in the 16th volume of "Oil Overload," director Jules Jordan gives you four all-natural ultra-babes fully deluged in liquid, with a truly incredible lube-drenched anal scene from the always-amazing Emily Willis. The ladies of lust range in ages from 20 to 25, with all of 'em putting in fiery scenes.
One of the most gorgeous gals in porn, Naomi Swann, is up first, getting her tight little bod inundated with Wesson, and here taking on the over-worked worm of Ramon Nomar, with Naomi sucking him to the base (and loudly!) like a total madwoman, while she truly shines, literally and figuratively, in reverse-cowgirl (shot from Ram-rod's perspective so it looks like cowgirl; Naomi's wet backside looking stupend-ass) and, of course, doggie (Swann nymphomaniacally groaning as Nom hammers her; with Swann-baby eventually giggling as if she just can't get pounded hard enough — hey, my kinda gal!).
Alina Lopez is another sincerely easy-on-the-eyes XXX specimen, paired with the semenly ubiquitous Mick Blue; this super chick looking especially superb with that oiled-down/-up ass, and fucking outstandingly via cowgirl, reverse-cowgirl (again shot as cowgirl from the back and then from the front; the latter angle displaying Lina's choice breasts hornily bouncing), and missionary (what a succulent snatch on lovely Lopez!), while she's a thorough trouper during her intense session o' face-fucking (delivering delightfully unearthly sounds with her penis-pummeled throat).
Sexy Chanel Grey is way nasty, hooking up with Zac Wild, with Chan-baby begging to get face-fucked (look at all o' that saliva produced!), while it's fun seeing her get jackhammered (check out Chan's deep expressions of mad lust) twice even (!), as well as standing doggie (a bit of a movie highlight, as Grey wildly fingerfucks herself and not only adores getting heartily drilled, but also digs doing a lot of the doggie-fucking herself, what with some splendidly whorish backwards grinding motions). And not only do I love Grey's big, marshmallowy butt, but her pert nipples, too! Slurp!
And, lastly, we have the always-superior Emily Willis (21) getting seriously cornholed while in a totally slick state and delivering the movie's best scene. Not only is it a treat watching Em's curvy bod get slowly drenched in oil, but she really sucks that dick on the returning Ramon Nomar down to the blue balls. Doggie-vadge is terrific, as Willis is Ram-rodded big time. That shiny ass on Em is pure art! "I want you to put it in my asshole," she eventually purrs, which, in itself, is enough to make you pop yer wad there and then. Check out, too, when Top-Ramon fills her anus full o' oil, crams cock inside her crack, heatedly pounds it, then yanks out said pud, with Em-baby squirting oil like she's peeing from her butthole. Whew! Hell, there just isn't a bad position with Em; reverse-cowgirl-anal, cowgirl-anal (one of my faves in that Willis' luscious ass is so wonderfully highlighted), missionary-anal (get a load of that spinner bod!) all kick ass (no kidding!), followed by Em getting her tongue white-washed with spermatozoa, then gluttonously swallowing it down whole, without thinking anything of it. Love her!
All shimmering with liquid and looking as scrumptious as ever — while sucking/fucking like there ain't no tomorrow — Naomi, Alina and Chanel absolutely rock the people's cock, while anal princess Emily, quite simply, will blow yer raging hard-on into the next fucking dimension. A superlative gonzo. Get it!