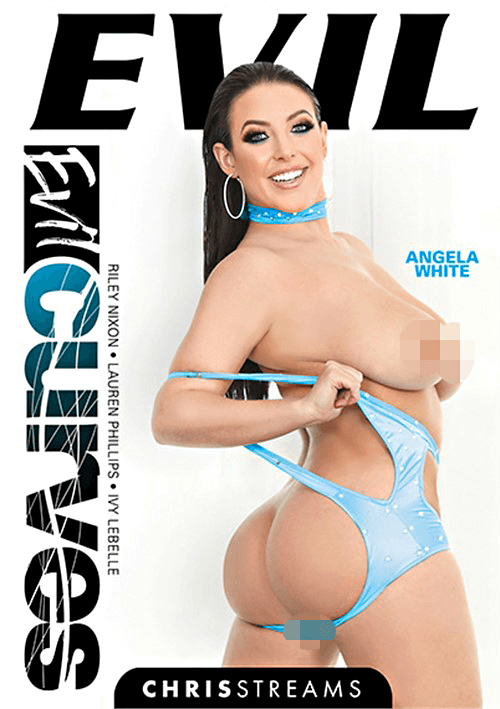 Man, are these curves evil — and in the best possible way! Yep, it certainly doesn't get any more round, luscious 'n' lusty than porn vixens like the delicious/dirty Angela White and Riley Nixon to name but(t) a few of the far-out, filthy, fleshy foxes featured here. And the great thing about all four o' these curvy coquettes is that each and every one of 'em takes it deep up the anus. Yeah!
First up, Angela White rocks in her cornhole episode with Chris Diamond, especially in the jackhammer position, where you get to enjoy Angie's tasty tummy, puffy pussy, flexible asshole, big (and all-natch!) tits, meaty thighs, jelloey ass and pretty face in one fell swoop, as Chris chokes her while pounding and dilating that Angie-anus. Umphhh! And don't miss how she cleans off Chris-cock after it's exited her "exit-only" hole. Great cock-choking action from wondrous White, too.
Punky-looking/totally juicy Riley Nixon is pure porn succulence; her anal-doggie session with Prince Yahshua being a movie highlight (those fair-skinned, jiggly booty cakes have a mind all their own!) and make that a double highlight with cowgirl-anal (talk about one lush pair o' cheeks!), while it's a joy behold Riley's all-natch tits circulate and swirl during spoon-anal.
Wait! — we still have two more dick-exploding EC wonders left!
Next up, redheaded Lauren Phillips is superb in the doggie-vadge/-anal positions — here paired with boner-wagging Ramon Nomar — as her ass cheeks/big tits flow and flop like mad; ditto during spoon-vadge/-anal; while her butt bongos are out of this world as she squats on Ramon-rod during cowgirl-vadge/-anal.
And we end on one helluva curvy note, indeed, as big-bootied Ivy Lebelle (with that scrumptious figure) gets the Prince Yahshua treatment; her own large and lovely booty shining during cowgirl-anal, while she's a joy to behold licking her anal essence off o' that recently-removed-from-rectum rod; and check out how Ivy nearly sobs with ecstasy as that rockin' rump's is ravaged during doggie. Marvy!
Luscious, lascivious anal queens who love their (not daily, but) hourly dose o' dick are what you get with curvy, crazed, carnal-to-the-max Angie, Riley, Lauren and Ivy. Absolutely worth checking out. Kudos to director Chris Streams. And is that a great DVD cover shot o' awesome anal Angie or what?!