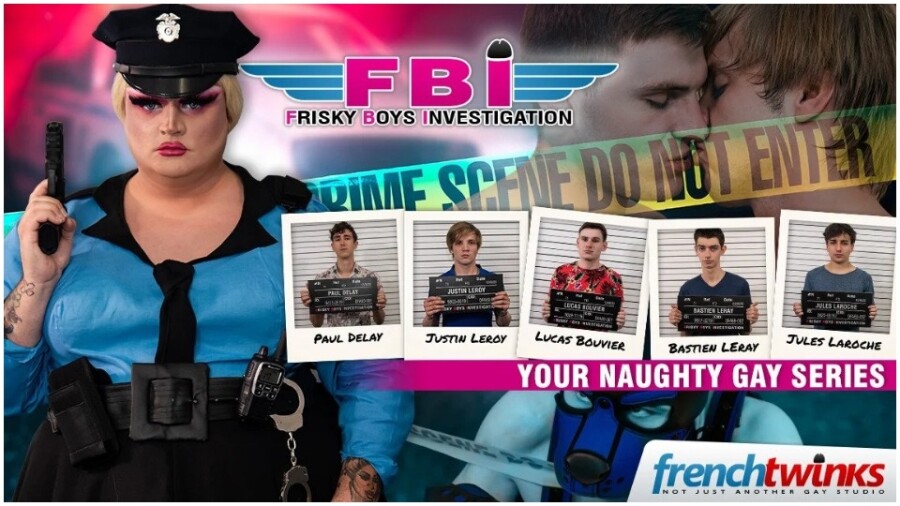 LOS ANGELES — Paul Delay finds himself entangled in "FBI: Frisky Boys Investigation," an original limited series for all-male Euro studio French Twinks. The opening installment is now available as a member exclusive.
Lucas Bouvier and Justin Leroy join French drag star Tatyana Clarkson, in a nonsex role, for "A Poisoning Story — Part 1" from producer and director Antoine Lebel.
Francois Chagall serves as co-director; the series was co-written by Daniel Ryder.
Clarkson "tries to solve mysterious and sordid crimes committed by our twinks," a rep explained. "She will stop at nothing and uses her vicious grit to uncover the truth. Delving deep into the boys' private and sex lives, we hear and see it all as it plays out. Who is lying, who is telling the truth, who is the culprit and what is the motive for the crime?"
"The series aims to build suspense [along] the journey to finding out who committed the crimes and if our insightful drag cop will be able to pinpoint the culprit," the rep continued. The "crazy scenarios" in the series include "a range of fetishes, blackmail, betrayal and, of course, very hot sex."
Besides Delay, Bouvier and Leroy, future installments will feature Jules Laroche, Basitien Leray and an assortment of newcomers.
"Also as a first for French Twinks," explained the rep, "FBI: Frisky Boys Investigation" will be available to download in 4K, "so viewers can now get even closer to the models and experience ther passionate and sensual sex at a whole new level."
Lebel expressed enthusiasm for the new project.
"As usual at French Twinks, we try to innovate, to surpass ourselves and to make porn a quality art," he said. "The comedy, writing and directing and editing work has been particularly complex on this ambitious project. I am delighted to evolve towards more cinematic concepts. The shooting was a fabulous experience filled with laughter. A big 'thank you' to my actors and my small crew for their exceptional devotion."
"This is a new adventure since the 'Frisky Boys Investigation' series is made to last over time," he continued. "The release of new episodes will be [interspersed] with 'classic' scenes to allow you to discover new and exclusive actors."
Find "A Poisoning Story — Part 1" here and follow French Twinks on Twitter for the latest updates.
Direct inquiries to Daniel Ryder at daniel@ftwinks.com.