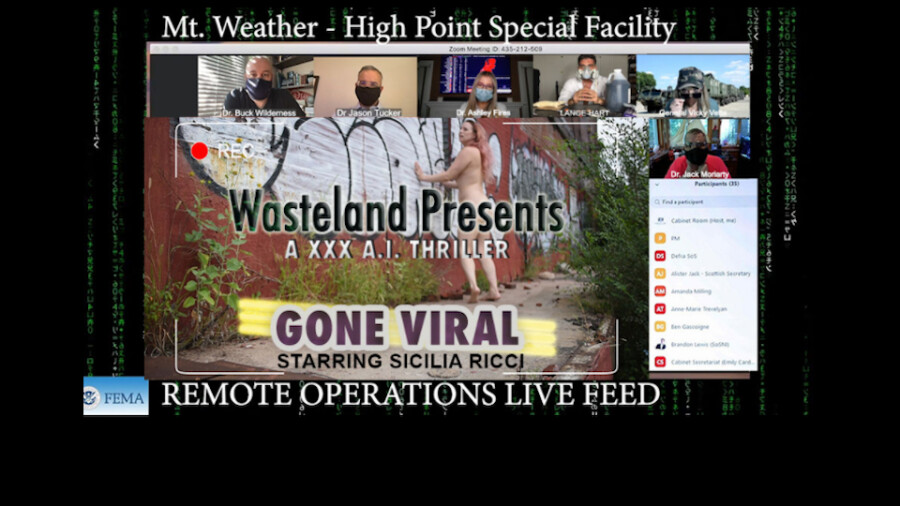 MANCHESTER, N.H. — Wasteland and Urgent Haircut Productions have announced the release of "Gone Viral," a full-feature Season One finale to their dystopian thriller series, "Sex in the Time of Pandemic Isolation."
Director Colin Rowntree cast Sicillia Ricci — who also wrote, co-directed and co-produced the series — in the lead to reprise her role as Dr. Sarah Connors, a sex-addicted viral immunologist working on a COVID-19 vaccine at the Centers for Disease Control and Prevention (CDC) in Atlanta.
"Throughout Wasteland's 'Sex in the Time of Pandemic Isolation' series, Sarah takes her voracious sex life online to cope with her job-mandated isolation with surprising developments," said a rep.
"As a working viral immunologist and also an adult film performer," Ricci said, "I found this film to be an ironic response to the sexual isolation and technological dependence much of society is facing right now. When writing the script, a machinized sex scene was the perfect way to round out this film series and everything the world needs right now to forget about the politicization of this pandemic."
A Perverse Entanglement
As the story unfolds, Connors begins "a perverse, long-distance entanglement" with Dr. Jack Moriarty, a program coordinator for the Surgeon General in Washington, D.C. (voiced by Colin Rowntree), and finds her trust mysteriously challenged — and perhaps even violated.
"Gone Viral" also sees Connors interact with "a cast of kinky and murky actors, who continually manipulate her remotely via the popular AI-enhanced home device, 'Malexa,'" the rep said.
Several noted industry cameo play the mystery manipulators who help push her over the edge, including Lance Hart "as 'it puts the lotion on its skin" sociopath Jamie Gumb,'" and Ashley Fires and Vicky Vette, who make guest appearances as a CDC scientist and a military general, respectively, from the Mt. Weather Government Emergency Operations Bunker.
The series finale, the rep added, "sees Sarah's descent into paranoia, confusion and sexual recklessness culminate in a taboo, but humorous domination scenario wherein she becomes the pleasure puppet of a New World Order conspiracy that reaches to the highest echelons of power."
Long-Distance Direction
As with all previous installments in this series, Rowntree shot and directed the entire film from his studio in New Hampshire using only Skype and POV cams on location
"Besides being practical, this technique helps to convey the sense of surveillance and control imposed on Sarah," said Rowntree.
"Porn in the time of 'corona definitely demands innovation, but utilizing remote technologies to actually film, as well as to have Sicilia's character engage in BDSM play, truly makes this series a mind-control fantasy unlike any other," he added.
The title is available exclusively via Wasteland.com, Kink.com and AdultEmpire.
For more from Wasteland, follow them on Twitter.