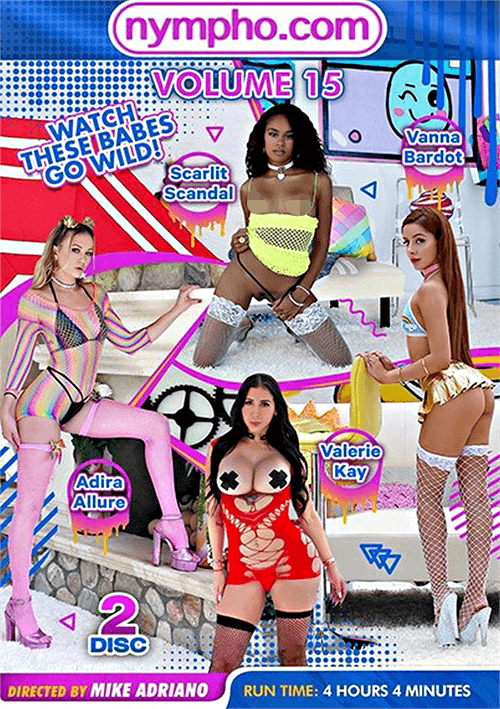 We get a marvelous array of sexy-as-hell sirens who love creampies in this fifteenth volume of Nympho.com from Evil Angel, with Adira Allure and Valerie Kay putting in especially nasty scenes, though Vanna Bardot and Scarlit Scandal most definitely will get the blood rushin' to yer pud and (care of this entire quartet of ultra-fine flesh) the jizz flying forth from said hard-on like a mini volcano.
In fact, let's talk about those young, sizzling, semenly insatiable temptresses first, i.e., Vanna Bardot and Scarlit Scandal.
I love how Vanna winks her anus at us — and at her temporary partner Logan Long —with Bardot-baby offering up a fine deepthroat and rim job, including terrific eye contact; her best positions are spoon (allowing you to fully view that scrumptious bod) and doggie (yes, she has quite the protuberant posterior), while it's a kick seeing her squeeze out Long's liquid-love into a martini glass, then gulp it down. Such a hopeless romantic. Love her amazingly upbeat attitude, too. A real sweetie, that Vanna.
Ditto for darling Scarlit Scandal, who hooks up with director Mike Adriano; this gorgeous specimen delivers a head-turning, balls-deep suck-off, with cowgirl allowing you to dig that shiny little bottom and cute rectum; Mikey pops off inside her during doggie (that compact yet fully round ass is just so fun to watch getting slammed), after which salacious Scandal squats down and lets us see el jizzo slowly drip outta her soaked snatch. Scar's another keeper, for sure.
But in my view, the best Nympho.com gals appear at the start of the movie; namely, tasty sluts Adira Allure and Valerie Kay, respectively.
There just isn't a bad position with these two curvy, cum-hungry coquettes. Blonde Adira is high energy, sucking Logan-dick to the base, with plenty of saliva and gagging noises; doggie and cowgirl being out of this world (what an amazing behind, looking even better all greased up); missionary lets you absorb the meatiest pair of pussy lips in today's porn market; while Adira just can't stop squirting … when, that is, she's not choking on cock or rimmin' Logan; Adira eventually squeezes out stud-sperm into a martini glass mixed with her own squirt and quickly guzzles it. Wow!
But my fave of the lot is sultry-looking, big-boobed, bubble-butted brunette Valerie Kay (I even dig her alluring nom de porn), with this dick-famished fox putting in one boner-bursting position after another. Just watching Val strut away from the camera, as it follows her, may be enough to get you off. Yep, her butt is that juicy! Lucky Logan gets this saucy, classically figured treasure all to himself. I love Val's dreamy eyes as Long fucks her boobies. And check out how Kay-honey gets those ass cheeks all rockin' and rollin' for the camera without a dick in sight; her killer butt cakes are delectably drenched in oil. She soon gives a fantastic hands-free bj, with plenty o' spit. Reverse-cowgirl (shot from Long's perv-spective), cowgirl and doggie are awesome, since Val's booty is otherworldly, with non-stop jiggling action. This wonderful hussy fully rims, as well — and for a good, nasty long time. A more traditional position like missionary with Val is equally dick-hardening, because you get those succulent thighs in your face, as well as her helpless expressions of ecstasy. Lastly, I love how Kay pushes out prick-paste — after a pounding session o' doggie (her cheeks literally flying!) — devouring the spermatozoa from a plastic spoon. "Your cum is so delicious," she purrs. "Can I have some more." Oh, I almost forgot: Val squirts, too. Love her!
Even though Adira Allure and (va-va-voom!) Valerie Kay positively soar in this creampie fest, Vanna Bardot and Scarlit Scandal also most ass-uredly rock the people's cock; all of these lusty, lick-and-stick worthy lasses make this filthy fucking/sucking opus a must-have gonzo.