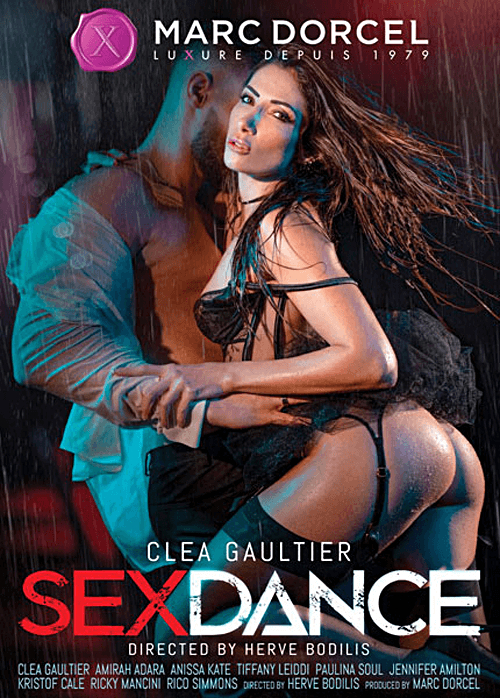 Clea (Gaultier) is a young woman who has aspirations of dancing for the Paris Ballet. The auditions are grueling and the ballet is notoriously difficult to get into, with applicants being permitted to audition only twice in their lifetime. When Clea injures her ankle during her first audition, her confidence is shattered and she abandons her dreams of performing in the Paris Ballet, finding herself instead dancing in an upscale gentlemen's club. Will she ever see the ballet stage again or is she destined to spend the rest of her dancing years gracing the stages of nightclubs?
Award-winning Herve Bodilis is one of Dorcel's most prolific directors. He does a nice job here telling a compelling story while getting some steamy sexual performances from his cast in the process. One thing I must commend Herve on is utilizing the non-sex talents of his cast. This movie is about dancing and was a natural fit for Dorcel contract star Clea Gaultier as she was a professional ballet dancer prior to becoming an adult performer. I wish more directors would showcase the talents of their cast in this manner.
Clea delivers her usual solid performance and I have to say she is quickly becoming a standard for me when it comes to conveying emotion without speaking. There's a scene where she's riding on a bus that is beautifully shot and the pure hopelessness and despair her character is feeling is so plain on her face, the audience can't help but feel sympathy for her. Lastly, I really liked the way Herve juxtaposed the elegant world of ballet with the realm of stripping. He presents the audience with two very different perspectives, but as the film progresses, the audience comes to realize they aren't as different as they seem.
As impressive as the non-sex stuff is, we are here to see some fucking as well and this movie doesn't disappoint. After a tough audition, Clea calls her fuck buddy Kristof over to blow off some steam. Clea really looks great in her transparent black lace bra and panties which create a wonderful contrast against her skin. She shows her pleasure plainly on her face throughout the scene and when the time comes for anal, Kristof plows her nicely and Clea revels in the nastiness of her ecstasy. There's a particularly erotic moment where Clea grinds her pussy on Kristof's naked cock without letting him inside her that is a spectacular tease.
The audience is treated to a typical strip club fantasy three-way between house girls Paulina Soul and Jennifer Amilton as they give "important customer" Alberto Blanco a private dance. I liked the fact that the strobe lights played across the bodies of the performers. That gave the scene a very authentic feel yet was surprisingly not distracting. Jennifer gives her pussy to Alberto from behind while Paulina licks her clit from underneath in a highly arousing 69 combo. The entire scene really caters to the male stripper fuck fantasy and I was impressed. And on a final note, Jennifer can ride! Her hips have a beautifully subtle bounce to them that is a joy to watch.
There's a second three-way in the film featuring Clea's fellow ballet hopeful Amirah Adara who shows the jury her full "talent" in an effort to get accepted to the prestigious troupe. The ballet's lead audition judge Rico Simmons and his assistant Antho Toto give Amirah a real working over. Antho pounds her hard while she slurps Rico's shaft, and things eventually lead to a raucous DP. I have to point out an extremely arousing sequence where Amirah is on her back, legs spread, head lying in Antho's lap as Rico fingers her pussy and ass simultaneously, with Antho himself stroking his cock next to her face. Amirah's vulnerability here is a thing of beauty and is my favorite sexual moment in the movie.
Head stripper Tiffany Leiddi romps with boyfriend and club owner Ricki Mancini in a scene that was lit heavily in red. She looks fabulous in her sheer camisole and matching stockings and Mancini gives it to her like a champ. He works her over on his plush leather couch and sends her to multiple orgasms as her luscious tits bounce about his face.
The sex culminates with Clea getting a second opportunity to audition due to her exquisite club dancing catching the eye of ballet leader Rico Simmons and his wife Anissa Kate. Anissa is one of the prettiest performers in all of Europe and anytime I can watch her fuck I'm happy. Here, it's an actual four-way with her, Rico, Clea and Lorenzo Viota, who just happens to be at the apartment taking part in the evening's festivities. I love the way Anissa keeps eye contact with her partner while she's getting fucked. My goodness what wonderful tits Anissa's got! Eventually Anissa and husband Rico pair off for a nasty anal cockride while Clea takes care of Lorenzo. When Rico finally gets his turn with Clea, there's a nice tension that is released as he slides his cock inside her for the first time. Gaultier does a good job of expressing the significance of the moment through her facial expressions and soft moans.
I liked this movie because I liked this story. The cast all do a great job (Amirah Adara and Clea Gaultier especially), and the visual quality of the film itself was quite high. I really liked the dual story that the feverish competition in ballet can be just as catty and gritty as the professional jealousy that occurs in strip clubs.