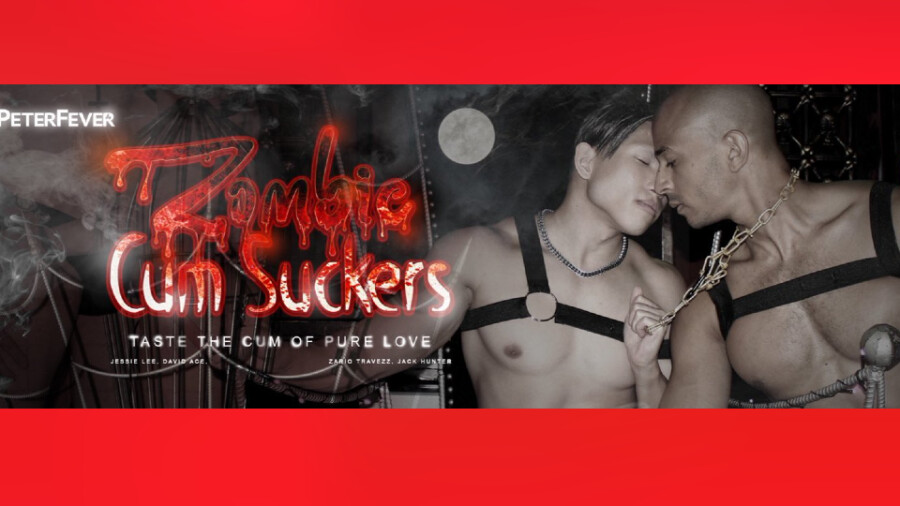 LOS ANGELES — PeterFever.com has launched its latest original limited series with "Zombie Cumsuckers," whose opening installment debuts today. It is the studio's first shoot with COVID-19 safety protocols in place.
The erotic horror-comedy tells "an epic story of an innocent couple lured into a sex party trap by oversexed zombies," a rep explained. PeterFever regulars David Ace and Jessie Lee topline with Jack Hunter and Zario Travezz.
The series will debut new episodes Tuesdays throughout October's Halloween season; PeterFever affiliates will earn a 100% commission on new sales "every weekend of the month," said the rep.
"Zombie Cumsuckers" was directed by Guy Criss from a script by Len Whitney. The action "begins with a stylized silent-movie transformation of hipster Zario into oversexed zombie at the hands of Jessie's 'Zombie King.' To complete their unholy quartet, they send out a mysterious sex party invitation to Jack and David and play a sex-laced cat-and-mouse game with their unwitting victims. Once Jack spies his lover being turned into a zombie by slurping Zario's toxic sexual emission, he uses a Google search to find a solution to return the zombies to human form. When all ends well, a hot fourway orgy between the story's principals proves that mortal humans can be just as oversexed as undead horndogs."
A PeterFever rep praised Hunter's acting chops. "Keeping a straight face through the script's goofy twists-and-turns, Jack calls on the training he's amassed pursuing a career in Hollywood," said the rep. "Add to that David Ace's horny histrionics and Travezz and Lee's deadpan delivery, and 'Zombie Cumsuckers' offers the mild jokey thrills of a primetime Halloween TV special. But a campy story is more than balanced by overheated erotic action among the diverse cast."
The concept for the series started with Danny Zeeman, CEO of the Zbuckz Network, which hosts PeterFever.
"I wanted to create a fun feature film based on my love for TV shows like 'The Walking Dead' and Korean films like 'Train to Busan,' but of course, giving it our signature PeterFever erotic twist," he explained. "I think fans of the genre will greatly enjoy the results."
A studio rep noted the series was filmed at the "well-equipped erotic playground" owned by Sanctuary Studios in Los Angeles.
"COVID-19 precautions were strictly observed," said the rep. "To protect their staff and our shooting crew, masks were required and temperatures taken for anyone entering the building."
Director Criss said PeterFever observed the necessary precautions during the shoot, in part, "so that the viewers can lose themselves without having to worry about real life for a few minutes. Our job is to deliver a fantasy and we did an amazing job doing exactly that with this sexy Halloween thriller that will leave many a ball drained."
Find PeterFever online and on Twitter. Visit Zbuckz for affiliate information.