LOS ANGELES — Jessy Jones is back, this time bringing with him his directorial debut for Smash Pictures, "Family Secrets," a vignette compilation that marries the family taboo genre with the eerie, suspenseful, often-shocking tone of mainstream series like "Black Mirror."
As a director and auteur, Jones brings in the same intensity he displays in real life and in his performances. "Family Secrets" is 100° proof, unadulterated Jessy Jones, from the endlessly twisted plotlines, to the casting, to every detail of the cover design.
When XBIZ spoke to him at one of his regular haunts, Woodland Hills' Local Peasant pub ("Ask me before ordering. I've had everything on the menu," he said), Jones was in the process of successfully lobbying to change the Smash logo on the "Family Secrets" DVD cover, which he micromanaged to the pixel.
A non-negotiable clause: he wanted his actual signature on the cover.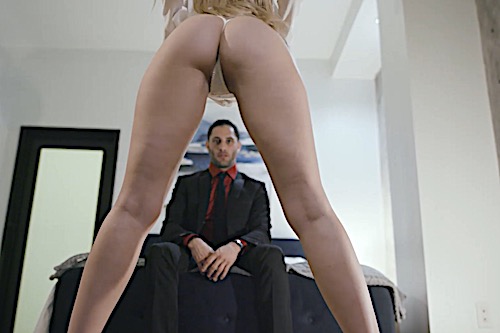 'Crazy, Psycho' Vignettes
"I've been in the business for 10 years and I find many full-movies boring and pointless," Jones tells XBIZ, immediately after attempting to cajole the reporter — not a betting man — into guessing how fast he could down a pint of beer (under 6 seconds, if you're curious).
"I'd like to do something that when you're done jerking off you start watching the beginning of the other scene and you're like 'holy shit! Wait — I wanna see this!' So you set a timer on your phone so later on you can jerk off to that scene also," he adds.
"Family Secrets" (working title: "Step.ping Stones") is constructed from four "Twilight Zone"-style vignettes that set up suspenseful scenarios very quickly, aided by way-above-average-for-porn photography, sound and editing, and then move on to raunchy, explosive sex scenes from a guy with strong opinions who's also used to being in the thick of it.
After a difficult 2019, plagued by personal problems that had professional consequences, Jones had a lot of time to reflect on what kind of content he would like to execute for his comeback behind the camera. He studied everyone's products, especially that of the former employers that were now shunning him.
What he always disliked about how content was produced, he tells XBIZ, was that the scenarios — particular in taboo scenes and what the industry coyly refers to as "fauxcest" — were written generically and then interchangeably cast.
"I think every girl and every guy has an energy and has something to bring to the table so to go and put every girl and every guy to do the same fucking role is absolutely pointless and stupid because at the end of the day what makes a performance strong is what different people bring to the table," he says.
"When you watch my new scenes, it's like actual vignettes in different styles — and I don't like to play it by the rules," Jones adds.
"My scenes go from crazy, psycho shit that you would never see anywhere else, to something like a girl that goes on a retreat not knowing about COVID and coming back to her stepbrother house and having sex with him while he's on quarantine and she doesn't know," he describes. "So that's kind of crazy, kind of fucked up."
"But then we go into these really good sex scenes," he clarifies.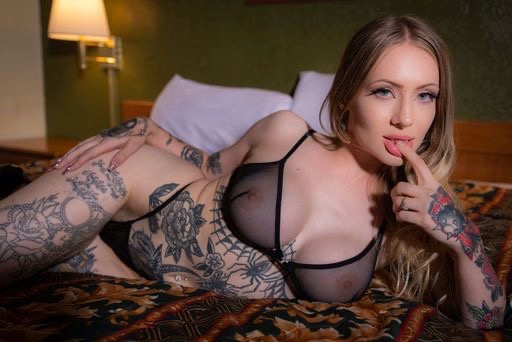 Surmounting Challenges
Jones philosophy is that intros should be five-six minutes tops, and then go straight into "mindblowing sex."
"I was watching companies pay so much money and have 20 people on set to get a great intro," he says, "and the sex was shit, was trash. The dudes were terrible, the girls were not having it because they were on set for 16 hours and wanted to go home."
"And I'm never gonna watch a 15 minute intro! I'll fast-forward," he says. "But if they intro is short, I'm gonna watch it because it's gonna build to what I want."
In order to rivet the viewer, Jones also wanted to jam-pack those five-six minutes of non-sex with so much concept, characterization and plot that would raise the stakes for the fucking that followed.
This was a self-imposed challenge that he surmounted thanks to his naturally twisted sensibilities — every one of the four scenes raises the shock factor of the usual "step family" dynamics by a lot — and also thanks to the masterful photography courtesy of industry vet Nigel Dictator.
But there was another non-self-imposed challenge to add to those directorial choices: regardless of his "Fall from Grace" with some people in the industry, which still visibly rankles him, Smash Pictures was willing to take a big chance on a "name-above-the-title" Jessy Jones project, but it came with a limited budget.
This was going to be guerrilla filmmaking, indie filmmaking at its purest: trying to make the absolute most of a low-budget chance.
And thus Jones settled for the four-vignette approach, even though he thinks of "Family Secrets" as his first big comeback feature.
"Respect to all the other guys who do one-plot feature movies, but we don't get those $50K budgets, so I have to do what I can with what I have. In this movie, two of the scenes I did not get paid anything, cause I gave my paycheck to the talent because I wanted great talent, and I wanted specific people where I saw the potential."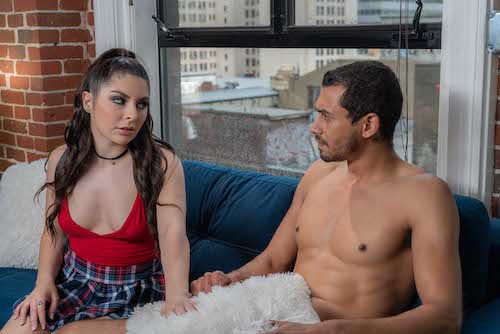 'A New Rocco'
Smash Pictures VP of Sales Wyatt Case told XBIZ that the company "was very excited to bring Jessy on board. He is truly a talented and a visionary writer, director, editor as well as a great performer. We love his energy and creativity on both sides of the camera and we look forward to working with him on numerous projects in the new year."
Jones said he met with the Smash Pictures bosses at an industry event earlier this year and went straight into his pitch — everything he thought was wrong about other productions, everything he could get right, his access to top-of-the-line equipment, his personal friendships with a lot of the potential talent.
"They told me I reminded them of a young Rocco!" Jones tells XBIZ, referring to that focus, chutzpah, and single-mindedness of purpose that he brings to even the most relaxed social situations.
In short: his notorious cockiness, for better or worse a central tenet of the Jessy Jones Mystique on- and off-screen, figuratively and literally (he does talk a lot about his actual cock, which he regularly describes to people, with zero modesty, as "legendary").
Once Smash Pictures gave him the greenlight and a budget goal, Jones took it on himself to attempt a one-man rebranding of the veteran studio.
"When people think Smash," Jones told XBIZ, they think "a long-running independent brand, distributing softcore to Penthouse, with DVDs and a paysite. I wanted to bring the brand up to date. Adapt and move it in tune with what's happening in the world." Thus his insistence on even the company logo redesign for the DVD.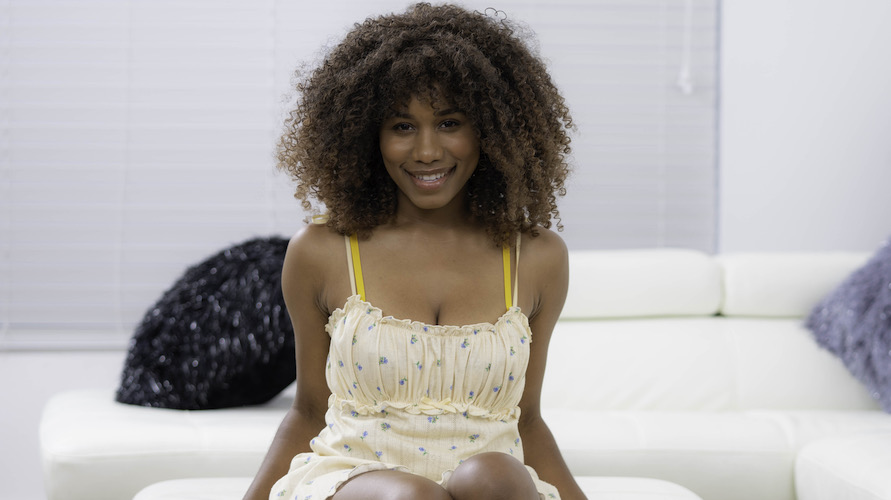 Creative Carte Blanche
The reason Jones felt able to come in and start swinging his big personality around Smash is that he is not doing it for the money.
It just so happens that Jones is one of the rare male performers who is doing a lot of business with OnlyFans, enough to be visibly thriving even during the pandemic, flashy car and lifestyle and all.
Jones works incredibly hard at his OnlyFans game, and has been at it for a while. His numbers are certainly impressive and his fanbase reflects his status as a huge celebrity in his native Canada, with mainstream penetration that includes a reality TV show, and also a number of male fans who project themselves onto him and his "legendary" cockmanship for all sort of "fuck my wife" fantasies. Off-the-record stories — with proof — confirm the most outlandish adventures begotten and funded by his OnlyFans celebrity, and also the fact that he's making serious bank with the premium platforms.
That serious bank allowed Jones to get a rare agreement from Smash that gave him creative carte blanche for the four stories that make up "Family Secrets": "Benefactor," starring Allie Nicole and Damon Dice, "Eagle Eye," starring Keira Croft and Alex Jones, "Perspective," starring Baby Sid and Alex Mack, and "Quaranteen," with Jones himself co-starring with Jena Foxx as the two step-siblings in the aforementioned COVID-themed scene.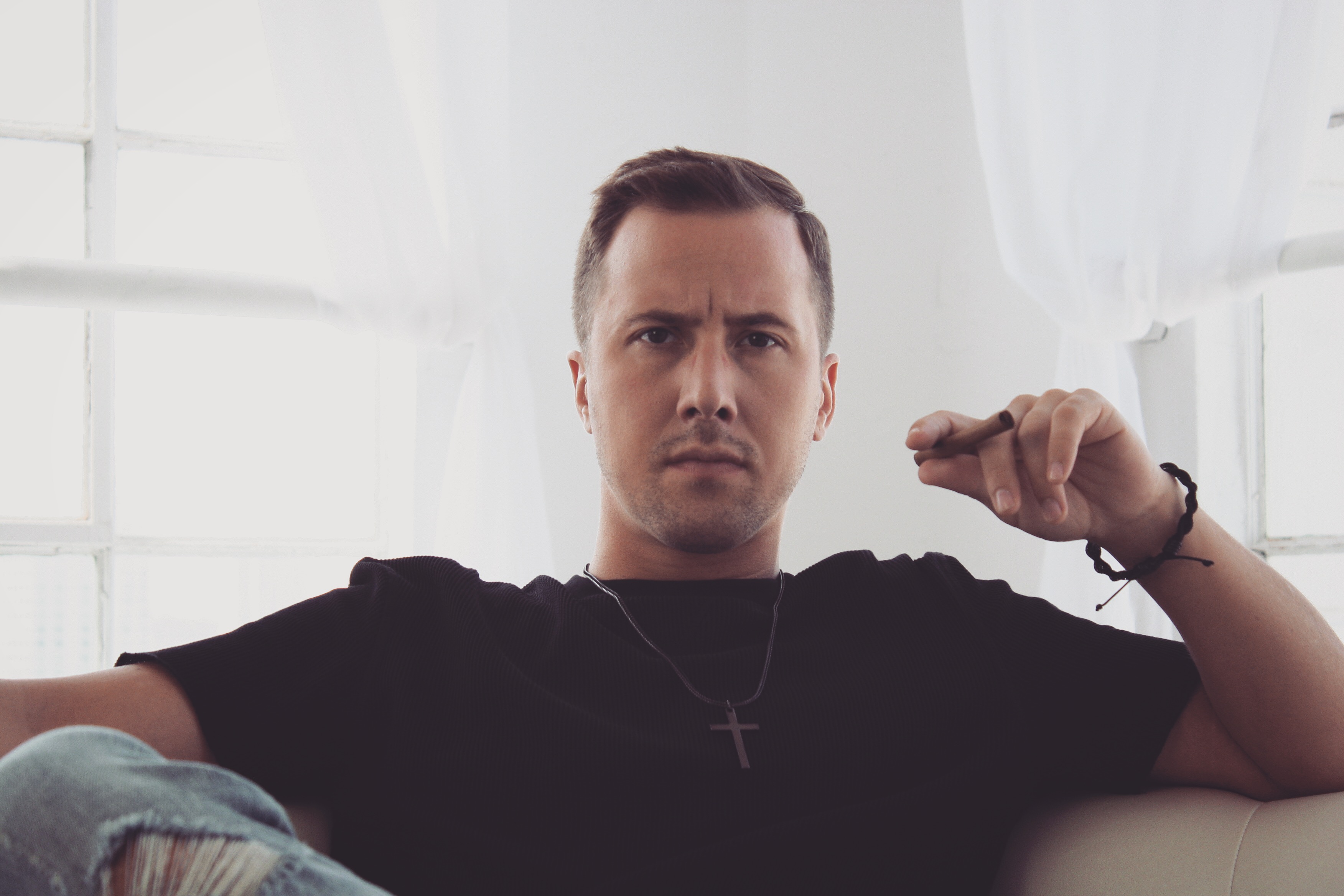 A Pretzel-Shaped 'Black Mirror'
"Benefactor," Jones explains, "is about a jealous step brother that works 60 hours a week to make ends meet and he sees his little step sister go with the Louis bag and go to her sugardaddy's house and he creeps and he follows her and then he fucks her because he has leverage over her, but then the sugardaddy comes in the house and then… well, that would be a spoiler, but there is always another unexpected twist in a Jessy Jones production!"
"Eagle Eye" is described as "a Shia LaBeouf-Sharon Stone type of a story. Someone who gets framed by the CIA and they are being watched and he's being monitored on the phone all the time. And I said 'Keira Croft' is perfect for this!' and it went so good, with drone work, camera work, everything was so amazing."
"Perspective" may have started — with typical Jonesian sense of humor, colored by a bitter righteousness — as a kind of post-modern, meta-porn inside joke about being so "inspired" by mainstream movies that entire plots and titles are lifted. But it ended up going far beyond that.
"I decided to 'be inspired' by a lot of the images, dialogue and premise of a 2017 movie called 'Bottom of the World'," Jones explains. He cast Baby Sid, an alt-model with considerable experience in the indie world but a new face in studio adult, to play a troubled woman going to a motel with a mysterious stranger (a restrained, eerie Alex Mack) who may or may not be real.
Jones proves throughout "Family Secrets" to be a very good director of actors, and this is nowhere more evident than in the "Perspective" segment, where he manages to get newcomer Baby Sid to blow away much more seasoned performers with a long monologue full of pain and self-damage that should bring her to the industry's attention.
The last segment, "Quaranteen," also began as a joke, in this case, a pun. But Jones twisted it into a memorable performance by himself and Jenna Foxx that took advantage of the "headline news" reality of the COVID pandemic and added layer upon layer of tricky taboo scenarios, edging towards the line of permissible consent.
Overall, "Family Secrets" succeeds as pornography because Jones' philosophy of "a model's individual energy" — related to what is more commonly called "chemistry" but also involving casting for specific stories/characters — plus his decade-long experience as a performer, delivered some magnetic sexual performances.
It also succeeds in terms of the low-budget challenge, thanks to Nigel Dictator's remarkable eye for composition and mastery of the latest gear, and to not sparing any expenses on solid sound (unfortunately a rarity even in high-profile projects) and editing. Larger studios could learn much from Jones' guerrilla filmmaking unit, which delivered technically solid content at a fraction of their usual budgets.
But mostly, "Family Secrets" succeeds as the representation of Jones' voice. It's strange and intense and pretzel-shaped and never any less than self-assured to the nth degree.