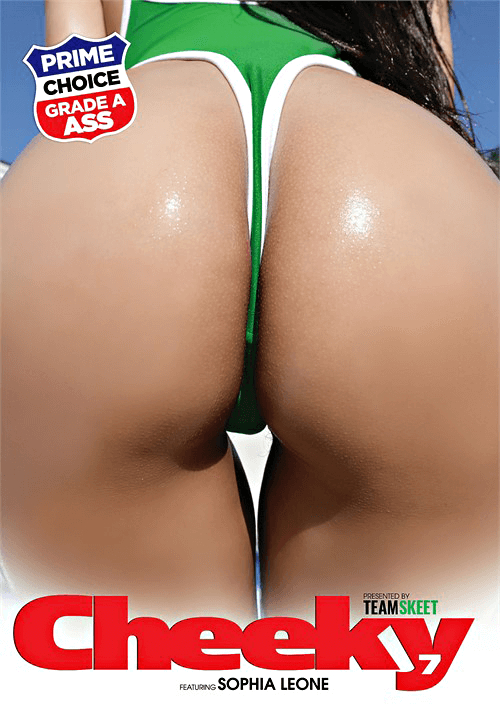 Fanny-tastic fannies are on the menu with Team Skeet's "Cheeky" series, with all four featured ladies in this superlative seventh volume presenting outstandingly luscious asses (especially the beautiful Andreina De Luxe); three of those said bottoms being big and jiggly, while one of 'em (care of the darling, dick-hungry Brooklyn Gray) is tight and just as tasty. It's first-class ass you definitely don't wanna miss.
We begin with Sophia Leone, who possesses a pear-shaped derriere that's killer, which she very proudly shake-shake-shakes quite a bit here, looking all the better (as do all of these fab female butts) when slicked down with oil; Sophia's best moments being a gnarly session of cock-gagging, while (just as you'd expect with those stupend-ass cheeks) really soaring during doggie and (especially!) cowgirl, as she wears out some lucky stud — and a white (but not for long!) porn sofa.
Andreina De Luxe has even more pillowy ass cheeks than Sophia (they're out of this fucking world, in fact!) and, not only is she gorgeous (hell, I even dig her name!), but Andreina quite obviously knows her way around a dick and loves getting her tonsils and twat banged out by one. Check out how she rides that pud reverse-cowgirl while she's still standing and he's sitting down; look at those patty cakes fly! Doggie is absolutely amazing, and it's great how the stud grabs her ponytail for maximum penetration. Andreina repeats reverse-cowgirl — shot from the dude's perspective, so it's kinda like cowgirl — and it's mind-/dick-expanding, what with those marshmallowy butt cakes wobbling every which way. And look how happy this beauty is to get a mouthful o' wrinkled-sax-sauce, groaning and all dreamy-eyed — and watch how our smiling sweetie continues to suck cock even after the fireworks. Whew! Good luck getting to scene three without popping yer nut to Ms. De Luxe.
Up next is the amazing ass of the late Violet Rain, getting her own jelloey booty all greased up, with Vie first going balls-deep with a choice bj, then showing off the boner-inducing animation those bountiful butt cakes are capable of during rousing sessions of cowgirl, spoon, and doggie; though it's nice seeing Violet's darling face react oh so positively to her passionate probing during missionary.
And we end with 21-year-old knockout Brooklyn Gray, who has wonderful smallish (but not too small) breasts that undulate just as hornily as her compact butt; with Brook looking good in every position; not only sucking dick to the bone (a movie highlight!), but even rimming the very lucky dick-for-hire here; our girl looking phenomenal during missionary (lots of always-appreciated eye contact), cowgirl and doggie (get a load o' that perfect posterior), reverse-cowgirl and standing spoon (love the bouncing little boobies), before Brook crazily, loudly blows the guy to explosion; the jizz blasting into her hair and up her one of her nostrils, with cute, smiling Brook collecting the sperm with her hand and feeding it into her mouth. Love her!
Again, if you enjoy fine asses on fuckworthy, fuck-demanding foxes, then "Cheeky 7" is your ticket, with both Andreina De Luxe and Brooklyn Gray being totally over-the-top in terms of their alluring looks and dick-hardening insatiability.