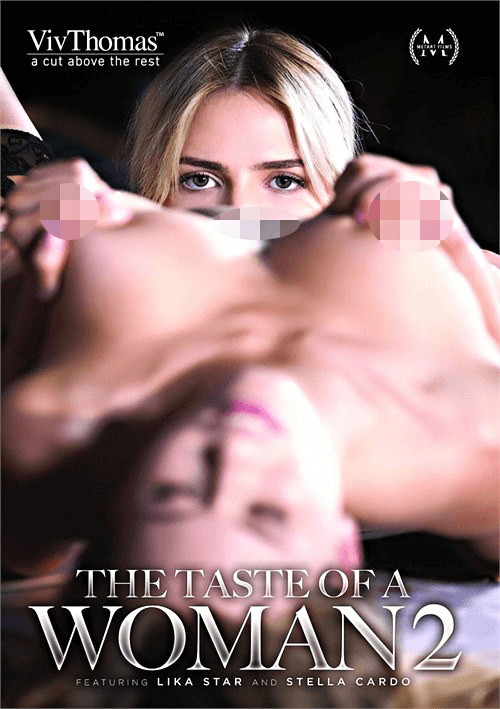 Viv Thomas has been producing porn for over 15 years, with most of his work being of the lesbian erotica variety. This anthology showcases some of the most recent short films released under his self-titled studio from director Sandra Shine. The best thing about this anthology is that this one does not cut the action preceding the sex, instead offering the audience the full experience rather than a truncated, sex-only version.
Lika Star and Stella Cardo ("Nylon Desire"):
Sandra Shine's 2019 scene opens with Lika cleaning up after the bar closes while her colleague Stella settles down at table to do some paperwork. Enamored by Stella's graceful beauty and elegant attire, Lika can't help be drawn to the older woman's allure. Stella, noticing Lika's bashful infatuation, invites her to experience the pleasure of her flesh by offering her soft, nylon stockings to Lika's hesitant touch.
I love the way this scene unfolds. Stella allows Lika to explore her body at her leisure, encouraging the young minx to submit to her curious desires. The result is a very sensual teacher/student dynamic that sees Stella allow Lika to "get her feet wet" before taking control and showing her the limitless pleasures of a woman's touch. It's a wonderful story and both ladies look fabulous (seriously, when Lika goes down on Stella the second time, it's like watching a completely different woman and the explosive reaction from Stella reflects it).
Aislin and Alya Stark ("Ride With Me"):
Another 2019 scene from Shine, "Ride With Me," tells the story of Aislin and Alya who meet by chance when Aislin's bicycle chain breaks during a leisure ride around the city, and Alya happens upon her as she struggles to fix it. Alya offers to use her tools to help Aislin fix her bike, and Aislin gratefully accompanies her back to her flat. Completely smitten by the attractive brunette, Aislin ditches her panties while Alya is inside retrieving her tools in hopes of seducing the young woman.
Again, Shine's eye for lesbian erotica is on display here. There is no rush between these two women as they make their willingness to explore their desires known to each other. There's a curiousness and awe about their soft caresses, but they also feel very experienced. Alya as quite pretty and watching Aislin bring her to orgasm with her tongue and fingers is very arousing. Note the way Alya bites her own knuckles almost involuntarily as Aislin is feasting on and fingering her pussy; it is a sexy, fleeting moment that brings a palpable eroticism to the encounter.
Liv Revamped and Blue Angel ("Runaway Girl Episode 1 – Part 1"):
This 2019 series episode features a bevy of cameos cameos including Eve Angel (playing tennis with Blue Angel), as well as director Sandra Shine and studio head Viv Thomas himself. When Liv and her partner Sandra arrive on the court in the middle of a spirited game between Blue and Eve, Liv finds herself enthralled by the girl-next-door appeal of Blue. For her part, Blue is also a bit taken by the pretty, petite Liv, and the two share a flirtatious moment during the game that blossoms into a sensual encounter on the court after everyone else is gone.
Hell yes to director Sandra Shine and whomever edited this scene for capturing the unbridled lust of Liv kneeling in front of Blue, lapping mercilessly at her pussy while she pressed her against the chain link fence. Talk about creating an erotic tone! The basis behind the film's title becomes clear as the tennis encounter comes to an end, which really works to tease not only Blue, but the audience as well.
Liv Revamped and Blue Angel ("Runaway Girl Episode 1: Part 2"):
After finding herself abruptly abandoned following her impromptu tryst with the mysterious Liv Revamped, Blue decides to text the vanishing vixen her address, hoping to entice her to stop by and finish what she started a few days earlier. Liv does show, and Blue wastes no time returning the pleasure Liv granted her on the tennis court. Oh my word Blue really embraces Liv's wet pussy with her tongue, slurping her dripping muff hungrily. An incredibly sexy 69 follows, during which Blue nearly sends Liv to the moon, and the sex concludes with Blue mounting Liv's face lustfully.
Blue Angel and Alya Stark ("Runaway Girl Episode 2")
Sandra Shine's miniseries concludes with Blue adopting Liv's salacious lifestyle. A chance meeting in a club bathroom sees Blue stumble upon Liv making out with the sexy Alya Stark. Unfazed, Liv pulls the surprised Blue to her side and promptly slips away (as she often does), leaving a horny Alya to satisfy her sexual longing with Blue.
Sandra captures a blisteringly arousing moment as Blue and Alya kiss against the bathroom stall passionately while Blue rubs Alya's pussy feverently. This is not only the sexiest moment in the series, but the most arousing in the entire anthology. The best thing about this episode is watching Blue grow into the confident, sexual prowler that Liv is. She controls the sex with Alya from start to finish which is a wonderful bit of storytelling.
This is all fantastic work from Sandra Shine, particularly the "Runaway Girl" series that serves as the climax of this anthology. Fans of lesbian erotica will definitely enjoy the scintillating sexual energy of Alya Stark, and the story of Blue Angel embracing Liv Revamped's lifestyle is well worth the watch. The editing is also quite strong.