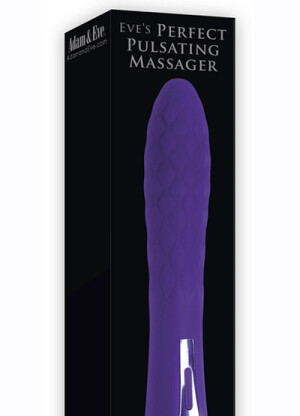 Yeah, "Perfect Pulsating" pretty much sums up what this toy is like. Why settle for an ordinary vibrator when you get one that actually thumps and plunges at the same time?
With a smooth diamond patterned, silicone shaft, this unique toy will hit all the spots within one's precious vaginal walls without needing an external stimulator to get you over the top. The seven speeds vary between constant thrusting to slowdown/speed up, which ultimately proved to be my favorite mode because it caused my orgasms to be deliciously unpredictable. The royal purple color, easy to use button on the base and the 4 ½" insertable length combined to make this my new favorite pleasure toy!
Product Description:
Change up your sex toy routine with something wildly new…and different. Give yourself unique plunging sensations as this 8-incher delivers 7 thrilling back-&-forth piston action modes & speeds. Have a pillow handy to muffle your cries of joy!
Treat your body to new experiences. Choose from 7 different modes & speeds to tailor your play and bring you to the edge…and beyond. Barely one-and-a-half inches wide for easy insertion, this Pulsating Massager's quilt pattern texture holds lube for a smoother slide as it goes in…and out. And that textured shaft is ready to add a little extra stimulation here and there, too. Covered in silky smooth silicone, this massager is waterproof for erotic experiences in the shower, tub or spa. That also means it's easy to keep it looking and working like new. You can also use your favorite sex toy cleaner and a warm water rinse. This exciting sex toy doesn't need batteries, because it's USB rechargeable. A cord is included, one end plugs into the skin of the massager where the letters "DC" are embossed in the surface. The other end goes into the USB port of your charger.
Copyright © 2020 Adnet Media. All Rights Reserved. XBIZ is a trademark of Adnet Media.
Reproduction in whole or in part in any form or medium without express written permission is prohibited.