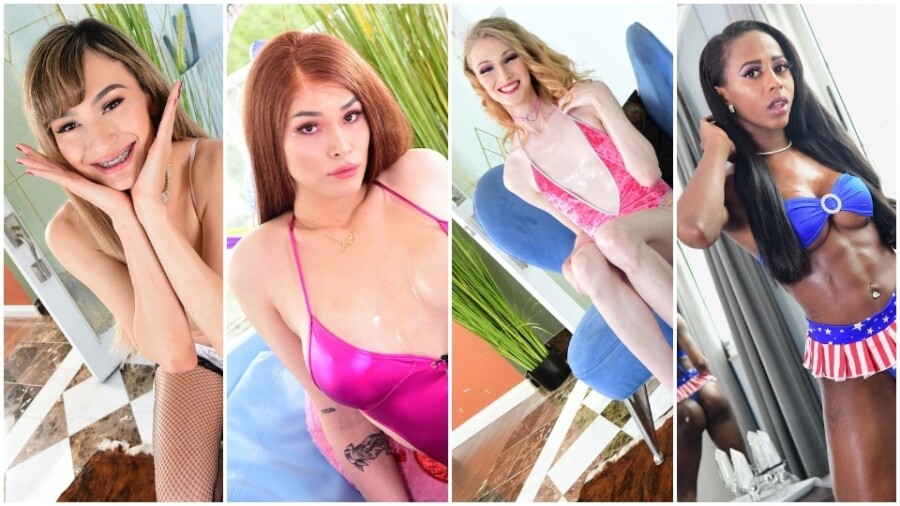 LOS ANGELES — Evil Angel is touting "an exciting array of fresh decadence" in "TS Factor 12" from director Joey Silvera. With the premiere of all seven scenes online, the title is now available in all formats.
Silvera's "dazzling cast shows tempting curves in solo sessions and crazy play dates — one trans girl seduces an adventurous man; another experiences a cisgender girl; and two segments feature trans-on-trans spectacle," a rep enthused.
The cast includes Angel Ducati, Khloe Kay, Lohana, Audrey Miles, Andylynn Payne, Angelina Please, Hannah Rios, Tayla, Paloma Veiga, Ella Venus and Alex Victor.
"America's sweetheart, Andylynn Payne, is back from 'TS Now! 5' with all-worlds performer Khloe Kay," said Silvera. "It's must-see. I got beautiful Angelina Please with sexy, athletic Audrey Miles for a perfect match. Also, more Tayla — this time with one of my favorites, Brazil's Hannah Rios."
Paye is "cute in braces" and paired with "tan superstar" Kay, noted the rep; "toned redhead" Miles, a cis girl, enjoys her first trans encounter opposite Please; "adorable doll" Tayla drills Rios; and "busty, massively hung Lohana nails muscle stud Alex — she cums once, he cums twice."
The action also includes "three heated solo masturbation performanes," said the rep.
"Audacious Ella, who likes to be the center of attention, talks dirty through a steamy exhibition. Amazonian Angel's playful jack-off fun climaxes as she scoops up her spilled spunk and swallows it," the rep added. "Bespectacled Paloma's miniskirt can't hide her shockingly huge and hard endowment, which blasts a heavy load straight at the camera."
All seven scenes are now available at EvilAngel.com. Visit Evil Angel on Twitter.
"TS Factor 11" was released in early May.
For domestic sales, contact Rick Porras at rick@evilangel.com; for international sales and licensing, email Alexandra Kelley at alex@evilangel.com.