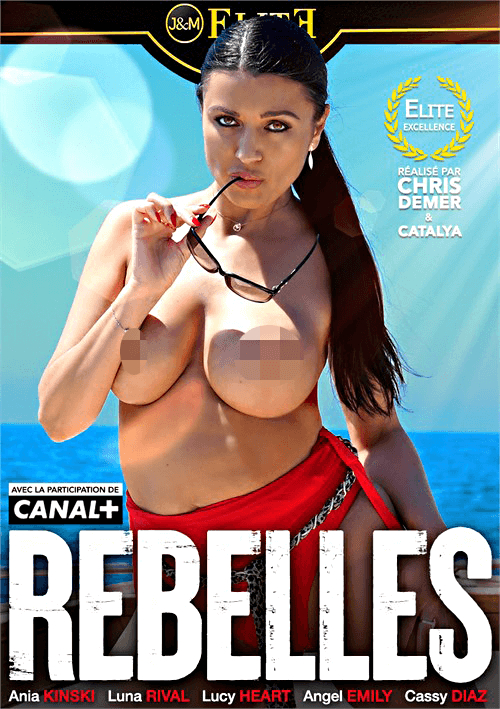 When the trophy wife of a French mobster discovers his callous infidelity, she leaves him, abandoning her marriage and all the luxuries that come with it. Incensed at the thought of his ungrateful wife daring to throw away everything he's given her, the mob boss dispatches his most trusted henchman to retrieve her at all costs. Can Ania escape her past and start a new life, or will she find that once one makes their bed with the criminal underworld, their future is set forever?
The folks at Jacquie et Michel Elite craft a tale of liberation, vengeance and tragedy with brunette bombshell Ania Kinski at the center of the action. No expense is spared as as directors Chris Demer and Catalya use world-building cinematography (the opening sequence over the water is a spectacular example), to tell their story, which is helpful for non-French speakers since all the dialogue is in French. I do wish the transitions between scenes were a bit less abrupt and jarring, but there's still plenty of good stuff to be had.
We open the tale with Dorian Del Isla fucking a stereotypically nameless concubine in Lucy Heart while his wife Ania Kinski is enjoying an afternoon sunbathing on their boat. Lucy delivers as she always does, looking particularly delicious laying flat on the couch with Dorian mounting her from behind and spearing her pussy deep. When Ania walks in on them, she gives them both an earful and storms out of the house. After driving aimlessly for a while, Ania abandons her car and phone and sets out on foot.
She eventually finds herself at a (very authentic-feeling) tattoo parlor and on a whim (symbolically reclaiming her freedom), she decides to get a tattoo. Mike Angelo serves as her artist, and in the spirit of re-discovering herself and breaking the shackles of her old life, she decides to fuck him in return for his excellent ink work. Ania really works Mike over, riding the hell out of him on the couch before rolling over on her back and letting him pound her hard and deep with her feet around her ears. Ania looks like a total slut here and the visual and watching Mike stuff her in such a lewd position is awesome.
Ania continues her journey on foot, and eventually meets Anto Toto, who offers to take her to a local bar for a drink. She meets Rico Simmons, the friendly bartender, and Angel Emily (a frequent patron), who all know each other and share an easy and genuine kinship. The appeal of surrounding herself with people who honestly care for each other beyond the superficial level (as she had grown accustomed to with Dorian), is too strong for her to resist, and the next thing she knows she's having a lusty-yet-comfortable foursome. I really liked watching Rico and Anto fuck Angel and Ania doggystyle respectively while the ladies gazed into each others' eyes and playfully tongued each other. There are also some nice shots of Anto's taut, sculpted ass as he piston-fucks Ania from behind. Nice choice by the directors and editors to include shots like because it broadens the audience by giving the men a chance to stand out visually.
Satisfied with her experience at the bar, Ania sets out again and runs into a couple of field hands tending a vineyard. They tell her about a trio of young lovers who tends to spend the hot, summer afternoons fucking near the vineyard, and a curious Ania seeks them out, catching them and watching in awe from a distance as Doryann, Luna and Cassy share a fun threesome at their campsite. This is a really fun scene because of the strong flower power vibe that surrounds it. All three of these performers really feel like they would fit right in with the American hippie movement of the 60s.
There's a freeness about all three of them as they blissfully fuck surrounded by nature that elicits feelings of "make love not war." Plus, it's an absolute treat watching Doryann mount an ass-up, face-down Luna and pound away while Cassy rubs herself out next to them. The audience should especially enjoy the vigorous reverse cowgirl anal as well.
The climax sees Dorian's henchman finally track Ania's path to Rico's bar, but when he tries to intimidate Rico with his gun and strong-arm him into revealing Ania's whereabouts, he finds himself outnumbered by Rico's own security, leading to an unexpected and wild conclusion. This is a good feature from Jacquie Et Michele Elite whose continued focus on feature porn is most welcome. They continue to utilize a variety of directors and talent, and as long as that remains the case, audiences can expect more strong features like this to come from the studio.